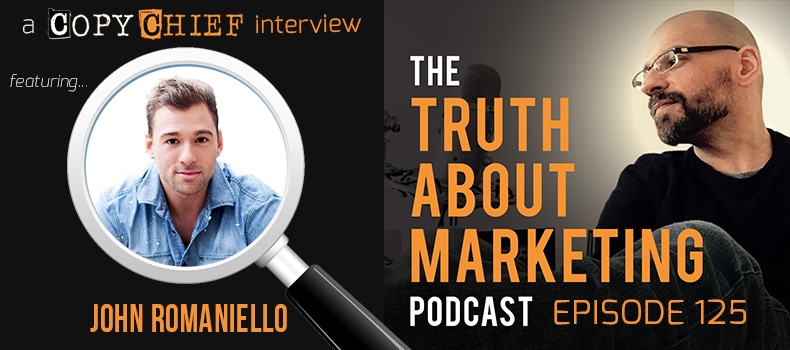 In This Episode
Here's an indisputable truth…
Honing your writing chops is the fastest way to set yourself apart in a crowded market.
In fact, just by being a BETTER writer than your competition, you'll leapfrog your rivals and build a loyal following faster than you imagined possible.
So… how do you sharpen your writing skills and put 'em to work boosting sales for your business?
My guest today is John Romaniello. John is a NY Times bestselling author of Man 2.0 – Engineering the Alpha.
John landed a 7-figure deal on his first book… and even got Arnold Schwarzenegger to write the foreword.
John runs Roman Fitness Systems. He's a fitness guy who helps clients get huge or get hot. He's also a pretty damn good writer… and it's one of the biggest reasons behind his prolific status in the fitness industry.
As John explains in the interview, you've got to recognize that your reader is on a personal journey…
… and when you're not afraid to write about the things they care about the most, you become their go-to person in the market.
In this episode, John reveals the tactics, shortcuts, and secrets molding his unique writing style… and how you can quickly build an audience online using your writing chops.
"Can't Miss" Moments:
The "Athlete zone" trick to make your writing flow from your fingertips almost effortlessly. (If writing feels like "pulling teeth" for you… don't miss this.)
The "Magic time" method to squeezing more creativity out of your brain than you've ever thought possible. (Do what John suggests and you'll write more in a few hours than you've written in an entire DAY.)
The surprising reason John decides to bolt from the fitness industry… and the biggest telltale sign your writing will have more impact in a different market.
The "Battle with a spider" secret that

hurls

a young

John to top-of-the-heap fitness pro… and how you can use it in your business.
The "Asshole" tactic John used to learn more about his prospects than he ever did. (John's findings about your typical buyer's psychology will

shock

you.)
What's the one thing John's done that's produced the most surprising result?
John shot up sales for his business with this one "anti-marketing" tactic. (This is so counter-intuitive… you've likely NEVER heard anyone do this before.)
Check out how John boosted sales with this bizarre method at 27:00.
Resources:
Read John's blog and articles here
Show notes written by Max Hamm. You can reach Max at maxhammcopy.com. 
[podcast_optin]
Disclaimer: Every effort has been made to accurately represent our product and it's potential. Any claims made of actual earnings or examples of actual results can be verified upon request. The testimonials and examples used are exceptional results, don't apply to the average purchaser and are not intended to represent or guarantee that anyone will achieve the same or similar results. Each individual's success depends on his or her background, dedication, desire and motivation. As with any business endeavor, there is an inherent risk of loss of capital and there is no guarantee that you will earn any money.