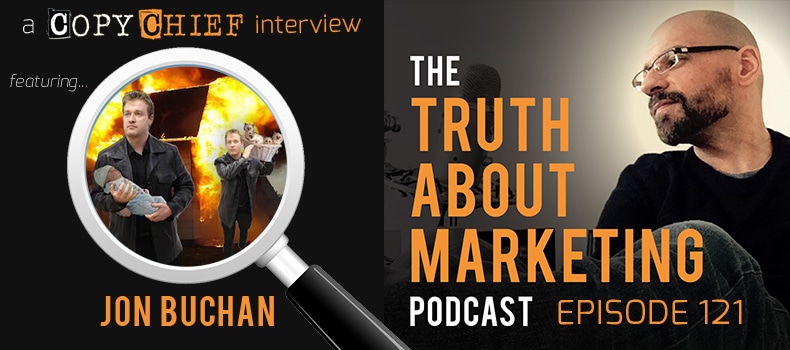 In This Episode
I remember it clearly…
Sitting on my back porch, scrolling through emails on my mobile phone, when I saw Jon's email.
I get a lot of messages from people who want to be on this podcast. In this episode you'll learn why I ignore most of them, and why Jon's was impossible to ignore.
Reality is…
Your prospects are secretly BEGGING for someone to disrupt their day with some eye-popping sizzle.
Wouldn't you rather take a chance with a little wit… than just send another boring-ass cold email that ends up in your prospect's digital trash can?
So… how do you do that without blowing the sale and killing trust?
Today I've got Jon Buchan from "Charm Offensive" on the show. Jon helps clients craft cold emails, direct mail, and ad copy that jolt even the most distracted, couch-bound prospects wide awake.
As Jon explains in the interview, so many business owners struggle to make sales and close clients because they THINK they've got to be "formal" for things to happen…
… and all it takes is a couple of well placed "make you smile" moments to earn those precious extra seconds so your message sticks.
In this episode, Jon reveals his secret to writing cold emails, direct mail, and ad copy that get the open AND the response. (Jon even sent me one of his kick-ass cold emails to get on the show… as you can see─his stuff WORKS.)
"Can't Miss" Moments:
The single biggest writing mistake most marketers make in email that

screams

arrogance to your prospect. (And what Jon suggests you do instead to beef up your message without

murdering

trust.)
Why your prospects will quickly ignore you the harder you "try" to write… and Jon's trick to getting YOUR email opened─even if it's up against 100 run-of-the-mill messages.
What Jon does in every email that almost guarantees your prospect's eyeballs NEVER veer off your message… no matter how many boring "shoot me now" emails he's already seen.
The counter-intuitive word Jon uses to start emails that practically forces your prospect to hang on to your every word. (And it's so dead simple you're likely overlooking its power.)
The ONE thing you should NEVER do when introducing yourself in a cold email… and the classic red flag you should look for before trusting what you're reading.
Resources:
Getting On Podcasts With Cold Email
Show notes & bullets written by Max Hamm. You can reach Max at maxhammcopy.com.
[podcast_optin]
Disclaimer: Every effort has been made to accurately represent our product and it's potential. Any claims made of actual earnings or examples of actual results can be verified upon request. The testimonials and examples used are exceptional results, don't apply to the average purchaser and are not intended to represent or guarantee that anyone will achieve the same or similar results. Each individual's success depends on his or her background, dedication, desire and motivation. As with any business endeavor, there is an inherent risk of loss of capital and there is no guarantee that you will earn any money.