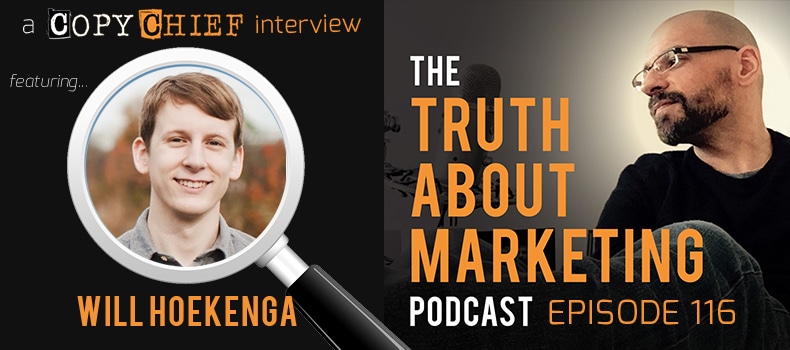 In This Episode
"Marketers today rely too much on emotion…" Will said during our interview. "The competition for your prospect's inbox is fierce… so you absolutely must give your customers a reason to stay with you."
My guest today is copywriter and email wizard Will Hoekenga. He helps clients multiply sales with his knack for writing emails that get the click and close the sale.
As Will explains in the interview, the "Email Stress Test" is there to help you strike the perfect balance between logic and emotion…
… it'll also make sure you're not boring your prospects by taking too long to get your message across in your email.
In this episode, Will reveals the three critical questions you must answer before you write your next email. (You'll want to hear his insights on why your current emails are likely angering your prospects… even if you didn't mean to do it.)
"Can't Miss" Moments:
The "Elephant vs. Rider" secret to injecting the perfect dose of emotion that closes the sale… overdo emotion―like most marketers do―and you'll attract a wave of refunds and one-time buyers.
The single biggest trust-killing mistake most business owners make when sending emails. (Follow Will's advice instead and you'll be the welcomed guest in your prospect's inbox.)
The untapped goldmine even top marketers completely neglect in their emails… and how to use this simple tweak to raise your open rate by at least 3%.
The "Hollywood screenwriting" trick you can tap into to make your prospects hang on to your every word. (This is the same tactic that practically forces you to binge watch your favorite TV shows.)
Are you still using phrases like "easier and faster than ever before…"? (You'll want to hear Will's surprising discovery about what happens in your prospect's brain when they see "classic" marketing phrases.)
Resources:
Show notes & bullets written by Max Hamm. You can reach Max at maxhammcopy.com.
[podcast_optin]
Disclaimer: Every effort has been made to accurately represent our product and it's potential. Any claims made of actual earnings or examples of actual results can be verified upon request. The testimonials and examples used are exceptional results, don't apply to the average purchaser and are not intended to represent or guarantee that anyone will achieve the same or similar results. Each individual's success depends on his or her background, dedication, desire and motivation. As with any business endeavor, there is an inherent risk of loss of capital and there is no guarantee that you will earn any money.