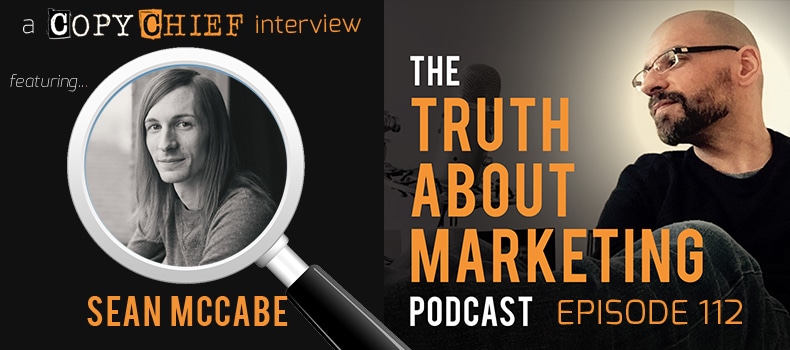 In This Episode
"I posted my lettering work for two years and no one even bothered to look…" Sean said during our interview.
Sean McCabe started out cleaning windows―almost getting himself killed in the process―and repairing computers to pay the bills. When he wasn't working, he was completely immersed in his love for hand lettering art. (Even though no one paid attention!)
Today, Sean runs a thriving online business. He helps his clients ditch the day job and monetize their passions… without getting swallowed up by a risky leap of faith.
As Sean explains in the interview, something amazing happens when you consistently do the work and keep moving forward: People start demanding what you're offering…
… but you absolutely must have the right business skills to deal with customers. (Otherwise you will be underpaid and overworked!)

In this episode, Sean reveals how you can avoid the single biggest mistake most people make when starting an online business, and how you can turn your passion into a cash cow… without the risk of ending up broke and desperate.
"Can't Miss" Moments:
Sean: "I was making some money but I was ignoring this big elephant in the room…"

(

After he confronts this

one

thing… Sean attracts 200,000 readers to his

first

guidebook―without knowing anything about online marketing!

)
Kevin: "The best reason to start a community is _________"  (And why you'll likely

hate

it if you start one for any other reason. In fact―you'll feel like you're back at a J.O.B!)
Are you still stuck doing something you don't enjoy? (Why taking a blind leap of faith will leave you helpless… and what Sean suggests you do instead to monetize your passions

without

dangerous risks)
You've got to pick the perfect pursuit to be happy, right? Wrong! (You're likely falling prey to this psychological trap without even knowing it… do what Sean suggests instead to quickly hone-in on your ideal passion and get paid what you deserve)
Sean's "

Sapling

" secret to smoothly launching your winning offer online. (Sean did

this

to generate six-figures on his first launch…

without

partners, experts, or big budgets!)
What's the one thing Sean's done that's produced the most surprising result?
"My first ever product made six figures in the first three days of launching…" Sean told me.
He knocked it right out of the park (on his first launch!) using this one counter-intuitive tweak to his sales page.
Check out his secret to opening a floodgate of sales at 25:00.
Resources:
Show notes written by Max Hamm. You can reach Max at maxhammcopy.com.
[podcast_optin]
Disclaimer: Every effort has been made to accurately represent our product and it's potential. Any claims made of actual earnings or examples of actual results can be verified upon request. The testimonials and examples used are exceptional results, don't apply to the average purchaser and are not intended to represent or guarantee that anyone will achieve the same or similar results. Each individual's success depends on his or her background, dedication, desire and motivation. As with any business endeavor, there is an inherent risk of loss of capital and there is no guarantee that you will earn any money.