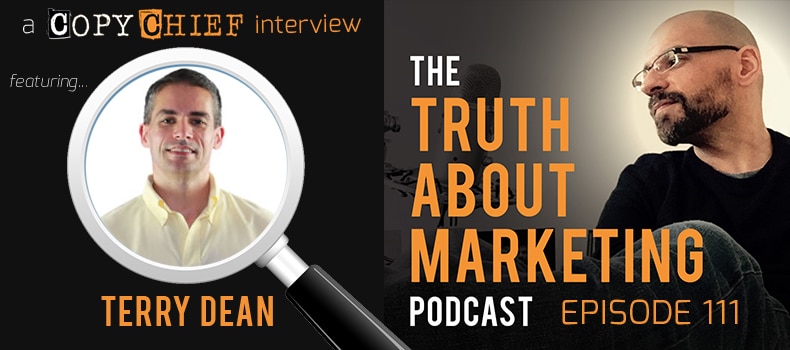 In This Episode
"I was going door-to-door trying to sell satellite dishes to the Amish… I sold a grand total of zero…" Terry told me during our interview.
Introverted, stuck delivering pizzas for $8 an hour, and bombing hard in belly-to-belly sales…
… Terry Dean turned it all around and is now flourishing in his 21st year as an online marketing expert.
He produces one of the most successful print newsletters today (even Ben Settle is a big fan). He also helps online entrepreneurs get more sales with two decades worth of testing and tweaking secrets.
As Terry explains in the interview, selling is easy when you indoctrinate your prospects the right way…
… and compelling them to join your list must be your number one priority.
In this episode, Terry shows you how to quickly make big sales online (even if you're an introvert like he is), and reveals his cutting-edge secrets to killer ads you can use in your business.
"Can't Miss" Moments:
The single biggest mistake Terry made that completely killed his sales. (Many top marketers today

still

fall prey to this trap… if you're making changes to your sales letter or putting up a new one, don't miss this)
Do many of your prospects put aside your opt-in "report" or "video"… never coming around to

actually

going through it? (Do what Terry suggests instead to make sure they check out your content immediately after they get it)
Terry's "In-Stream Ad" secret to getting a 50% opt-in rate… at less than $3 per lead. (And the exact moment when you should make your first offer… miss this moment and you'll blow the sale and burn your cash)
Would you ever let your customers name their own price? (Terry's results after doing this will completely surprise you!)
Are you still running the regular ads on Facebook? (Why this is secretly eating away at your budget… and what Terry suggests you do instead to get more customers

without

breaking the bank)
What's the one thing Terry's done that's produced the most surprising result?
"Everyone tells you the most important thing to test is your headline right? That is wrong…" Terry told me.
He tripled his sales almost instantly by testing only one thing…
… and it had nothing to do with headlines!
Check out his secret to quickly tripling sales, and how you can banish cancellations and refunds at 23:00
Resources:
Show notes written by Max Hamm. You can reach Max at maxhammcopy.com.
[podcast_optin]
Disclaimer: Every effort has been made to accurately represent our product and it's potential. Any claims made of actual earnings or examples of actual results can be verified upon request. The testimonials and examples used are exceptional results, don't apply to the average purchaser and are not intended to represent or guarantee that anyone will achieve the same or similar results. Each individual's success depends on his or her background, dedication, desire and motivation. As with any business endeavor, there is an inherent risk of loss of capital and there is no guarantee that you will earn any money.