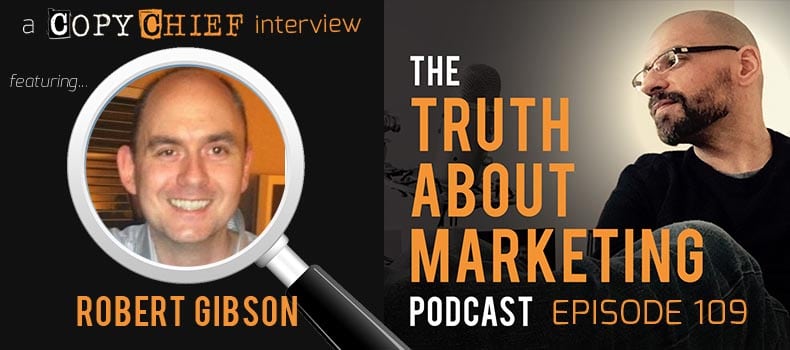 In This Episode
We're going deep today.

What if everything you've been told about "goal setting" is actually the source of your stress? In fact, what if your goals are actually wiping out your dreams (the ones you hold close but rarely talk about) one by one? So the more goals you achieve, the farther away you get from what you once cared about more than anything else?
Yeah – that deep. So buckle up. 🙂
Robert Gibson is back with us, and in case you missed it, his last appearance on the Truth About Marketing (episode 65) was one of the most downloaded and talked about episodes in the show's history.
When you hear Robert's interview you'll see why it's no surprise he's a trusted ally and personal mentor to Kevin and several of the best copywriters in the industry.  
In this episode, Robert shows you how to conquer any rut, and build your "financial spine" so you only do the things you love and get paid what you deserve… without the stress of overwhelm.
"Can't Miss" Moments:
Kevin: "Just do what you love and the money will follow? No!" (Why this common myth will suck the life out of you… and exactly what to do instead to make sure you're getting paid what you deserve for your passions)
Why the idea of "balance" in life is a recipe for misery. (And what being "overwhelmed" really means. Robert's answer will rattle your deepest beliefs)
Robert's gripping response to "This is all great… but I've got bills to pay!" If you're facing financial troubles, don't miss this. (And the three critical questions you must answer BEFORE you can get paid handsomely for your passions)
The single biggest sign that tells you a client (or business partner) will create big problems for you. (And ways Robert suggests you do to only work with the kind of people you LOVE to work with right-off the bat!)
Is the solution to your "big business problem" hiding in plain sight? (Robert's simple formula to quickly fix most of your business issues… and why you probably won't solve them alone with more customers, more money, or better marketing). (In fact, they could actually make your problems worse!)
Resources:
Get Robert's "Might Like" Newsletter
Truth About Marketing Episode 65 (Robert Gibson)
Show notes written by Max Hamm. You can reach Max at maxhammcopy.com.
[podcast_optin]
Disclaimer: Every effort has been made to accurately represent our product and it's potential. Any claims made of actual earnings or examples of actual results can be verified upon request. The testimonials and examples used are exceptional results, don't apply to the average purchaser and are not intended to represent or guarantee that anyone will achieve the same or similar results. Each individual's success depends on his or her background, dedication, desire and motivation. As with any business endeavor, there is an inherent risk of loss of capital and there is no guarantee that you will earn any money.