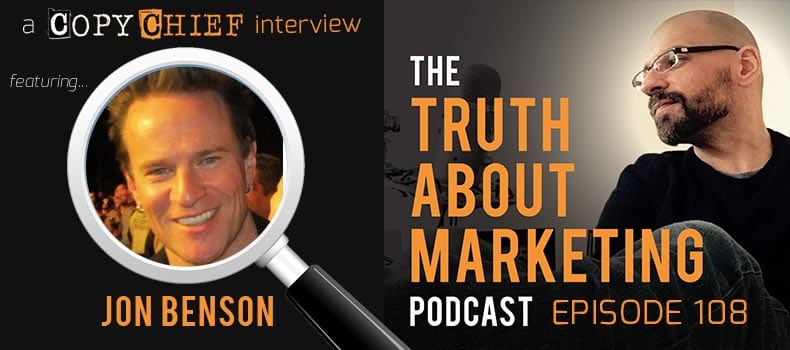 In This Episode
Why would one of the most prolific and proven copywriters in the world spend a small fortune (and two years of his life) creating a "robot" that can write copy so human-like, "you'd never be able to tell the difference'?
It's probably not the reason you think.
Jon Benson is the creator of the cutting-edge copywriting "software" sellerator…
… where he takes proven copywriting formulas and combines them with a unique AI.  The result is $1.4 Billion in sales for his clients in 2016.
Now, on the heels of his newest software, Email CopyPro, that uses similar technology to pump out direct response style email copy, Jon sits down with Kevin to explain his odd tech obsession with copywriting.
As Jon explains in the interview, the kiss of death for your business is not knowing exactly HOW to speak the sales language of your customer.
In this episode, Jon shows you how to get your prospects to perk-up and take immediate action. (Even when they're bombarded with marketing messages from your competition!)
Listen to find out how Jon injects powerful (and ethical) persuasion techniques in sales copy, and how to get so deep inside your prospect's head that they can't wait to buy.
"Can't Miss" Moments:
Kevin: "I watched their jaws slowly drop and then RUN to the front to buy the product…" (The cutting-edge persuasion secrets Jon revealed on stage… and why even legendary copywriters couldn't contain themselves!)
The single biggest myth about copywriting software you must never fall prey to as a marketer. (And why Kevin is FOR Benson's software even though one of his life's biggest passions is helping freelance copywriters!)
Did you know your prospects delete almost 95% of marketing e-mails… no matter how juicy and well-written? (Do what Jon suggests instead to fix your reader's eyeballs on

your

e-mails only!)
The one thing that almost

forces

your prospects to take immediate action on your offer. (Forgetting this persuasion "pocket-ace" is likely the hidden reason you're blowing the sale)
Jon's "

love-spy"

secret to powerful and ethical persuasion. (You'll get so deep in your prospect's head they'll think

you

know them better than their spouse does!)
Typos are a big no-no in sales copy right? Wrong! (Why Jon misspells certain words on purpose… and how

you

can do the same thing to ethically "hack" your prospect's brain)
What's the one thing Jon's done that's produced the most surprising result?
Jon created THE video sales letter that completely changed the online marketing world…
… and he created it by chance. (He didn't even want to be on camera that day!)
Check out how he flipped the marketing world on its head, and the reason his video sales letters sell Billions worth of products around the world at 27:00.
Resources:
Show notes written by Max Hamm. You can reach Max at maxhammcopy.com.
[podcast_optin]
Disclaimer: Every effort has been made to accurately represent our product and it's potential. Any claims made of actual earnings or examples of actual results can be verified upon request. The testimonials and examples used are exceptional results, don't apply to the average purchaser and are not intended to represent or guarantee that anyone will achieve the same or similar results. Each individual's success depends on his or her background, dedication, desire and motivation. As with any business endeavor, there is an inherent risk of loss of capital and there is no guarantee that you will earn any money.