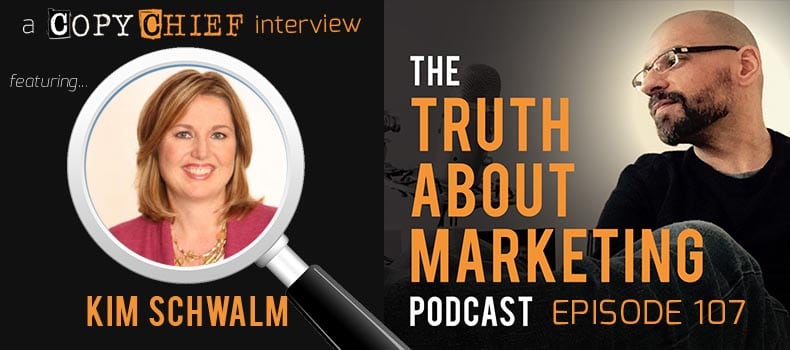 In This Episode
Kim Krauss Schwalm is the perfect follow-up to Clayton Makepeace's copywriting masterclass.
Kim is a top-level copywriter Brian Kurtz couldn't hire fast enough to work for Boardroom…
… where she became the first ever female copywriter to beat one of their controls (her first Boardroom project out-performed a 7-year Parris Lampropoulos control!).
As Schwalm explains in the interview, the crucial ingredient for control-busting copy is knowing the product so deeply you can almost recreate the thing yourself.
In this episode, Kim reveals her secret for knowing the ins and outs of the product better than your client.
Listen to find out how Kim made a habit of writing control-beating sales copy, and how to become a top level in-demand freelancer.
5 "Can't Miss" Moments:
How Kim beat a Jim Rutz Control ad that got her an immediate phone call from Boardroom… with no mentor, no writer community, and no reputation!

The rookie mistake Kim made in a big supplement promo (and the one small tweak she made to turn it all around and earn 200k in royalties instead!)

The biggest myth about "A-list" copywriters you must never fall prey to as a freelancer. (Ignoring this career-killer can ruin your future gigs)


The "

Columbo"

trick to extracting the juiciest hooks straight from your client's mouth. (You don't even need to come up with clever ideas if you simply do

this

!)

The single biggest thing most copywriters overlook during research. (Do what Kim suggests instead to set yourself apart from average writers and earn the big bucks!)

Are you still focusing on being a "copywriter"? (Why this outdated strategy won't help your career… and what Kim advises you do instead to become an in-demand freelancer)
Resources:
7 Steps To A Winning Control Promotion Report
Kim's Copywriting Bootcamp In LA
Show notes written by Max Hamm. You can reach Max at maxhammcopy.com.
[podcast_optin]
Disclaimer: Every effort has been made to accurately represent our product and it's potential. Any claims made of actual earnings or examples of actual results can be verified upon request. The testimonials and examples used are exceptional results, don't apply to the average purchaser and are not intended to represent or guarantee that anyone will achieve the same or similar results. Each individual's success depends on his or her background, dedication, desire and motivation. As with any business endeavor, there is an inherent risk of loss of capital and there is no guarantee that you will earn any money.