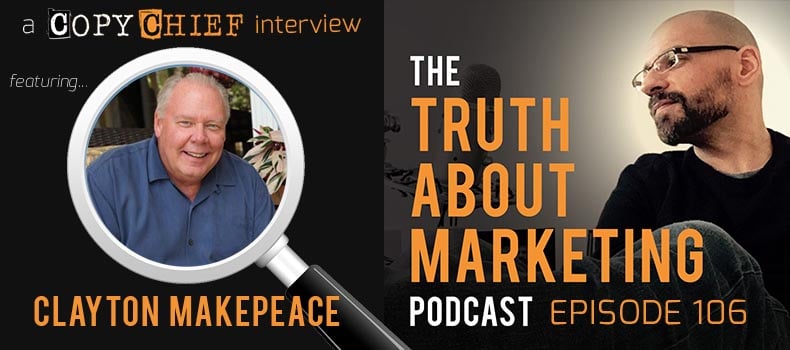 In This Episode
Clayton Makepeace is the mind behind ads that sold a Billion and a half dollars worth of products in the health and financial markets.
There aren't many copywriters alive who can bring a whopping four decades of in-the-trenches experience to the table. So naturally, Makepeace is also one of the most sought after copywriting teachers.
As Clayton explains in the interview, the key to compelling copy is mastering the art of selling emotional gratification…
… many Copywriters fail to do that by failing to ask themselves two critical questions about the market BEFORE writing.
Clayton credits his legendary copywriting to embracing the idea of "Neophilia"… explaining, "copywriters must make surprising products feel familiar, and familiar products feel surprising."
Listen to find out where Clayton got his confidence as a kid, and the path that led him to become a direct response copywriting legend.
5 "Can't Miss" Moments:
The copy gig so big Clayton picked up and moved his family to frigid Minnesota. (You'll want to hear the negotiation tactic behind this one)

What Clayton can spot immediately in a rookie copywriter that tells him they've got the goods. (If you've got this, he might even agree to mentor

you

!)

A common crime rookie copywriters commit guaranteed to make your readers restless. (Clayton's warning will ensure you're never guilty of this sales-blowing mistake again)

The single biggest thing Clayton Makepeace focuses on BEFORE he sits down to write. (It's his secret ritual for tapping into the elusive flow zone all writers seek)

The hilarious reason Clayton turned down a chance to work with Eugene Schwartz. (You'll laugh and cringe equally hard at this!)
What's the one thing Clayton's done that's produced the most surprising result?
Clayton sold-out 2000 platinum coin proof sets ($2500 each) in ONE weekend…
… And he did it in a way that almost gave his client's CFO a heart-attack!
Check out how he sold-out all 2000 sets in two days and the reason he's regarded a legend in the business at 37:40.
Resources mentioned in the show:
Show notes written by Max Hamm. You can reach Max at maxhammcopy.com.
[podcast_optin]
Disclaimer: Every effort has been made to accurately represent our product and it's potential. Any claims made of actual earnings or examples of actual results can be verified upon request. The testimonials and examples used are exceptional results, don't apply to the average purchaser and are not intended to represent or guarantee that anyone will achieve the same or similar results. Each individual's success depends on his or her background, dedication, desire and motivation. As with any business endeavor, there is an inherent risk of loss of capital and there is no guarantee that you will earn any money.