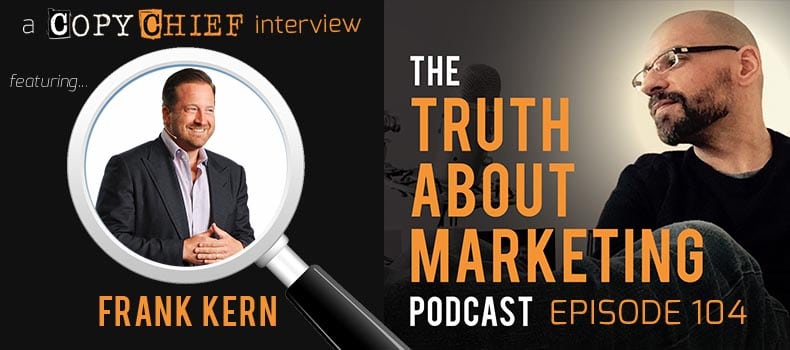 In This Episode
"I've only done like three podcast interviews…" Frank told me just before rolled tape.
I knew right then this would be extra juicy, and I wasn't disappointed.
If you've been around marketing for more than a hot minute, you know the legend of Frank Kern. He pioneered online video as we know it, and became the biggest celebrity our industry has ever seen.
What I didn't know was that Frank manufactured that celebrity… executing every step of a well structured plan, right down to the shoeless cruises in his VW bus and the sunlight kissing his long surfer-blonde locks.
"I decided to become 'The Rolling Stones of marketing' and then went out and made it happen," Frank says in the interview.
The surprising part is what led Frank to "throw it all away and start from scratch".
When you hear how Frank discovered the true keys to the Kingdom, and how he went about building the marketing empire his business is today…
… you just might fantasize about scrapping your own plans for world domination and follow suit.
Here are 10 more curiosity soaked reasons to hit play and dive in right now…
2:55 – "I wasn't particularly popular as a kid" – The surprising cult origins of a lonely child from the woods of Macon Georgia who went on to become the most admired and hip marketer of his generation.
4:44 – How, as a doped-up, dazed, and confused teenage college dropout, Frank Kern managed to score his first business mentor and finally get his shit together.
10:17 – Why Frank is convinced he could get by just fine absent a lick of empathy for his fellow human beings – so long as he possessed this one other talent.
12:47 – The one marketing skill Frank prizes over everything else he's ever tried his hand at – and why it totally eclipses them in terms of its money-making power.
15:32 – The story behind "The Mysterious Stranger" and other iconic marketing videos that turned Frank into an overnight celebrity.
18:26 – Why Frank pulled the plug on his most lucrative money-making venture and replaced it with a risky business model he knew was guaranteed to hemorrhage cash.
20:12 – Scared Silly: How the Federal Trade Commission sued Frank into submission and made him cut his hair (he swears it was voluntary).
24:22 – The one thing Frank would have his children understand that he considers "As important as it would be for an evangelical born again Christian to know that their children know the Word of God…"
27:30 – How to be totally upfront with your audience and make them fall in love with you by telling them "the blatant ugly truth about everything".
31:25 – How to raise prices, market less, and still profit handsomely while working only with "absolutely perfect people" (who will happily pay you what you're worth).
Those bullets were written by Stephen Carter inside Copy Chief. Stephen is a talented and experienced copywriter in Copy Chief, you can reach him at redplanetcopy.com.
Resources
[podcast_optin]
Disclaimer: Every effort has been made to accurately represent our product and it's potential. Any claims made of actual earnings or examples of actual results can be verified upon request. The testimonials and examples used are exceptional results, don't apply to the average purchaser and are not intended to represent or guarantee that anyone will achieve the same or similar results. Each individual's success depends on his or her background, dedication, desire and motivation. As with any business endeavor, there is an inherent risk of loss of capital and there is no guarantee that you will earn any money.