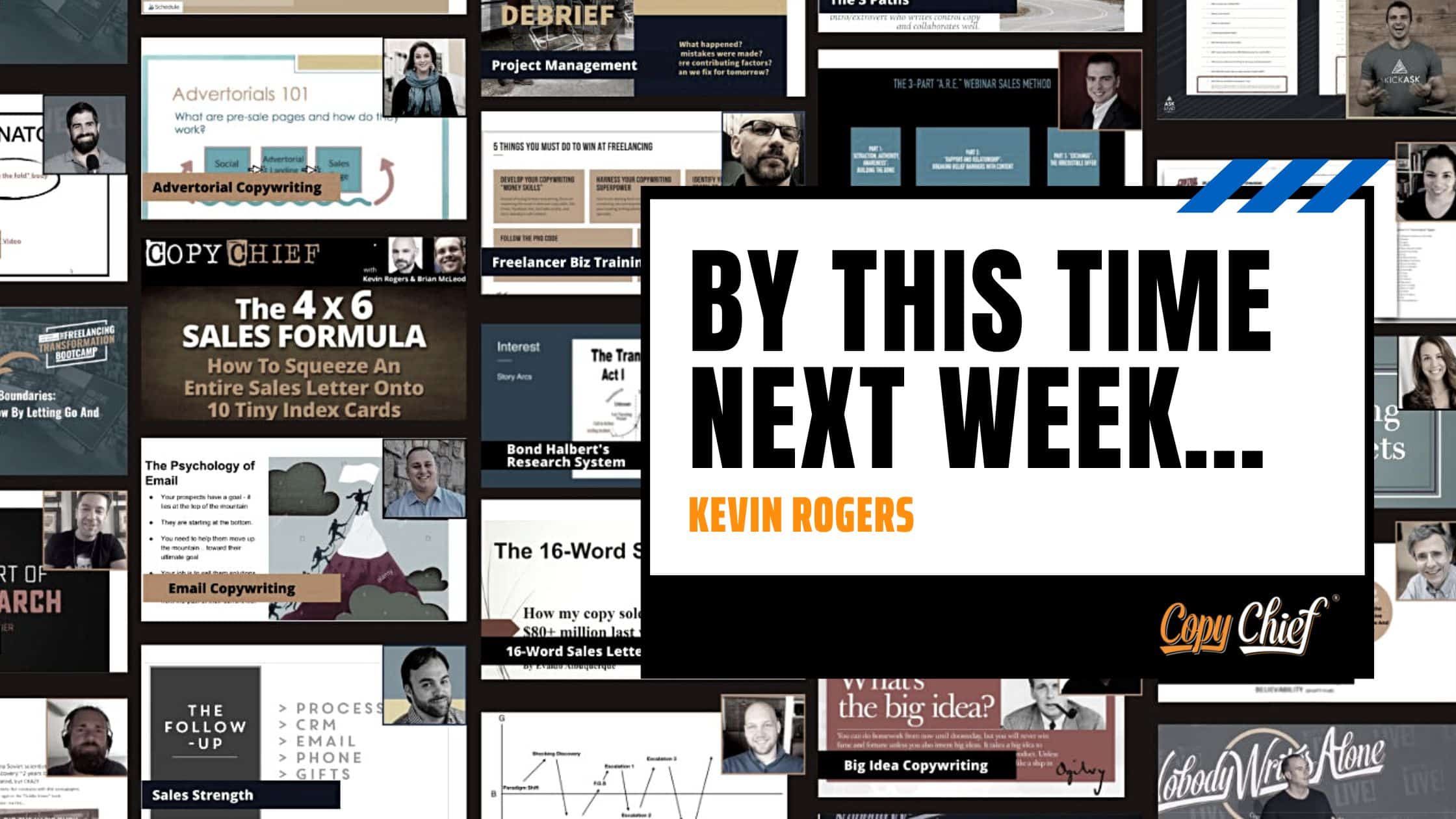 A week goes by fast. 
Here we are staring into the final two months of 2022.
If this year hasn't lived up to your expectations, I want to show you how one week can change everything. 
I'm offering (until this Tuesday, Nov 8th) a chance for you to spend a week diving into everything inside of Copy Chief for only one dollar. 

It's the craziest, most outrageous offer I've ever made on Copy Chief. 
Even at the regular price, Copy Chief is the best money you could spend to become a more confident and clued-in copywriter. 
So, I'm doing it to show you there's a better way to:
Develop the copywriting money skills that get you paid…




Meet the coolest, most supportive, copywriters, in the industry…

And, see our

active job board

, where great companies of all sizes and needs are hiring quality people to work with – right now. 
I can tell you about it until my voice cracks, but the best way is to let you see for yourself with this insane all-access tour of all of it for just a buck. 
Click here to start your 7 Day $1 trial now!
All the details are on the next page. 
If it isn't for you, you can cancel anytime during the trial with one email to support[at]copychief.com that says "end trial" and you will not be charged another cent. 
So, you've got nothing to lose.
Except for a single dollar to scoop up every bit of career-altering goodness, our members get every day at the regular price. 
I'm comfortable with the risk if you are. Let's do it!
---

I've been telling people for years now that the greatest money-making opportunity for copywriters on the planet is inside of Copy Chief. And that's never been more true than right now.
Even "newer" copywriters are using this "industry secret" to land dream gigs they otherwise wouldn't even come close to this fast.
Instead of hearing "send me some more samples to look at" all the time, or worse—spending YEARS "getting more experience"…
… they're ushered right across the velvet rope and connected with high-level clients who value and respect their curiosity, drive, and natural talent a lot more than "experience.
To put it bluntly…
Copy Chief is the fastest, easiest, way to make incredible money as a freelancer.
So, you wanna give it a shot for just a single dollar? And have me personally guide you for 7 days to closing out 2022 as your best year ever?
⇒ Click here to learn more and get access to Copy Chief for just $1
(Available for 1 week only – offer ends November 8th)