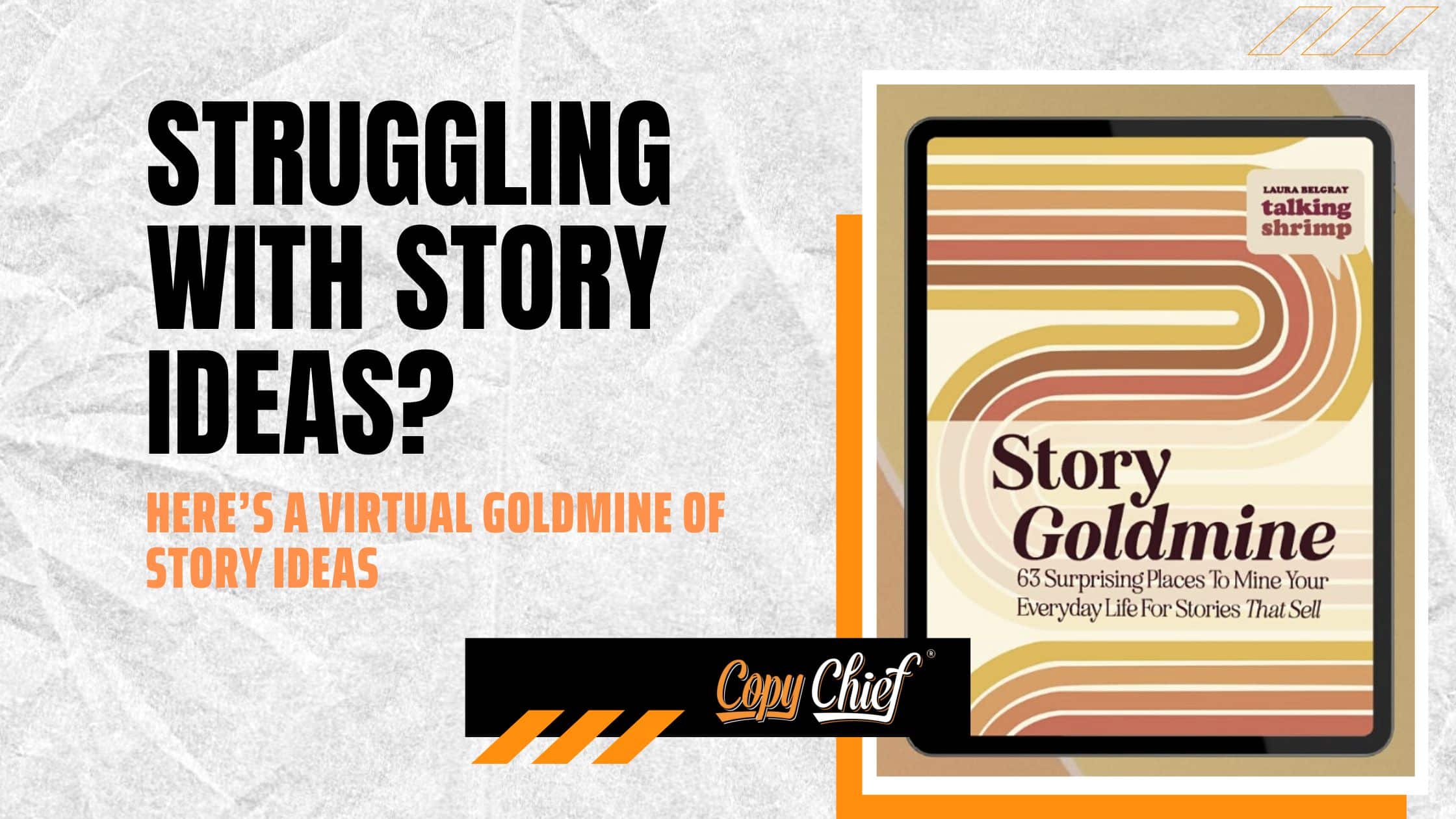 Think you don't have enough "powerful" stories to tell in your emails and social content?
My friend Laura Belgray (founder of Talking Shrimp, co-creator of The Copy Cure with Marie Forleo) has built a 7-figure brand on the power of personal, every day, "mundane" stories: running for a tight connecting flight at the airport, forgetting to buy basil for the spaghetti, witnessing petty theft at CVS, you name it.
These little, ordinary moments can be as effective as epic, heroic tales. Maybe even more effective — because they bring your reader into your world, so they connect with you and form that bond of "know, like, and trust" that gets them to buy from you.
One of the reasons Laura is the all-time record holder for guest appearances on my podcast is because she ALWAYS has great stories.
Stories are not only the most memorable (and repeatable) thing you can share but easily, the most persuasive.
If you write lots of story copy (or plan to) then you WILL hit a point where the story well runs dry.
Not to worry though, because Laura has your back.
She just released a FREE new resource to help you mine your life for stories, too!

Check it out: Story Goldmine: 63 Surprising Places to Mine Your Life For Stories That Sell.
There's no catch, and I'm not an affiliate, just wanted to pass it along to you because it's so helpful.

(And because Laura is so awesome!)
It even has a bonus section telling you how to connect your random stories to a point, to make them meaningful, persuasive, and – yes – lucrative.
Download it from her here and you'll instantly become a more intriguing copywriter.
---
With the recent changes in the freelancing and marketing landscape, now more than ever it's critical to have a strong support system, and bulletproof resources for helping your confidence, skills, and career thrive.
Inside Copy Chief we have more jobs than ever before for ALL types of marketers and skill levels.
The best part is, we're just getting started.
Recently we partnered with Banyan Hill (Agora) and Grant Cardone's team to create two exclusive "clubs" where these companies train and hire our members.
Copy Chief is the sole recruiting hub for these companies and more. You can't get these jobs outside of our clubs.
And these opportunities don't even begin to encompass how many more jobs are waiting for Copy Chief members in our Active Job Board
Business owners and companies are tired of searching for qualified freelancers on social media or through unqualified job boards like UpWork or the Monster.com type of places. Instead, they go directly to a source they know, like, and trust – Copy Chief's Active Job Board.
As we said before, this is only the beginning…
We've got more partnerships, more clubs, and more jobs in the pipeline as you read this message
⇒ Click here now to learn more and become a Copy Chief member