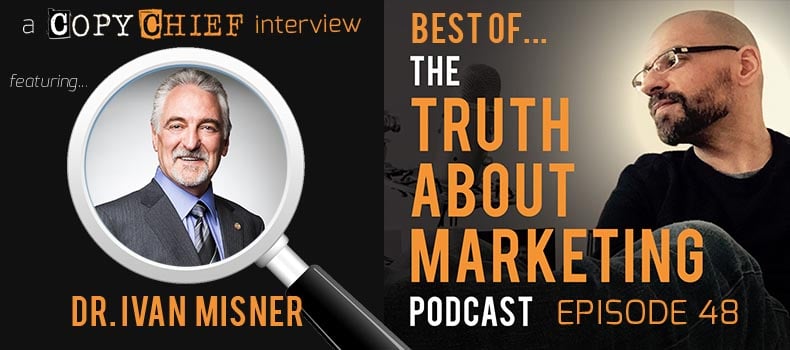 In This Episode
If you're not hip to Ivan Misner and his incredible entrepreneur-connecting group called BNI, then buckle up for an inspiring ride.
Get your head around these numbers…
7200 meetings worldwide

190,000 members

$8.6 Billion in revenue via shared leads for members
All in 2016!
The secret?
As Dr. Misner explains in the interview, never ask anyone for anything if you haven't already built up social capital with them…
… and the easiest way to do that is to focus not on being just interesting… but on being interested.
In this episode, Dr. Misner reveals his secret for building heaps of social capital that will take your business to the next level.
Listen to find out how Ivan built a multi-billion dollar organization using basic human relationships, and how to quickly start attracting wealth-generating social capital.
He also gives – on the spot – one of the best example of how to Wow! an audience by describing your business in 60 seconds.
"Can't Miss" Moments:
2:15 Ivan's $8 Billion Success Story: how his 190,000 member networking group produced more shared revenue than a small European country in ONE YEAR. (Not a metaphor — this actually happened!)
3:05 Ivan's secret to success: It's not what you know, it's how well you apply it. (This tiny tweak is all that separates amateurs from mega success stories like Erin Brockovich and Buzz Aldrin.)
7:05 The absolute worst question you can ask a mentor, and what you should be asking instead.
8:15 Entrepreneurs are either "on fire" or "sucked dry." How to ensure you always stay motivated and passionate, without getting bogged down by stuff you hate.
9:22 The #1 mistake Ivan sees 190,000 entrepreneurs make every single week (and what one smart florist did to blow away the competition … with nothing but a drugstore rose).
What's the one thing Ivan's done that's produced the most surprising result?
The one thing Ivan's done is create a dead simple offer that landed him a deal with Richard Branson.
This is the best lesson you'll ever learn about networking in a totally authentic, genuine, non-sleazy way. Check it out at 24:10.
Resources:
Show note intro written by Max Hamm. You can reach Max at maxhammcopy.com.
Show bullets written by Carolynn Ananian. You can reach her at cananian.com
[podcast_optin]
Disclaimer: Every effort has been made to accurately represent our product and it's potential. Any claims made of actual earnings or examples of actual results can be verified upon request. The testimonials and examples used are exceptional results, don't apply to the average purchaser and are not intended to represent or guarantee that anyone will achieve the same or similar results. Each individual's success depends on his or her background, dedication, desire and motivation. As with any business endeavor, there is an inherent risk of loss of capital and there is no guarantee that you will earn any money.