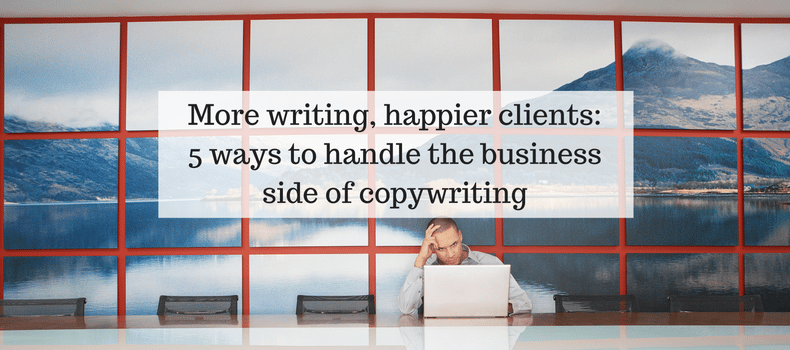 The dream of becoming a successful freelance copywriter is an alluring one.
You make your own schedule. You work with who you want to work with. And you get paid handsomely for all of it.
Plus, your job is to learn about psychology and persuasion — skills that improve every single area of your life.
And turns out, that's all true.
But it's also not the whole story.
What they don't tell you is that in the process you have to become more than a great copywriter — you have to become a great business owner, too.
There are hundreds of places that teach you how to write headlines that grab attention or sales pages that convert — but nobody really teaches us how to run our business.
I love being a copywriter. I hate dealing with all the other stuff… from bookkeeping to productivity.
Along the way, I've discovered 5 ways to maximize my creative time and minimize the time I spend on all the not-so-fun stuff.
ONE: Automate as much as possible
Most of us spend a lot of time doing tasks (or forgetting tasks) that a robot could do. For example, how many times have you sent a proposal to a client and never heard back? We intend to follow up but either forget or lose track of how much time has gone by since we sent it. You can use a program like FollowupThen to automatically send an email to a client 7 days after a proposal.
Pro Tip: I use the 9-word email for my follow ups.
TWO: Eliminate annoyances and delays
Friction in business is bad. One example of friction is the time it takes to schedule a call with a potential client. You can use a program like ScheduleOnce to eliminate the days-long back-and-forth that comes with scheduling calls and meetings. All the potential client has to do is click on the calendar, select a time that works for them, and you're done.
Pro Tip: I only schedule calls two days per week. This way, my writing days aren't being interrupted by meetings.
THREE: Do it once and create a system
Proposals, contracts, and invoices — I hate all of these words. So, I invested up front in some good templates for each (don't skimp, have a lawyer help you with this). Now they are "plug and play." It takes me less than 10 minutes for each new job to generate these, and I set an autoresponder to automatically send the invoice once the contract is signed.
Pro Tip: I have a searchable database (aka, a Google spreadsheet) that organizes my portfolio. When a potential client asks for samples, I can find the most relevant ones in just a few seconds.
FOUR: Never start with a blank page
When I sit down to write copy, I give myself every creative edge. Inside Copy Chief there are trainings and templates on sales letters, bullets, headlines, tag lines, and more. You can use these templates and formulas to get your creative juices flowing quickly. In the end, the final copy may look radically different than the template. But it gives me a good, albeit flexible, foundation.
Pro Tip: There's a wrong and a right way to use swipe files for this very purpose. This TAM episode gives you all the deets.
FIVE: Understand the ENTIRE workflow
There's so much more to being a freelance copywriter than writing copy, as I quickly discovered. Recently, my human project manager, my robot project manager, and I mapped out the entire client workflow from introduction to happy testimonial at the end and discovered there are 18 steps in the process. 18! And writing copy is only one of those.
Mapping out what really goes into a project has helped us identify where the delays are and how we can automate or speed-up the steps that I don't like to do (which is pretty much everything except talk to clients and write copy).