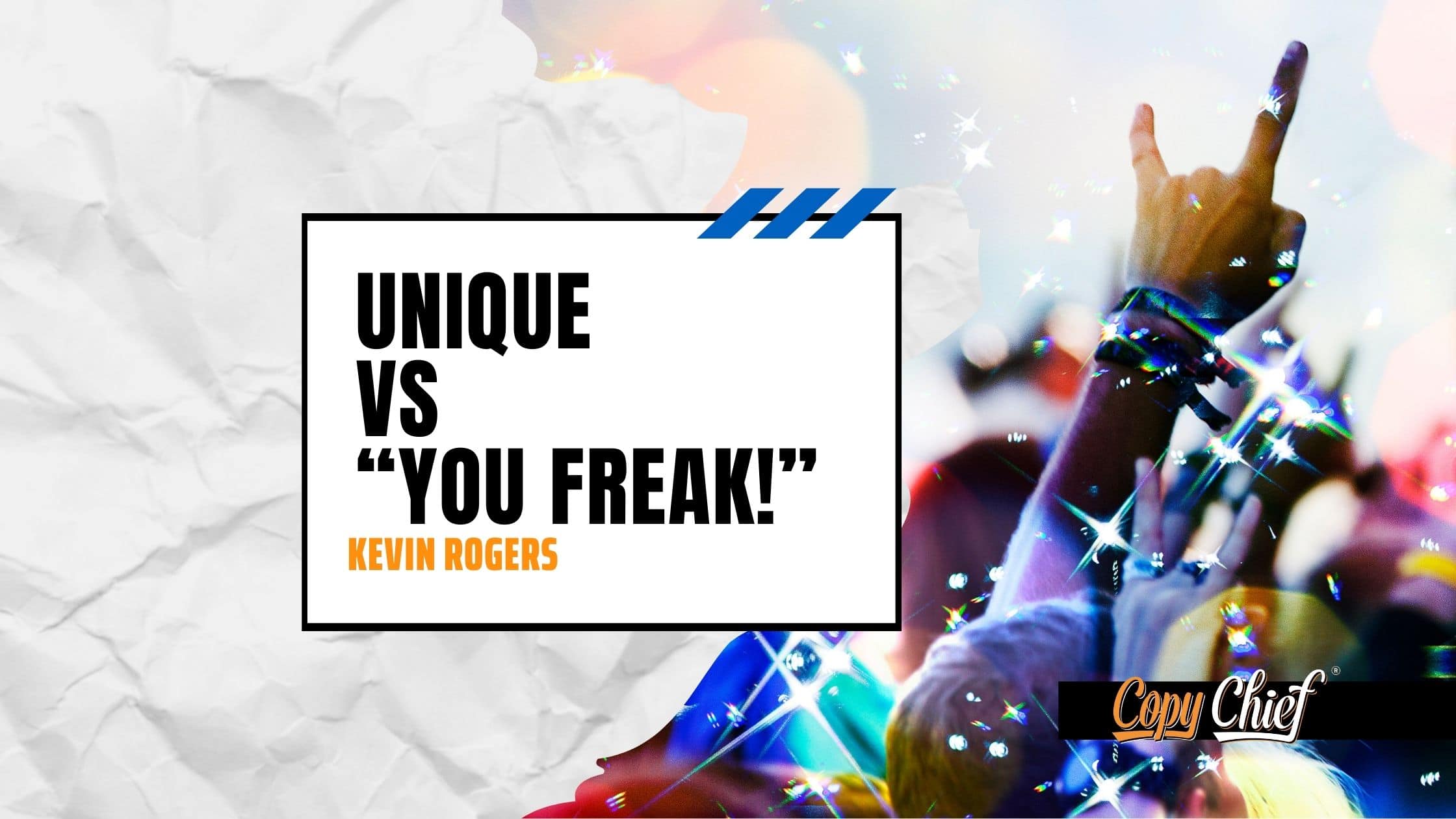 My daughter did a cool presentation for school on the concepts of Uniqueness and Vulnerability.
Pretty deep, eh?
We started brainstorming, her and I, and we realized that these concepts go hand-in-hand because…


… you can only be truly unique when you are willing to be vulnerable.

 
Makes sense, right?
It's one of those concepts that's easy to nod along with but super challenging to actually do.
Think about it, MOST of us had the idea of being unique "corrected" out of us as kids. 
Unless you grew up a Zappa, you probably spent a good portion of your life being told not to "be weird."
To fit in best we can.
To act our age.
Essentially to conform or be scorned. 
I think the tide is slowly turning on this, but it was certainly the case when I grew up. And I still see a lot of folks freaking out at harmless things, like a daring hairstyle…
"Oh, Halloween came early this year," they scoff between chews of Cinnabon as they drag their flip-flopped feet through the mall food court. 
Yes, Unique sounds a lot like "You Freak!" to a sad majority of people soaking up sunshine here on planet girth. 
Which is total HYPOCRISY… because the minute someone colorful BREAKS OUT as an artist, an athlete, an actor, or even a social media influencer… 
… those same sticky-bun-chomping critics love to post their affinity on social media. Looking to catch a dusting of cool by way of lazy screen tap association. 
As if click-hearting everything Lady Gaga does gives you legit edginess to your 49 "friends".


So, embracing our UNIQUENESS is good, and very NECESSARY as entrepreneurs,
so we should do it early… and BOLDLY.
It starts with getting comfortable with VULNERABILITY. 
Push yourself to do little things that we tend to avoid because they make us uncomfortable.
Flip your camera ON during Skype and Zoom calls.
Write story-based articles and post them in groups and to your website.
Take a stand, have a take.  
It doesn't have to be mean or "ranty," just use your voice.
How about recording the best ones as simple selfie videos and post those, too?
If this sounds INSANE to you, know that it did to a lot of my coaching students, too, when we first started working together. 
But they pushed themselves, little by little, and now they can't get enough. 
They're HUNGRY to get on camera, to share their stories, to give their opinions. 
They love expressing their "freak" because they see the instant results… 
People take notice and give you respect as an authority on your subject. 
So, if you've been holding back until you're "ready," or until you have something truly original to say, or for a perfect hair day (every day for me, lol)… then I invite you to get over it and just go for it. 
It's scary to be vulnerable, so take over the fear by making it routine. That way you get full control, and I bet you'll be shocked at how well people respond.
Freak out!
---
P.P.S. Whenever you're ready, here are a few other ways we can help…
Join Copy Chief. It's your one-stop-shop for improving your copy chops, growing your freelance business, and keeping your finger "on the pulse" of what's working now – all with working pro's at your back to help you do it. Learn more and join here.  


Take your freelance business to the next "phase"


Get personal coaching from Kevin and his team to help you get better clients faster, attract higher quality clients to you everyday, and crisis-proof your business.

Go here to learn about

The Freelancer's Journey

and check out the programs

.


Get the truth about marketing on the Copy Chief Radio podcast.

Find out what the top producers and change-makers in the world of marketing, copywriting, and business are doing to stay on top –

listen here

.