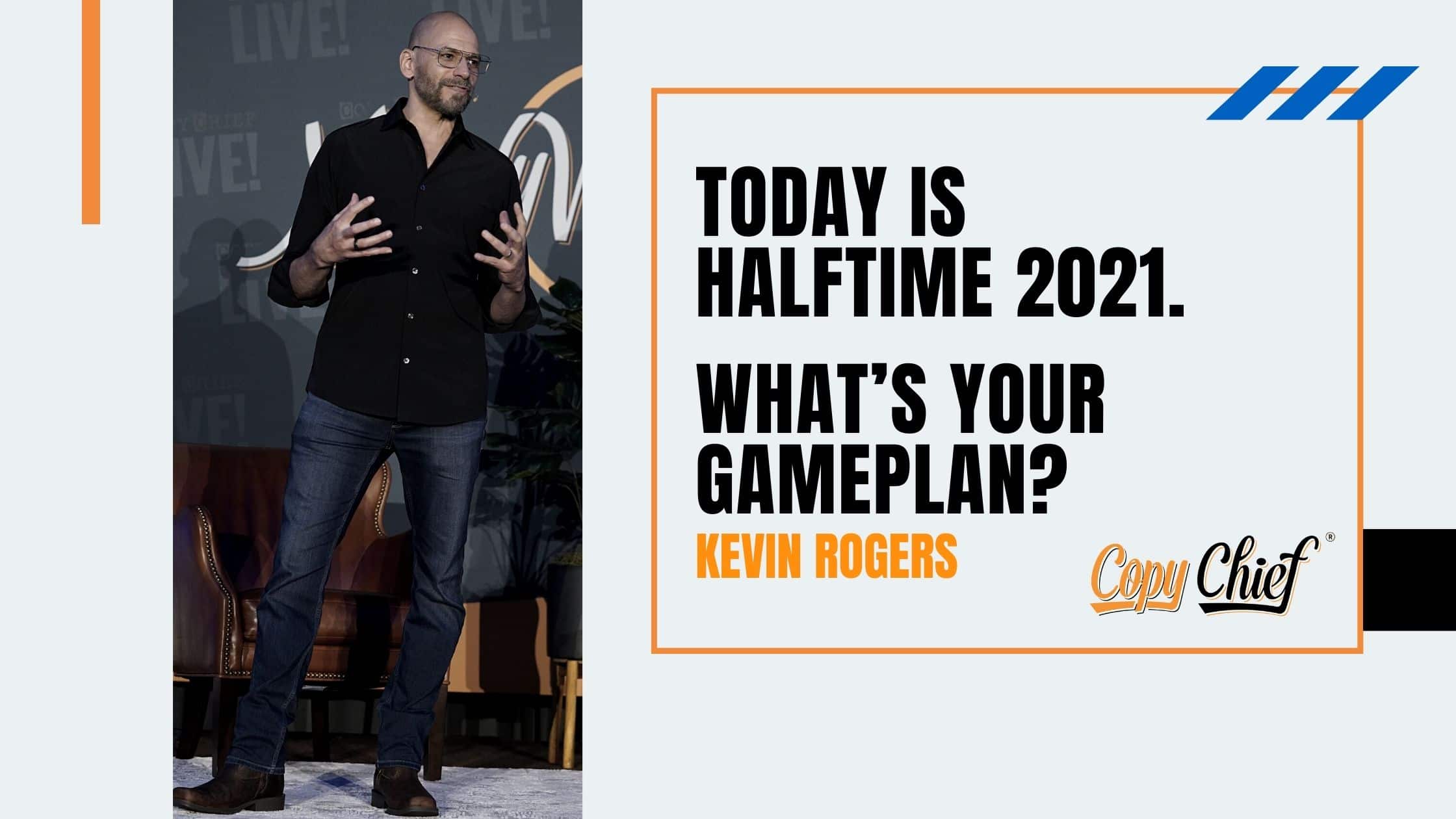 This will sound strange coming from a guy who lives in Florida, but…
I love the month of July.
Yes, it's stupid hot here.
Not fit for humans, kind of hot.
Yesterday I saw a lizard wearing a headband.
It's hot, okay?
And there are mosquitos everywhere.
Big ones.
So big they serve you orange juice after sucking your blood.
Yes, it's very hot and there are giant mosquitos everywhere.
Yet, I LOVE July.
Why?
Because it's halftime.
Halftime in 2021.

Like a mini new year, but instead of making all new plans,
you get to focus in and make adjustments.
__________________________

My favorite moment in an American football game is the first drive of the 3rd quarter.
That's when you get to see the adjustments the teams scrambled to make in the locker room at halftime.
12 minutes is all they get to switch up the game plan.
Everything on the line.
No way to stop the clock.
Decide and go execute.
Exciting.
Business is the same.
July is our halftime.
Are you up on the scoreboard of 2021? Or down?
Now is the time to decide your game plan and go execute.


It's amazing how much can change in 6 months.

Or even 6 weeks.
When your motivation aligns with your goals.
And your reality.
If things have changed for you going into halftime, embrace that. 
Life is not about committing to a linear path.
It's about staying consistent in your commitment to wanting better. 
Better experiences, better motivation, better outcomes.
If improving your copy skills and working with better clients are part of your gameplan for the second half of this year, then I've got your back. 
Simply email me at [email protected] and tell me what you want to make better. 
I'll pair you with one of my coaches who can help. 
To be clear these are not salespeople posing as coaches. 
These are real, working freelancers and business owners like you. 
I'll be reading your responses, too, and may even reply with a personal video with some thoughts. 
The more I understand about your goals, the better I can help you in future emails. 
I'm always grateful for your attention and want to deliver stuff that you can actually use to make those adjustments and see better results. 
Let's dominate the second half together.


---
P.P.S. Whenever you're ready, here are a few other ways we can help…
Join Copy Chief. It's your one-stop-shop for improving your copy chops, growing your freelance business, and keeping your finger "on the pulse" of what's working now – all with working pro's at your back to help you do it. Learn more and join here.  


Take your freelance business to the next "phase"


Get personal coaching from Kevin and his team to help you get better clients faster, attract higher quality clients to you everyday, and crisis-proof your business.

Go here to learn about

The Freelancer's Journey

and check out the programs

.


Get the truth about marketing on the Copy Chief Radio podcast.

Find out what the top producers and change-makers in the world of marketing, copywriting, and business are doing to stay on top –

listen here

.