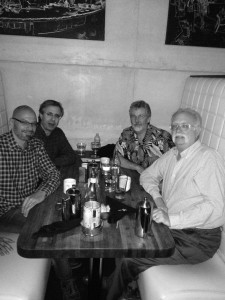 Take a look at that photo…
If my (the bald one) expression has a tone of "cat that just ate the canary," it's because I've just had dinner with three of the greatest copywriters alive.
It would be impossible to calculate the amount of sales those brains have produced with top level copywriting and about 100 years of combined marketing experience. If you took the largest lottery payout in U.S. history ($425 Million) then doubled it, you might be somewhere in the neighborhood.
These are the best of the best copywriters on the planet. Needless to say, occupying the 4th seat at this private dinner among friends felt like a lottery win to me. I'm blessed to call John Carlton and David Deutsch friends before this night. They are as brilliant as you'd expect and just as generous with their advice, (which I greedily soak up and implement quite often).
The rare sighting of a guy "hanging with friends" here though, is Dan Kennedy.
If you're reading this, there's a very good chance you've learned a lot from Dan Kennedy. Even if (somehow) you're hearing the name for the first time, much of what you have learned about making heaps of money with direct response marketing can be traced back to Dan.
I remember very clearly reading his "Ultimate Marketing Plan" with my then infant son in my lap grabbing at the pages, and feeling validated for all the non-conventional beliefs I had about how businesses should be approaching their sales. That book, and Dan's Ultimate Sales Letter are standard must reads for any copywriter or business owner expecting to achieve next-level success and the freedom it affords you. (Both books have remained on bookstore shelves for 20 years straight and are every bit as relevant now as they were then).
The reason there are not a lot of photos like this one is because Dan is famously protective of his time. Which is why he produces a head-spinning volume of high-value content from books to newsletters to sales campaigns for his 9-figure + client roster.
As a result, he doesn't make many casual appointments. In fact, the first (and only) question Dan asked when we sat down was if there was business we hoped to discuss, "or are we being casual?"
Casualness established, Dan launched into a hilarious story about attending a very unorthodox celebrity memorial. The speakers were beyond raunchy, causing a clear split between the show biz and civilian mourners. "Half the room was laughing hysterically," as Dan put it, and the other half, "had this been anything but a memorial service, would have immediately stood up and walked out."
Turns out Casual Dan is not very different from Business Dan. He speaks his opinions without hesitation and operates at full transparency. Nothing feels off limits. So, when the topic turned to copywriting, (choosing my moments carefully) I couldn't resist the chance to dig deeper into his process.
I was surprised to learn that Dan still writes sales copy for his best clients. Unlike many A-List writers, he never uses copy cubs, "tried it, it just doesn't work for me." He finds it faster and easier to write every word himself.
I could write a book about the conversations that took place during this meal. But, because I'm a bit less prolific than Dan, I've narrowed it down to the top five things I took way that can inspire us all to become better marketers and copywriters.
1. Use templates as a guide, not a crutch.
I asked Dan if he has a "Dan Kennedy Template" for writing copy. He said he does, but uses them "very loosely." Certainly a "signature protocol" is engrained in him after 30+ years at the keyboard, but he approaches every piece fresh.
2. Swiping is not writing.
While he may jumpstart a piece with a proven formula, "swiping" another copywriter is completely out of the question (no surprise there)… and revisiting even his own past material happens only when it "just fits too perfectly not to look at." Even then, he said, "the copy is written as new."
3. When pricing a job, establish the value of your time and bill your copywriting jobs accordingly.
Dan charges a very specific (and very large) fee for a day of consulting. At the end of that day, if the client wants Dan to write the copy, he simply pulls out a pen and itemizes all the pieces required to build their campaign. Then jots down the number of days and hours it will take to write the ads and adds up the total using the same number he charges for the full day consult.
Because Dan has already delivered huge value for the fee, any hand-wringing over price is removed for the client. Smart.
4. The key to writing fast is dedicating the proper time to research. And the best research comes from putting your eyes in the head of your prospect.
To research an ad for one of his highest-producing clients, Proactiv+ Acne Treatment, Dan told me he reads a full year of teen magazines, all the most popular books (like the Twilight series), watches their favorite TV shows, sees the hit movies – allowing him to essentially eavesdrops on the conversations of his customers.
It might sound obvious, but research is easily the most under-performed part of the copywriting process. It's what the true A-listers do better than every other copywriter. Scanning message boards and Amazon reviews will not deliver your copy the same results.
5. Get feedback on your copy from people who are your customer avatar and also understand copywriting.
Beyond ALL the research and dedicated writing time, Dan hires a copywriter who fits his avatar to rip apart his drafts. So, in the case of Proactiv+ he'll find a copywriter who is a mom and has teens in the house dealing with acne. He needs to sell both in the ad, so he seeks feedback from both on his copy. Was anything unbelievable? Ignorable? Boring? Sound too much like it was written by a man who hasn't had teens in the house for decades?
To sum it all up in a phrase:
Great copywriters don't just focus on getting the copy done – they focus on getting the copy right.
One bonus observation from talking with Dan privately at dinner and then watching his stage presentation the next morning…
Learn your best stories before you tell them.
A comedian would never walk on stage with just the premise of a joke in his mind and expect to execute a flawless joke from it. Similarly when you have a story worth telling, work out the beginning, middle and end on paper and then when you tell it live you'll be prepared to take the colorful side roads that make a story great.
If you want to write better sales copy, tell your best stories and boost your sales, download your free digital copy of the 60-Second Sales Hook and join the internet's #1 members-only copywriting community at www.copychief.com