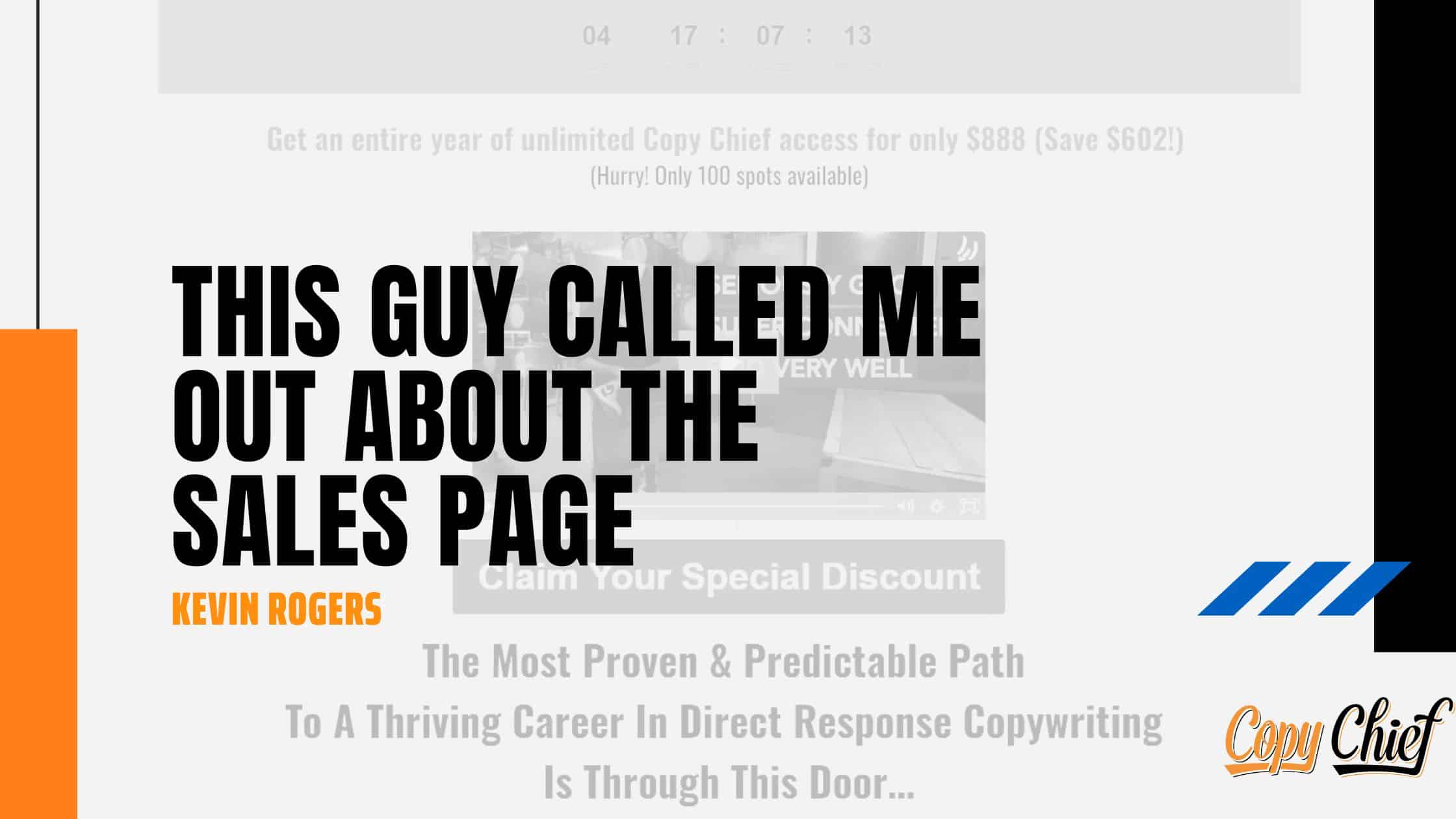 I was unwinding in my hotel room last week when this email popped up in my inbox.
A guy named Saraj CALLING ME OUT about why he DOES NOT TRUST the sales letter for our big anniversary sale for Copy Chief: 
Hey Kevin. 
This might sound silly. 
But I really wish you had some video that walks us through what it's like inside Copychief, etc. 
Sorta like a loom recording of you going through the copy chief member website…
Walking us through the training, job forum, copy critique forum, or whatever forums you may have, etc.
And showing us what's inside.
Your sales letter is great. 
But we can't see what's inside. 
A video walkthrough would be great in my opinion. 
It would really show that your sales letter actually delivers.
I really want to see how active it is. 
How great the quality of copy critique is…
And most importantly, how active the job forum is. 
I've been burned way too many times. 
And I won't budge till I get a peek at what's on the other side of the paywall. 
Is it really as active as Kevin says it is? 
Is the job forum really as active as it is, or will there only be like a handful of new jobs every month, how do I know? 
Is the copy critique really as good as the sales letter says it is? I don't want my copy to get shredded by a bunch of noobs whose mum and dad paid for their Copychief membership.
Those are the questions that keep coming up when I read your letter and testimonials.
And I'm confident I'm not the only one who thinks this way.
I apologize if I come across as snarky or if I offended you in any way.
Please take this as positive feedback. 
I hope you can address this objection soon. 
-Saraj
I laughed.
The nerve of this guy!
Writing ME, a world-class copywriter, to tell me that he was not convinced enough by my magical word pictures and loads of proof on the sales page…
(Not to mention the genuine scarcity AND the 30-day money-back guarantee!)
To plunk down his money without concrete VISUAL EVIDENCE that I wasn't full of s*** like so many other people making big promises online. 
Unlike the scores of people who'd already grabbed this incredible offer, he needed a "peek" inside first. 
I laughed again. 
Louder this time. 
Because he was TOTALLY RIGHT. 
So, I opened up Loom, logged into Copy Chief, and gave him a tour – just like he asked. 
Here you go, Saraj – Watch Video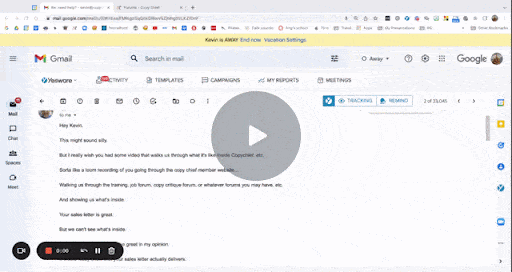 Goes to show… sometimes the best way to sell something is by simply showing someone exactly what they're buying. 
Saraj is now a member of Copy Chief:
Hey Kevin! 
This video convinced me to pull the trigger and subscribe to a Copy Chief yearly pass. 
I appreciate you taking the time out of your busy schedule to record this loom for me.
It really means a lot. 
I look forward to diving deep into the Copy Chief materials and forums. 
-Saraj
Welcome in, Saraj. And thanks for voicing your objections. 
If you're sitting on the fence about whether Copy Chief is the real deal or just another marketing spiel…
Take a look at the tour I gave Suraj and decide for yourself.  
The discount of $602 goes away tomorrow at midnight, so, even if you THINK you're in, dive in now and take a risk-free look inside!