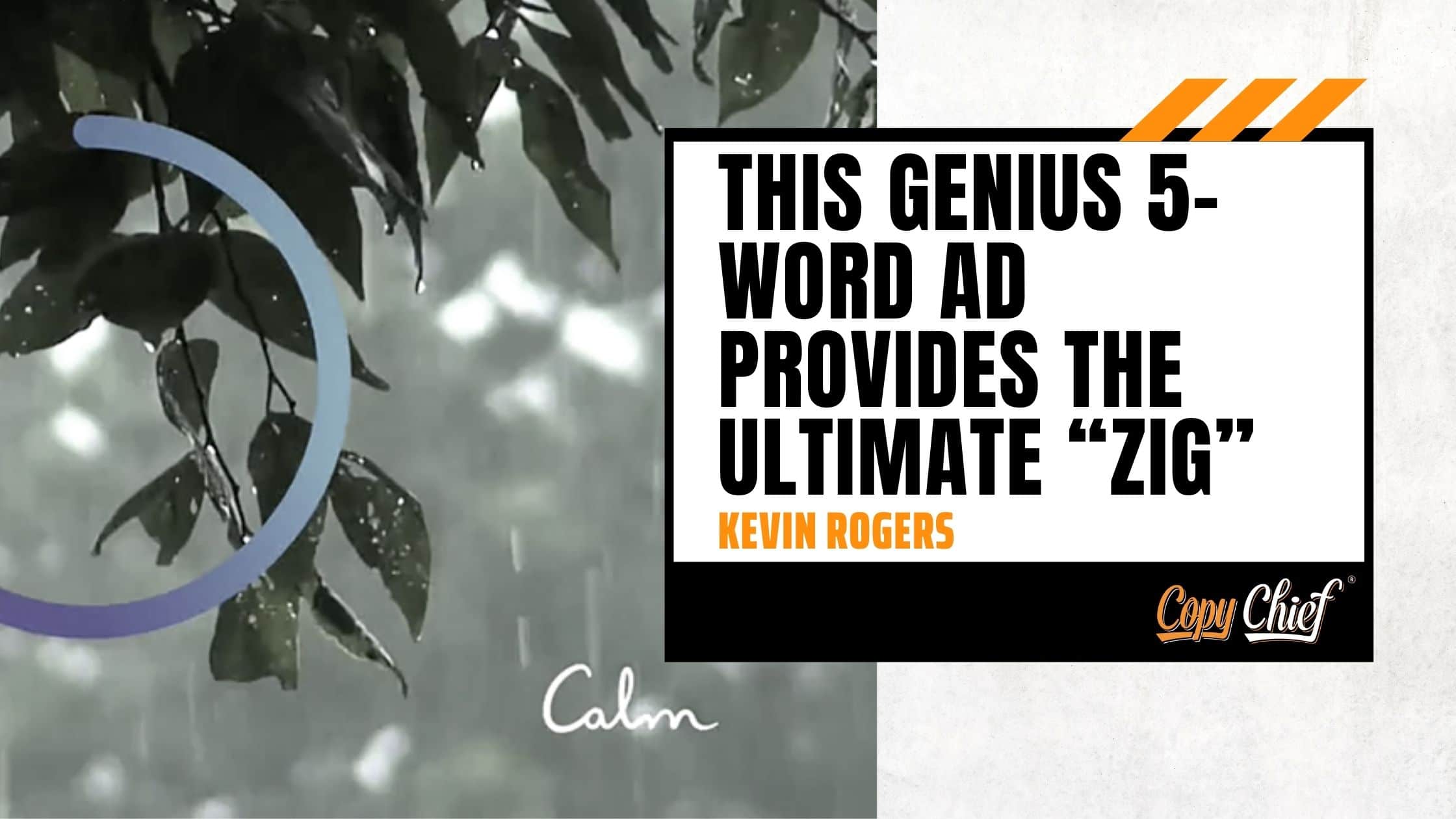 Smack dab in the middle of the most anxious moments (Presidential election coverage) of the most anxious year (uh, this one) on record… where EVERYWHERE you look, EVERYONE is talking a mile a minute and shooting an information firehose straight into the face of America…
How would you use 30 seconds of TV airtime to get viewers to stop and watch your ad?
Better yet, to make them SEE and FEEL the immediate benefit of your product in those 30 seconds?
Well, if you saw the ads run by mindfulness app Calm, then you know exactly how.
The ad featured a steady shot of rain falling through leaves on a tree and the naturally peaceful white noise of it. Then five simple words on the screen with a circle timer:
"Do nothing for 30 seconds"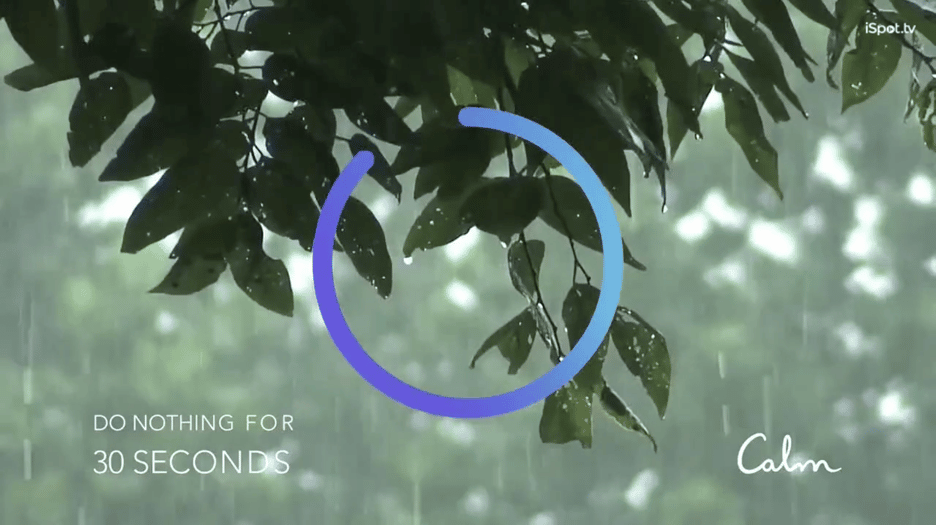 The simple call to action to "do nothing" was a stunning juxtaposition amidst the overstimulating calamity of TV election coverage.
The ultimate "zig when everyone else is zagging" approach to breaking through the noise with your message.


No need for data about stress levels, or scientific facts about the benefits of meditation, or lists of benefits for remembering to breathe… or special limited offers within urgent timelines… or cleverly derivative slogans" "Just stop"… "Got calm?" … "The quicker calmer downer"… 
Just a little gift, should you choose to accept it, with an elegant suggestion for how to get more.
To me there's nothing more powerful in advertising than when the product in action is the most powerful proof of its features and benefits. 
Sure, not all products are as simple to use or explain as a meditation app… 
But the lesson here is to understand your audience, and the pain they are looking to solve, so well that you can easily identify golden opportunities to inject your product as a solution – simply by showing it in action. This brilliantly placed ad from Calm reminds us that in copywriting, everything you choose not to include is as powerful as everything you do.

Peace out.
---

The shiny, new Copy Chief member community and training dashboard is live! If you're already a member, dive in and enjoy. If you're not a member, you can join here.

Whenever you're ready, here are a few other ways I can help…
Become a member of Copy Chief. It's everything you need to sharpen your skills as a copywriter and build your freelance business – all with a killer support system at your back to help you do it. To learn more, check out this page here. 

Mark your spot on the Freelancer's Journey Timeline. Moving forward in your freelance business starts with identifying where you are right now.  Go here to see the full Freelancer's Journey Timeline and mark your spot. 

Find out what the best in the business do differently with the Copy Chief Radio podcast. Every week we release a fresh new conversation with the top producers and change-makers in the world of marketing, copywriting, and business. Tapping into their minds won't cost you a thang – listen here.