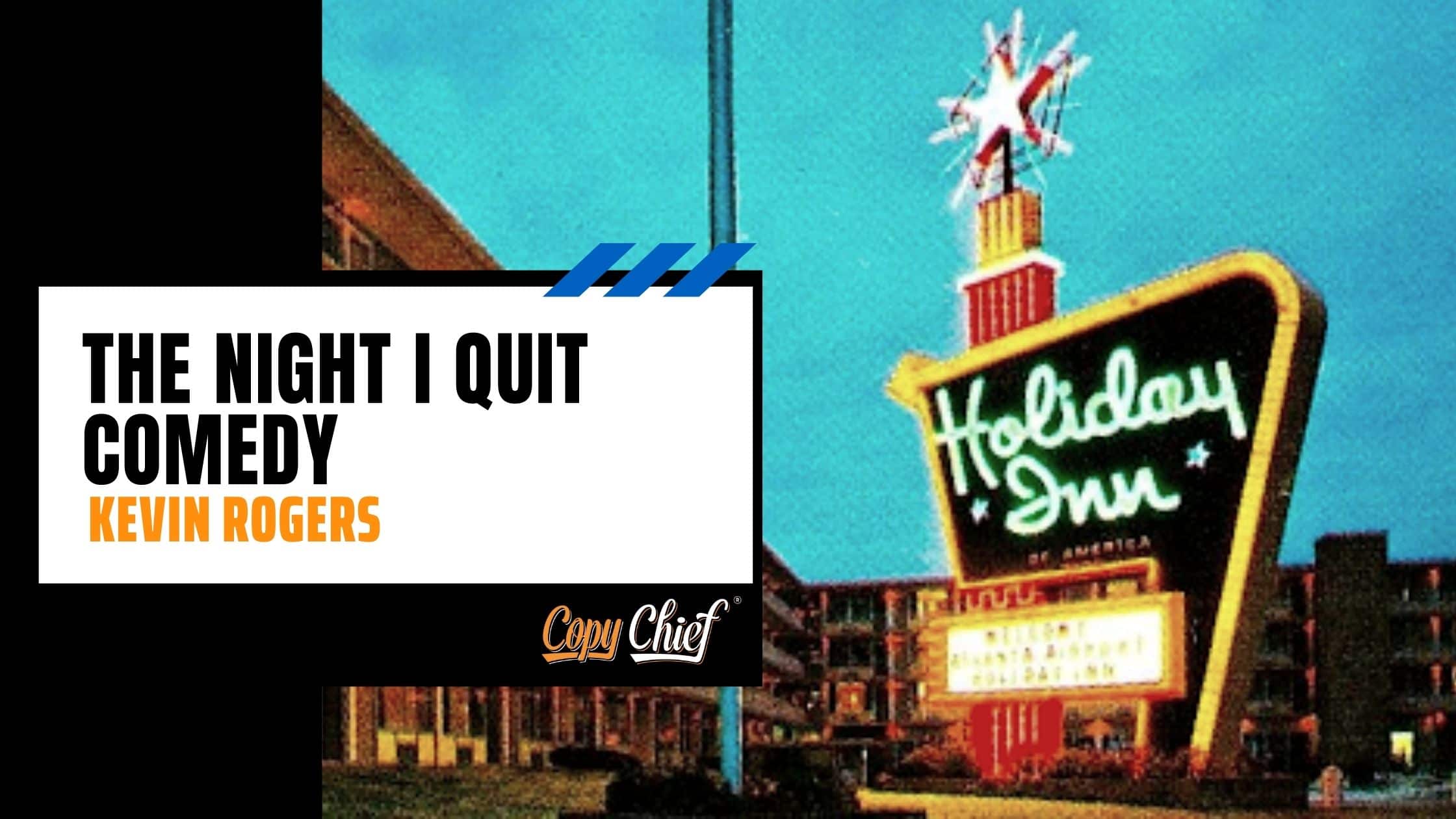 In the mid 90's Warner Robins, Georgia was not the part of the state that swings elections.
It was the part that makes you drive behind farm equipment on the highway.
Where the "good" restaurant is a giant buffet of processed food items simmering in square tins, the dress code is coveralls, and there are spittoons out front for those who can't resist a chew after that last dish of 'nana puddin'.
But it's not Warner Robins's fault that my comedy career ended there.
They were actually quite polite – supportive, even – about the whole thing.
The last time I played WR wasn't the first time, and I don't know how many times I played it before that fateful night, but it hardly matters.
Because that gig represented the crux of my career as a road comic in the 90's:
Roadside hotel lounges with small entertainment budgets and an ambitious manager who thought bringing in some comedians would be a fancy shake up of the "show" calendar; otherwise comprised of a DJ (think wedding, not Deadmau5) and karaoke.
The audiences at these weeknight pop-up comedy shows ranged from frisky traveling salesmen, to bored locals (with broken TVs?), and the DJ and the karaoke queen waiting to do their thing.
You know that Eugene Schwartz line about how you cannot create demand, only feed it? These one-nighters were the epitome of that truth.
Very few audience members at these gigs were there to see comedians on purpose. The show was either unexpected, or in their way.
Compare that to a proper weekend showroom; designed for stand-up and packed with people who've been waiting all week to laugh their asses off, and the dichotomy made it hard for comics to fathom being in the same business Thursday night as you were on Friday.
From nuisance to hero in 24 hours flat.
The Warner Robins room was somewhere in the middle of those two entities; a midweek set up (hotel lounge, wonky sound, tractor parking) that did four shows on the weekend.
A club where you had a chance of killing, buuut… no matter what, you're still opening for karaoke.
The moment that ended my career came during the second show on Saturday night.
Like any job you stay at too long, internally, I sensed it was already over.
I'd been exhibiting the kind of behavior that is begging to be called out. Or better, spark the incident that sets "the norm" ablaze so all anyone can do is stand there, shaking heads, and watch it burn.
Nothing dramatic, mind you. I wasn't getting plastered before shows or fist-fighting the club manager. I just couldn't bear to be in the showroom one more second than necessary.
Thing about being a road comic in a small town… the show is your only entertainment, and the other comic is your only friend.
So, normally you make the best of it. You support the other act, and drink with the crowd after the show. That's the life.
But, this time I couldn't do it.
The same way you'll avoid the culprit after a case of food poisoning, something in me snapped that week and I just could not stomach the smell of stand-up any longer.
Especially my own.
Two things I remember very distinctly from that night are my thoughts before walking on stage, and the heckle that sparked the fire.
If you want to hear the rest of the story, email support[at]copychief.com with "tell it".
I'm curious to know who's listening.
---
P.P.S Ready for more? Here are 3 ways we can go deeper…
Tap into the
#1 copywriting community and jobs board
.
Copy Chief has everything you need to sharpen your chops as a copywriter and build your freelance business – including the #1 jobs board in the industry.

Learn how to level-up your freelance business quickly.

Simply reply to this email to ask our Freelance Coaches any question you'd like about launching or growing your business. (These are real coaches, not sales people in disguise.)

You can also

click here to learn which of the 7 "Freelancing Phases" your business is in now.

You'll get the clarity you need to avoid getting distracted, so you can stop "winging it" and focus on the crucial "right now" problems to move your business forward.

Listen to the Copy Chief Radio podcast.

Every week we release a fresh new conversation with the top producers and change-makers in the world of marketing, copywriting, and business.