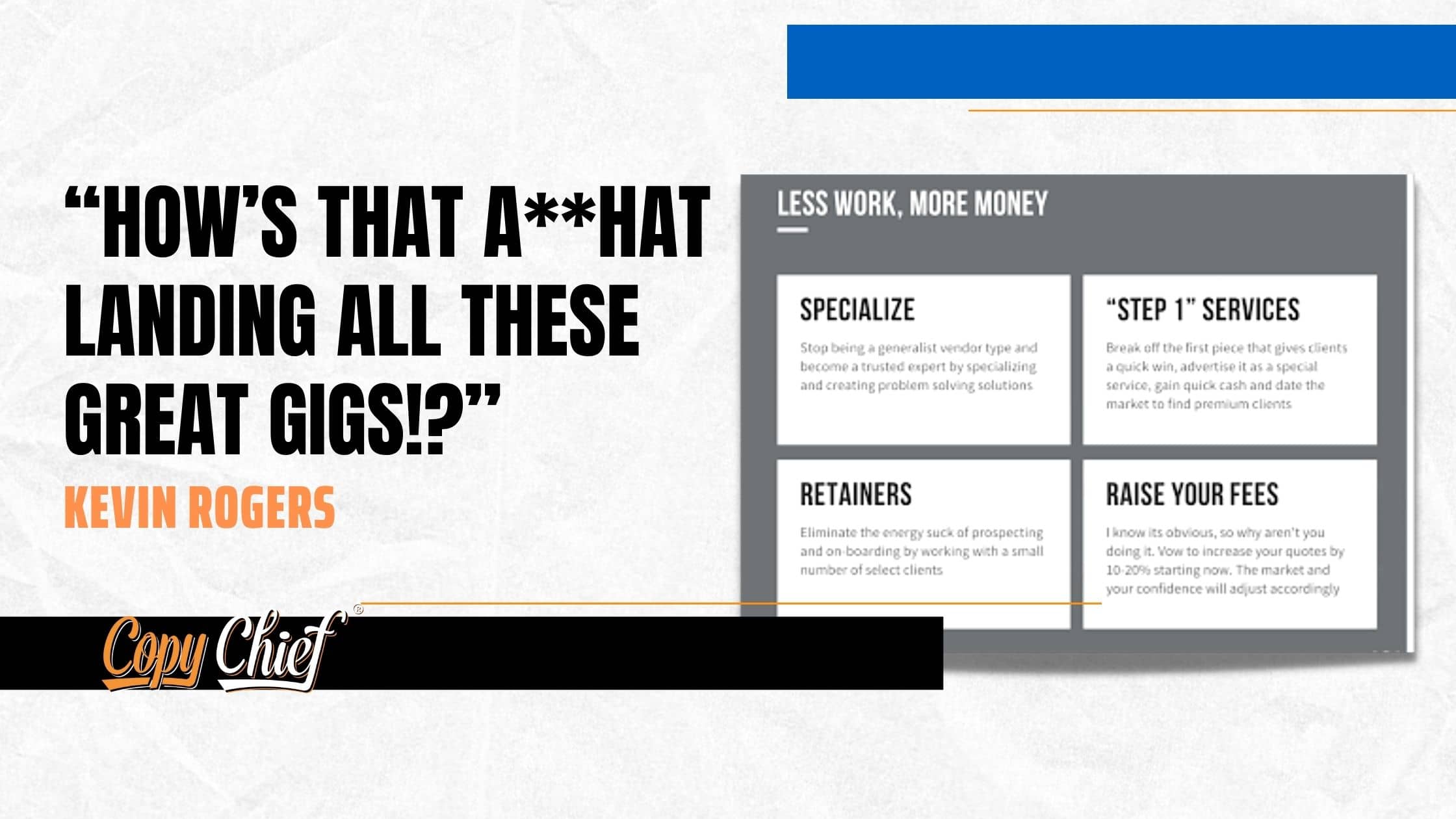 "How's that asshat landing all these great gigs!?"
Maybe it's okay to feel jealous. 
I mean…
Yes, of course, social media is a human highlight reel with (very) questionable accuracy.
Yes, it's a waste of energy to "count other people's money".
And yes, your time is better spent doing your thing instead of wishing you had their thing.
But, sometimes it just gets you. 
Another freelancer you've met, or know from social, who has *questionable character* (to keep it polite)… who is posting update after update of them doing all the things (and with all the people) you want in your career.


The kicker? You've seen their work and you KNOW yours is better. 


"So, what? You just have to be a dirtbag to win at this game?" You ask yourself as you close the app and go about feeling cranky for the next hour. 
I'll reserve my thoughts about whether shitty people really do get ahead in freelancing for another time… 
Because I want to offer a solution to what you're feeling in those moments:
IN THIS 4-MINUTE VIDEO, I'LL GIVE YOU FOUR WAYS TO START WORKING LESS AND MAKING MORE – (LIKE, IMMEDIATELY!)
If any of these sound "obvious" it's because they're proven.
So, why is that asshat doing them instead of you? 
You deserve better.
Let's go get it. 
P.S. – After leading thousands of freelancers, I know that the ability to put your training into action (without making it complicated or confusing) is what stops most freelancers from taking their business to the next level. 
That's why I want to let you know about The Freelancer's Journey Accelerator. It's my intimate mastermind group that provides custom coaching and accountability to help you move through all 7 phases of The Freelancer's Journey.
I'm talking about coaching that focuses specifically on the phase of The Freelancer's Journey that you're in RIGHT NOW.
To be clear, Accelerator is not a course – it's custom coaching for creative marketers so I can personally help you put what you've already learned into action. 
Want a personal tour of the program? Email support[at]copychief.com with the words "show me" and we're happy to show you around.
---
P.P.S Ready for more? Here are 3 ways we can go deeper… 

Tap into the #1 copywriting community and jobs board.
Copy Chief has everything you need to sharpen your chops as a copywriter and build your freelance business – including the #1 jobs board in the industry.




Learn how to level-up your freelance business quickly.


Simply reply to this email to ask our Freelance Coaches any question you'd like about launching or growing your business. (These are real coaches, not sales people in disguise.)





You can also

click here to learn which of the 7 "Freelancing Phases" your business is in now.

You'll get the clarity you need to avoid getting distracted, so you can stop "winging it" and focus on the crucial "right now" problems to move your business forward.




Listen to the Copy Chief Radio podcast.

Every week we release a fresh new conversation with the top producers and change-makers in the world of marketing, copywriting, and business.