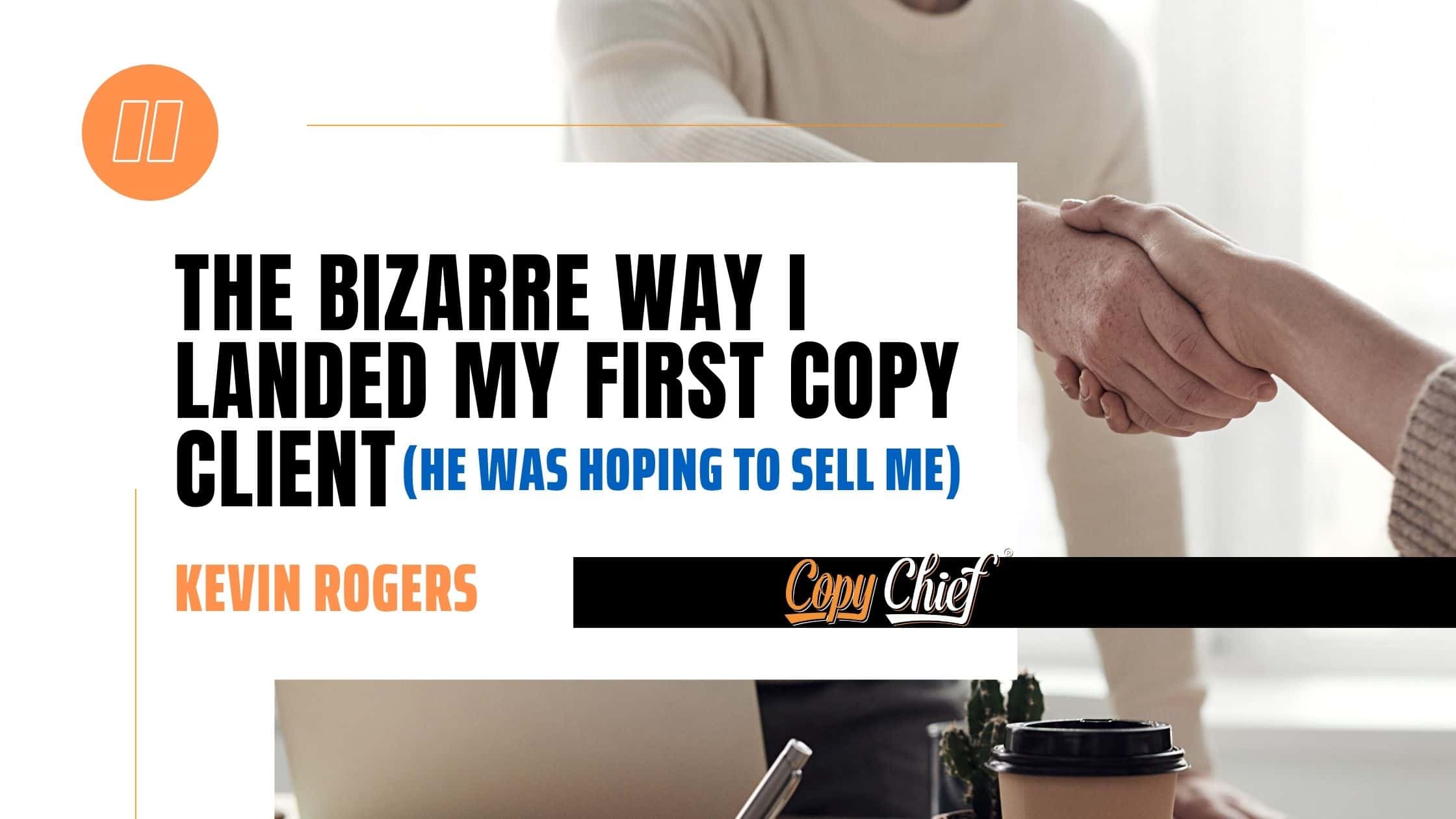 Do you remember your first copy client?
Of course, you do. 
(unless you're still looking for them, in which case, read closely.)
My first ever client?
It was a dude with a landscaping service. 
He knocked on MY door to pitch me his services. 
Which was an instant "Sorry, no" because, back then, my wife and I had no money for such luxuries. 
We had just welcomed our firstborn (the soon-to-be-famous rock n roll savior, Ben Rogers)…
Michelle was still doing massage at the Safety Harbor Resort and Spa… 
… and I was managing a telemarketing phone room (the most "not for me" gig imaginable next to say, a toll booth operator).
A life in Copywriting was my constant fantasy back then. 
I'd taken the famed AWAI course… waited months to get some vague notes back (through the mail) from a fellow student (whaah, whuuh)…
After that, I had NO CLUE where to look for clients. 
There was…
NO UpWorks or Fiverrs
NO LinkedIn
NO FB groups 
And certainly no exclusive job boards like in Copy Chief.
So, I was relegated to… 
Studying anything I could get my hands on (to this day Michelle saves every direct response letter that comes in the mail for me to see)… 
Listening to John Carlton reading Kick-Ass Copywriting Secrets of A Marketing Rebel on CD over and over in the car…
Which, for me, meant trying to mimic ads like the Wall Street Journal letter and ads from The Ken Roberts Company.
(I did a bit of hand-copying sales letters, but it made me restless, so I'd make up my own versions instead).
So, there I am, on my front porch, face-to-face with another young, ambitious, and eager for action, business owner.
SO EAGER that he's knocking on doors to pitch his landscaping service.
This instantly wins my respect. 
He's not that rando who gets dropped off in a van too hard pitch solar panels. 
He's a guy out hustling his very own, honest day's work, lawn service.
Like that kid from the neighborhood looking for video game money, but with his fancy logo stitched into a Polo shirt.  
After thirty minutes of enthusiastic front porch chit-chatting, Mike Thackery of Westscapes Landscaping Services agreed to have me write a one-page letter that he could mail to 200 homes.
That way… instead of knocking on doors, being threatened by psychotic Chihuahuas, and getting rejected, ignored, or cursed at by their owners…
Mike could instead show up for "free estimate" appointments and only pitch the truly interested. 
We shook hands, traded numbers, and set a date to meet up and review the letter. 
Then I closed the door and did a Tom Cruise couch dance shouting to Michelle (holding Ben on her hip): 
"It's finally real. I have a client. I'm writing a sales letter!"
The three of us danced around the living room as we'd just been handed balloons and one of those giant checks from Publishers Clearinghouse. 
This is the only moment that can make
freelancing REAL
The moment when becoming a freelance copywriter goes from fantasy in your mind to happen in real life.
And, that's the moment I want to help you create… or recreate (if your first one turned out to be a dud)…
In my live coaching course: Escape Velocity. 
We call it Escape Velocity because that's exactly what it creates…
A launching pad and fuel for taking your creative freelancing business from ground level… to liftoff… and then beyond the realm of current reality where you can safely guide your career wherever you want.
This is the fourth time we've held a live session of EV, and you can see how it's been the launching pad for so many hopeful freelancers who wondered as I did, and you may be right now…
HOW DO I MAKE THIS REAL?
This is a reminder that June 5th is the LAST DAY to register for this year's only LIVE session of EV. 
If you feel strongly that this is the way for you, go read all the details and grab one of the few remaining spots before the first live coaching call with me next Wednesday.
You'll have plenty of time to go through the first handful of short training videos and get ready to ask me your questions. 
If you're here for it, I'm here for you.
---
Want to see the letter I wrote for the lawn service guy? It's my first ever sales letter and it converted over 20%. 
There are a few things I would definitely do differently today. I'll show you those, too. 
If you want to see it, comment with "show me the letter" and I'll send it over.