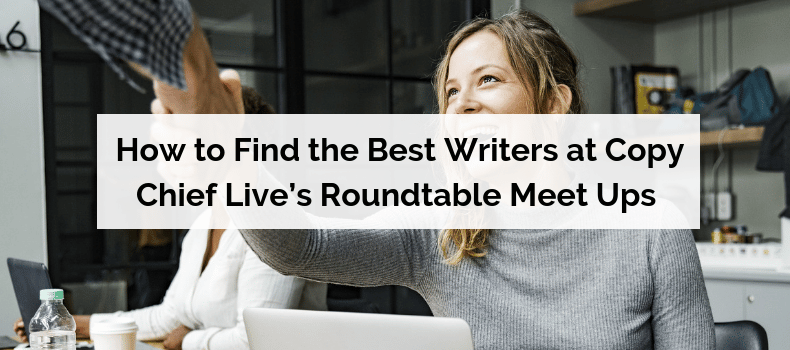 Copy Chief writers are a special breed. They work hard at writing copy. And they care more about getting results for their customers than any person has a right to.
I admit that I'm biased, because many of them have become my friends, as well as my students in Copy Chief's Real Free Life program. But let me tell you a story about 3 of these special writers… The first one is Tjark.
Tjark Hartmann attended Copy Chief Life 2017. No biggie, right? Hop on a plane, uber to the hotel. Done. But not for Tjark.
Before CCL, Tjark was living in his Mom's basement. He'd never been to a marketing or copywriting event. He'd never even flown by himself on an airplane. This guy was nervous, to say the least!
In his words, he decided to go to the Roundtable Meetups, because, "well, why not?"
He said, "While I was there, I met some great people. Copywriters. Marketers. Business owners. You name it. I even met John Carlton (who said my name reminded him of a "Greek sex god". Still not sure if that's a compliment or not haha.) And I actually hugged (yes physically hugged) Todd Brown, too."
As a result of Tjark's courage and stellar writing skills, Tjark was offered a job at Legacy Research Group, one of Agora's top divisions. And 60 days later, he moved to Delray Beach, Florida to begin a brand new life.
What Experienced Writers Say About the Roundtable Meetups
This was Brian McCarthy's experience with the Roundtable Meetups:
"At one point, Agora took over.
Tables were scattered around the room. And representatives from different branches of the company were there. Plus a few others (like Natural Health Sherpa and Money Map — represented by Clayton Makepeace).
All the freelancers got to spend 10 minutes or so at each table. We learned what the companies were up to, what they needed, and how to get a foot in the door with them.
Earlier in my career, this would have been an absolute goldmine. And I know a lot of people did end up with jobs through this."
But my favorite story is Tanja Pilsar's. She summed up her experience at the Meetups in one sentence:
"I came to CCL2017 a rookie and broke, and I left still a rookie… but with a contract."
(Between you and me, Tanja underplayed her story. Tanja is an amazing writer, and an even more amazing person. After CCL, she moved from Great Britain to the U.S. to take a job with Agora. That woman would move heaven and earth to refine and improve her craft. And she's also a delightful person to be around.)
So, here's the big question: How are you going to find great writers at Copy Chief Live that you can't find anywhere else?
It comes down to this:
Did I mention how we're a special group of people? 🙂
Kevin Rogers goes out of his way to attract and nurture talented writers. We work together to teach our writers how to improve their craft and build their business skills.
So when they come to Copy Chief Live, it's more like a family reunion than a business event. That's why writers come to CCL, when they would normally hide in their mom's basement.
How to Help Writers Show Their Best Work
One thing you need to know about copywriters is that they tend to be fierce introverts. That's why I've organized the Meetups to feel as intimate as possible.
The Roundtable Meetups are organized around 7 Empowerment Principles:
Reducing anxiety

about meeting people and publishers for the first time.

Keeping things chill.

CCL is attended by lots of A-list writers. This can be exciting and overwhelming. One of the big takeaways that our writers leave with is how relaxed and real these A-list writers really are.

Giving writers room

to socialize… or hang back, if they need to.

Getting a lot of useful information

about working with publishers and biz owners, in a short period of time.

Proven results.

We had 13 writers leave CCL with contracts last year. That's an amazing result from a small event. And that gives the writers confidence that if they stick their necks out there, they'll get rewarded for doing good work.

Respecting everyone's time.

The writers enjoy the structure of knowing the Meetups won't drag on all night. That's why I run the event on a timer. You'll hear me on the loudspeaker, saying,

"One minute warning…"

Fun!

Not everyone loves networking. (I know, I know, it's hard to imagine. 🙂 ) So, we make sure the Meetups are relaxed and fun, but we get the job done, too.