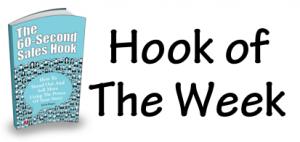 Hello… Kev here… who are you?
It's pretty amazing how crowdfunding sites like Kickstarter and Indiegogo have revolutionized the idea of venture capitalism. For a small fee, you can become an investor in a project you feel connected to, or you can post your own project and seek donations to get it off the ground.
Millions are donated each year, sometimes to just one project. It's creative begging and "no-strings" giving at its best.
The key to a successful crowdfunding campaign is, of course,  the message.
Your rise up the donation meter is directly connected to how effectively you present the "reason why" behind your project.
Naturally, the KLT sales hook formula (Identity, Struggle, Discovery, Result) can be found all over the campaigns. It's the cleanest way to explain your mission and create deeply on why your viewer should care.
Today I visited KickStarter and clicked on the first campaign that caught my eye. It's a movement called "I Talk To Strangers". The basic premise is that people are becoming less and less connected, and if we identify ourselves with bracelets and bookbags as someone who is happy to chat with a stranger, then maybe we'll discover just how amazing the people around us really are.
Sure, the premise of pure openness may have died when Phish quite touring , but what's the harm? I could use less digital conversation and more inspired facetime with new friends, couldn't you?
Anyway, to test my theory that any self-respecting Kickstarter uses some form of KLT, I clicked on the video for "I Talk To Strangers", and boom!, there it was, in perfect order.
Enjoy… and take a minute to say hello, won't you 😉