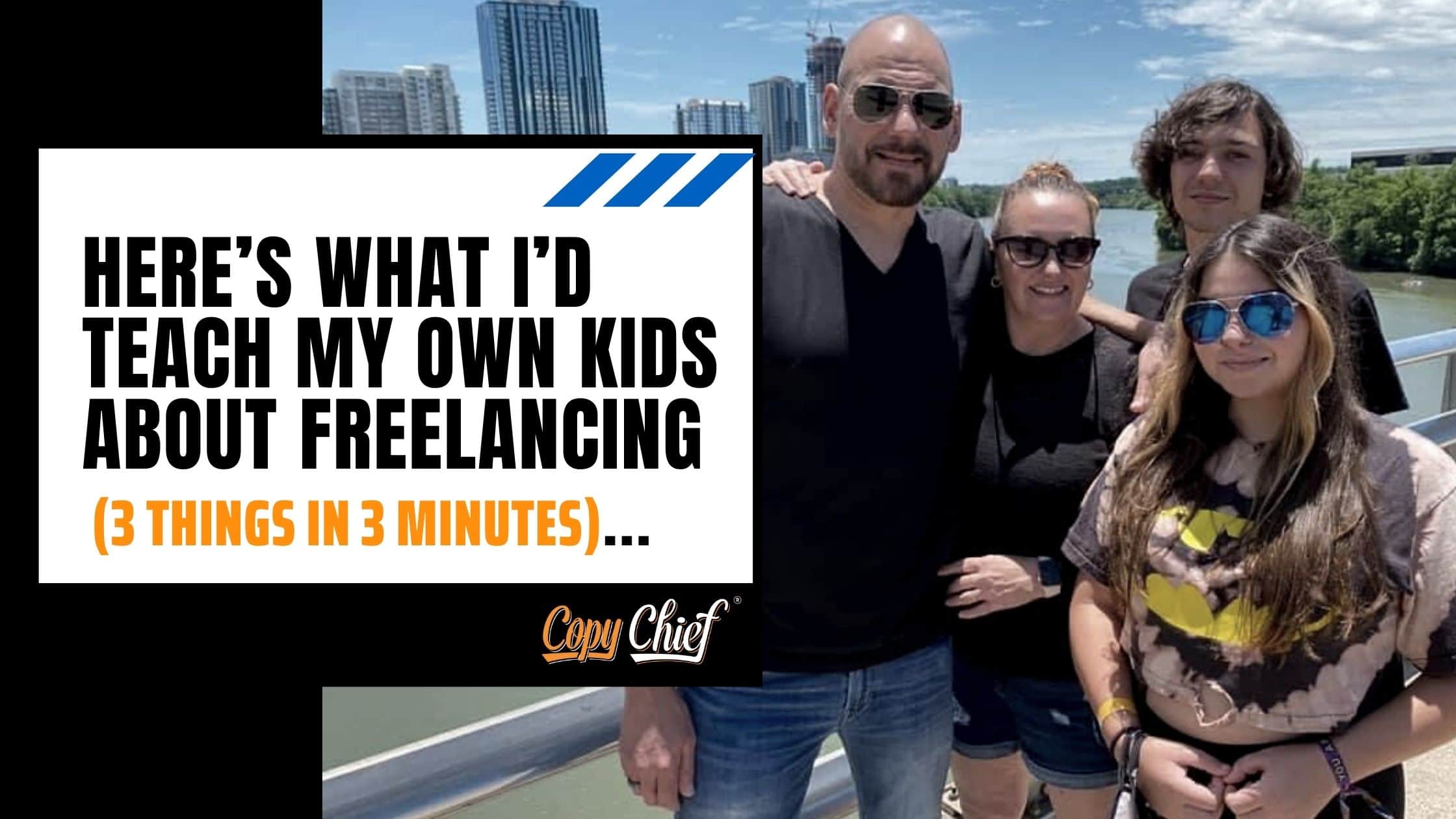 I've got two teenagers (15 and 17) who are preparing to take on the world, so I think a lot about what I can give them to make the journey ahead a little less treacherous. 
Sure, I welcome all the ass-kickings they surely will endure – and survive – because wisdom from experience is the most valuable kind. 
("Oh shit, that lie I told caused me to tell several other lies until I was caught in my own web of lies. Lying sucks!")
However, I'd love for them to avoid major setbacks due to uncertainty – or even plain ignorance – about how to recognize good risk from bad risk… 
… establish some personal character traits to consider "non-negotiable" (in themselves and others)… 
… and learn how to create momentum in their lives and careers. 
Both my kids have independent spirits and strong ideas about how they want to live. 
They value the freedom to travel, work creatively, and seek opportunity over traditional "career paths". 
They've both been a part of all three Copy Chief Live events where they met many colorful people doing inspired work for great pay. 
They've been in on the decisions my wife and I make about how to invest, and we've discussed the pros and cons of entrepreneurship versus a "job job".
So, yes, they're sold on the concept of freelancing and business ownership. But, like any person who feels the call of independence in their bones… 
The question of what exactly do I DO to start earning money and actually achieve a career is a daunting question with lots of potential answers.  
(Not to mention, an invisible army of internet pickpockets waiting to manipulate your innocent enthusiasm into dream-dampening schemes.) 
***
So, here, in 3 minutes are the 3 freelancing tactics I would teach my kids if I only had 3 days…


I hope it helps…

P.S. If you'd like to go deeper with me on these 3 things over 3 days get on the alert list right here: copychief.live
---
P.P.S. Ready for more? Here are 3 ways we can go deeper…
 
Tap into the #1 copywriting community and jobs board.
Copy Chief has everything you need to sharpen your chops as a copywriter and build your freelance business – including the #1 jobs board in the industry.




Learn how to level-up your freelance business quickly.


Simply reply to this email to ask our Freelance Coaches any question you'd like about launching or growing your business. (These are real coaches, not sales people in disguise.)





You can also

click here to learn which of the 7 "Freelancing Phases" your business is in now.

You'll get the clarity you need to avoid getting distracted, so you can stop "winging it" and focus on the crucial "right now" problems to move your business forward.




Listen to the Copy Chief Radio podcast.

Every week we release a fresh new conversation with the top producers and change-makers in the world of marketing, copywriting, and business.