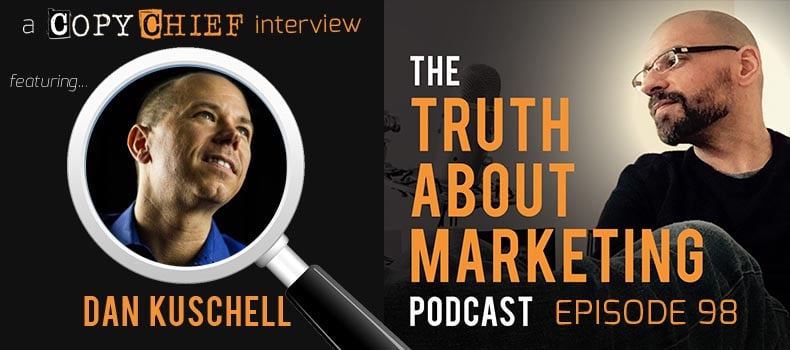 In This Episode
Dan Kuschell grew up in Detroit's inner city without any natural business skills. He knew his parents did the best they could with what they had, but after watching his dad get laid off from 9 different jobs, he became determined to control his own fate.
Dan was gifted with athletic talent and thought he'd spend a life in the big leagues of baseball, his greatest passion. When injuries derailed his plans, a summer job at a direct response marketing company sent Dan's life in a new direction.
Today, Dan is an accomplished businessman with a special gift for helping any business quickly scale profits. He's also an integral part of the leadership team at Joe Polish's Genius Network.
In this interview, you'll hear the wild ride that led Dan out of poverty and into his first business venture at 22. Plus, Dan shares the 6-part framework you can implement right now to grow your profits — without making major changes to your game plan.
Can't Miss Moments:
14:40 – The "semi-sociopath" quality all influential leaders possess (can you be wildly successful without this odd trait?)
18:25 – How to reach your highest potential and stay there (discover what Joe Polish does to consistently outperform his limitations)
27:05 – Where to find the untapped growth opportunities in your business (and tap into them without kicking over your ant hill)
Resources:
Growth To Freedom (Dan's podcast)
Show notes written by Tim Woo. You can reach him at timothyhwoo.com.
[podcast_optin]
Disclaimer: Every effort has been made to accurately represent our product and it's potential. Any claims made of actual earnings or examples of actual results can be verified upon request. The testimonials and examples used are exceptional results, don't apply to the average purchaser and are not intended to represent or guarantee that anyone will achieve the same or similar results. Each individual's success depends on his or her background, dedication, desire and motivation. As with any business endeavor, there is an inherent risk of loss of capital and there is no guarantee that you will earn any money.