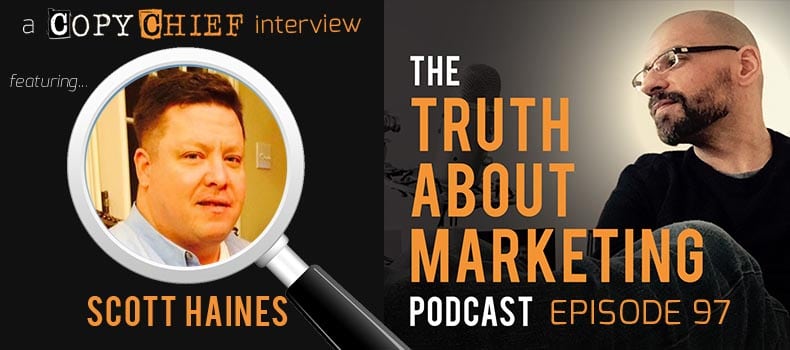 In This Episode
NOTE: Sadly, one week after this episode published, Scott Haines suffered a stroke on Christmas day and did not recover. He passed away on January 11th 2017, surrounded by friends and family in Tulsa, OK. This was his last interview.
Another exciting episode for Truth About Marketing with a copywriting great, Scott Haines.
Scott has been in the marketing trenches for 20 years. He's got an impressive resume filled with collaborations with legendary Gary Halbert, John Carlton, Jay Abraham, and get this… Donald Trump.
Lots of marketing lessons to learn from one of today's top direct response copywriters.
In this episode, you'll learn about Scott's speed writing process and how he got his foot in the door with Gary Halbert (and how you can use this to jump start your copywriting career, too).
Can't Miss Moments:
10:37 – What to do if you want to study under a great copywriter, but don't know how to get their attention
16:15 – How to quickly bypass writer's block and accelerate your writing speed using a simple "warm up" (Scott still uses this to get himself into the writing groove)
16:58 – Two skills you must master as a copywriter in order to write fast, high converting copy (Hint: It has nothing to do with your actual writing)
What's the one thing Scott's done that's produced the most surprising result?
When Scott was working with Gary Halbert, they were able to turn a $700 ad space into a $60,000 to $70,000 profit machine using 3 letters.
However, to get more orders, something needed to be changed. You couldn't change the copy much (few, if any, could beat Gary's controls at the time), and you were limited to what you could test and mail…
Scott decided to write a 4th piece that specifically targeted people who did not buy. However, he threw in a small caveat in the letter…
The result was $65,000 in sales from that one letter. Check out what Scott did by writing one letter at 23:09.
Resources:
Get Scott's legendary course: Shortcut Copywriting Secrets
Show notes written by Tim Woo. You can reach him at timothyhwoo.com.
[podcast_optin]
Disclaimer: Every effort has been made to accurately represent our product and it's potential. Any claims made of actual earnings or examples of actual results can be verified upon request. The testimonials and examples used are exceptional results, don't apply to the average purchaser and are not intended to represent or guarantee that anyone will achieve the same or similar results. Each individual's success depends on his or her background, dedication, desire and motivation. As with any business endeavor, there is an inherent risk of loss of capital and there is no guarantee that you will earn any money.