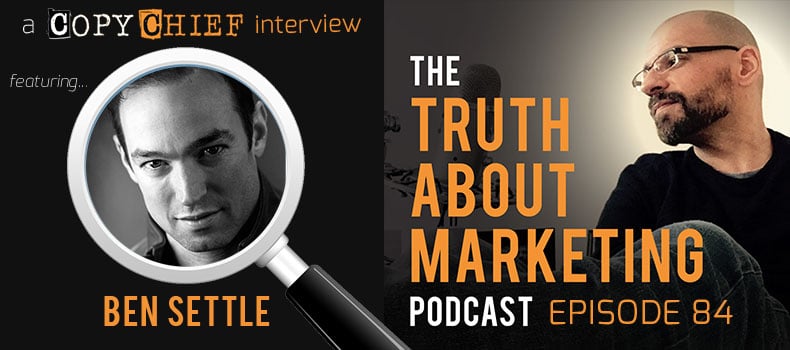 In This Episode
Ben Settle is a modern legend among copywriters … which is truly ironic as he hasn't even taken a client in the last five years. That's the power of his craft.
His popular emails will either make you laugh or piss you off (maybe both). But one thing's for sure, you can't ignore him.
Ben's the creator of Email Players, a rare print newsletter where Ben shows copywriters how to write red hot emails that sell like crazy.
And until last month, he was also the host of a wildly popular podcast, Antipreneur, that he couldn't wait to give the axe. Go figure.
Don't be fooled. There's a very precise method behind everything Ben does, even when it's not immediately obvious. And because of this, Ben now lives very comfortably writing a single email a day.
In his second interview for TAM Ben spills his guts on his most successful launches… and even shares the numbers.
Ben also reveals his worst business mistakes, questions that drive him nuts, and a super exclusive copywriting class he's hosting with me next month. And how, if you're lucky (and fast), you might still be able to grab one of only 3 remaining seats to spend the day learning from Ben and me.
5 "Can't Miss" Moments:
3:30 – How Ben accidentally got 10x more customers than he ever expected for his podcast … and why he decided to pull the plug and shut it all down.
13:00 – "I feel like I've just been paroled!" Ben shares a hard lesson on why you should never value money over your sanity.
15:50 – "Know yourself and how you work best." Ben explains why he outsources absolutely everything, and why you'll never see him offer a membership site ever again.
23:30 – How Ben escaped freelancing and hasn't taken a client in 5 years (but not before Google brutally kicked his first business in the face).
30:00 – Why you never need to worry about running out of ideas (and how writing a newsletter is like eating a rich dessert).
Bullets written by Carolynn Ananian. You can reach her at cananian.com.
Resources
Want to score a seat at the Email Addiction Live 2-day workshop?
Apply here (only 3 seats left)
[podcast_optin]
Disclaimer: Every effort has been made to accurately represent our product and it's potential. Any claims made of actual earnings or examples of actual results can be verified upon request. The testimonials and examples used are exceptional results, don't apply to the average purchaser and are not intended to represent or guarantee that anyone will achieve the same or similar results. Each individual's success depends on his or her background, dedication, desire and motivation. As with any business endeavor, there is an inherent risk of loss of capital and there is no guarantee that you will earn any money.