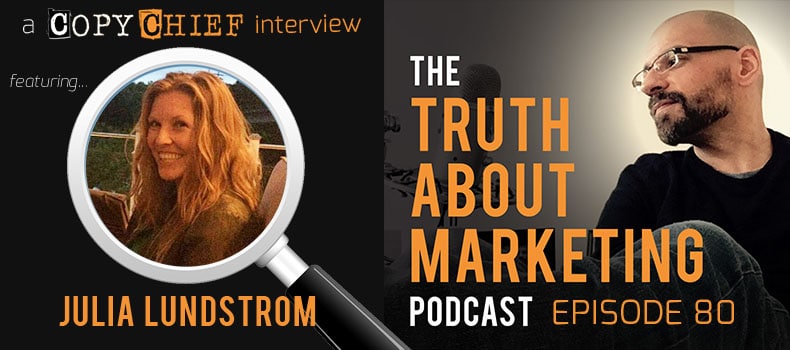 In This Episode
Before becoming a CEO, Julia Lundstrom hit rock bottom when she discovered the love of her life was on the FBI's Most Wanted list.
Things spiraled downhill from there. She drank heavily to cope with the pain. When that didn't work, she resorted to workaholism.
Ironically, Julia's obsession with work finally snapped her out of the depression, but she was left wondering what had just happened in her head. This started an epic journey to understand what was happening deep inside her brain.
Now, she's a brain health expert who runs Simple Smart Science, a company that develops supplement products that boost and improve your everyday performance.
In this episode, you'll find out how Julia helps the older generation of entrepreneurs double their brain power, and show you how to optimize your brain's health too.
5 "Can't Miss" Moments
2:04 – Why it's mission critical to attract the right people, especially if you hate wasting time and energy in the wrong places (Plus, how Julia learned this lesson when she almost married the FBI's Most Wanted bank robber)
7:42 – The single, most critical exercise almost everyone skips as they get older (Hint: It has nothing to do with working out at the gym)
14:10 – The only kind of value you need to give your prospects (And why the last thing they need are "more bonuses" or "hard selling")
16:28 – How to use the Seed Planting technique that makes prospects (who didn't buy from you) come back saying, "Shut up and take my money!"
19:26 – How to train yourself to consistently get things done, reach your creative peak, and sleep like a baby at night
What's the one thing Julia's done that's produced the most surprising result?

Julia's answer is a marketing lesson we all take for granted. It's the one thing you must absolutely know about your audience.
If you get it right, you'll launch a successful product. But if you get it wrong, you'll spend days, weeks, even years wondering, "What happened? Thought I did everything right…"
Check out her answer at 29:00.
Show notes written by Tim Woo. You can reach him at http://timothyhwoo.com/
Resources
Moonwalking with Einstein: The Art of Remembering Everything
Breaking the Habit of Being Yourself
[podcast_optin]
Disclaimer: Every effort has been made to accurately represent our product and it's potential. Any claims made of actual earnings or examples of actual results can be verified upon request. The testimonials and examples used are exceptional results, don't apply to the average purchaser and are not intended to represent or guarantee that anyone will achieve the same or similar results. Each individual's success depends on his or her background, dedication, desire and motivation. As with any business endeavor, there is an inherent risk of loss of capital and there is no guarantee that you will earn any money.