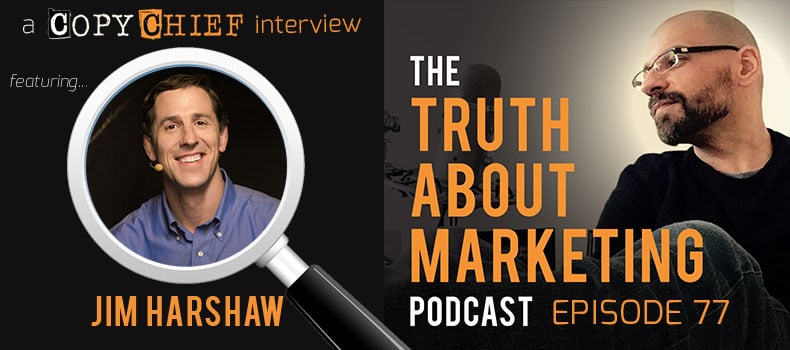 In This Episode
When was the last time you felt like you weren't living up to your potential? For many of us, it was just this morning.
When Jim Harshaw retired from his career as a NCAA wrestling champion, he struggled to transition back into the "real world." He couldn't shake the feeling that he was coming up short in every aspect of his life.
Then one day, he realized the same principles he used to dominate wrestling could be applied to finding success outside of sports, too.
He took what he learned about confidence and discipline and began coaching high achievers. Now Jim's clients include Olympians, millionaires and CEOs.
In today's episode, Jim shares his journey from a high school athlete (who was getting his butt kicked on the mat) to a professional coach and three-time wrestling champion with a shot at the Olympics.
He also explains why making failure a normal part of your day is one of the best investments you can ever make in your career and personal life.
5 "Can't Miss" Moments
3:00 – How to use pain and suffering to win at everything you do. (This especially applies to business owners.)
8:30 – How to make failure your secret weapon and never lose motivation no matter what. (Plus, the behind-the-scenes pep talk Jim gives every terrified young athlete.)
11:30 – A wise person never forgets? False! Jim shares the ONLY time in your life where you absolutely NEED short term memory.
15:30 – "I failed repeatedly until my senior year." Jim explains how his wrestling career almost didn't happen, and the exact mindset you need to hit your goals (no matter how badly you're failing).
20:15 – Do you FEAR public speaking? Hear how Jim used his own paranoia over public speaking to grab a coveted spot on TEDx.
What's the one thing Jim's done that's produced the most surprising result?

Jim's answer includes shocking advice he received from a stranger who approached him one day and said, "Anything worth doing is worth doing poorly."

Jim recoiled, but as he listened more, he realized the guy was 100% correct. Hearing the full answer could mean the difference between your next successful business launch … or not.
Check out his answer at 27:30.
Show notes written by Carolynn Ananian. You can reach her at cananian.com.
Resources
Jim's TEDx talk, "Why I teach my children to fail"
Mindset: the new psychology of success by Carol Dweck
The Art of Learning: a journey in the pursuit of excellence by Josh Waitzkin
Wrestling With Success Podcast
[podcast_optin]
Disclaimer: Every effort has been made to accurately represent our product and it's potential. Any claims made of actual earnings or examples of actual results can be verified upon request. The testimonials and examples used are exceptional results, don't apply to the average purchaser and are not intended to represent or guarantee that anyone will achieve the same or similar results. Each individual's success depends on his or her background, dedication, desire and motivation. As with any business endeavor, there is an inherent risk of loss of capital and there is no guarantee that you will earn any money.