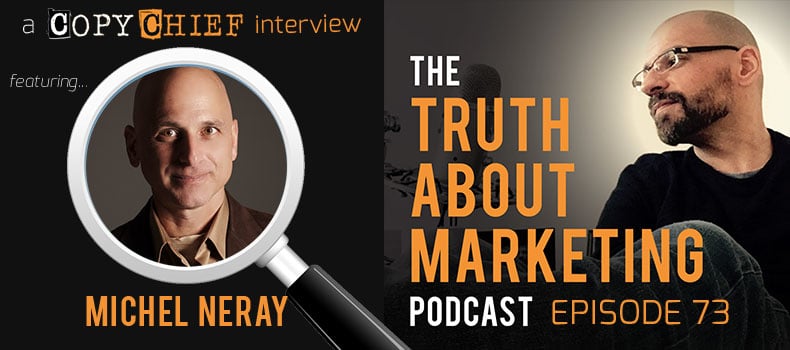 In This Episode
From the start, today's episode took off so quickly, I hit the record button in the middle of our "warm up" conversation…

My guest today is Michel Neray. He's an all around storytelling expert, coach, consultant, and speaker. Yet he was frustrated with the lack of human connection at events he attended.

Driven to build human connections and find his purpose in business, he created momondays where people share raw stories they've never shared before.
Now, Michel will take you through storytelling tips you can use to draw your readers to the edge of their seat. By the end of the episode, you'll know exactly how to make your personal story authentic, credible, and clear.
5 "Can't Miss" Moments
2:20 – Why storytelling is your evolutionary advantage as a human (Plus, how to maximize this advantage by knowing when to start your story)
8:44 – The obnoxious red flag lazy talkers unknowingly raise when telling their story (easy fix, yet ignoring this will make your listeners run for the exit)
14:56 – The counterintuitive word you must always use if you want your story to feel personal (Hint: it's not "you")
18:42 – The hidden ingredient that makes every story you tell smack your audience awake

32:07 – How to make your story ooze emotion from the first time you tell it (Even experienced speakers forget to use this counter-intuitive trick)
What's the one thing Michel's did that produced the most surprising result?
Michel's answer boils down to the one characteristic he disliked at the different events he attended. His essential answer led him to create momondays, but listen in for the story of how he followed his gut and created more than a storytelling event…you'll love his answer.

Check out Michel's answer at 23:23.
Show notes written by Tim Woo. You can reach him at timothyhwoo.com.
Resources
[podcast_optin]
Disclaimer: Every effort has been made to accurately represent our product and it's potential. Any claims made of actual earnings or examples of actual results can be verified upon request. The testimonials and examples used are exceptional results, don't apply to the average purchaser and are not intended to represent or guarantee that anyone will achieve the same or similar results. Each individual's success depends on his or her background, dedication, desire and motivation. As with any business endeavor, there is an inherent risk of loss of capital and there is no guarantee that you will earn any money.