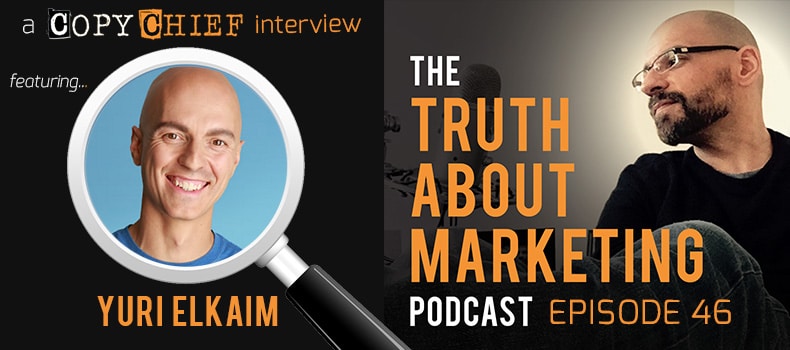 In This Episode
2.43 – How Yuri's obsession with simplicity fuels his 20 year success in the cut-throat health niche… PLUS, the three tools that strip complexity from any marketing content you create…
5.32 – Why Yuri's blog titles so damn irresistible (Kevin exposes Yuri's simple tactics to create insatiable curiosity)…
6.59 – The "A-Ha!" moment that caused Yuri to create an entirely new business model and won him the ultimate trophy for any entrepreneur: Growing your business when you're not there…
12.46 – The truth about exposing your weaknesses and mistakes. How far should you go?
13.42 – Why Yuri's attempt to hire Copywriters FAILED, until he found a few with this subtle skill – A must have if you're a freelancer…
17.12 – Yuri's confident (maybe arrogant) core belief that gives him peace of mind to sell without any anxiety or hesitation…
20.26 – If you value trust, believe in what you are selling, and dread being labeled "Salesy" then is the ultimate selling solution…
21.44 – Have the YouTube guru's been lying to you? Yuri's radical strategy gets prospects to "drink the Koolaid" and hit the buy button…
24.00 – How Yuri reinvented "old school" techniques of customer care to create the ultimate WOW experience – Techniques you can easily model for any business…
28.22 – When it's in your best interest to make yourself unavailable to your customers… and Kevin's secret to finding the right balance…
Resources Mentioned
The Truth About Marketing podcast is produced by James Clouser. Graphics by Cassie Clouser. Bullets written by copywriter extraordinaire Barry Davret.
[podcast_optin]
Disclaimer: Every effort has been made to accurately represent our product and it's potential. Any claims made of actual earnings or examples of actual results can be verified upon request. The testimonials and examples used are exceptional results, don't apply to the average purchaser and are not intended to represent or guarantee that anyone will achieve the same or similar results. Each individual's success depends on his or her background, dedication, desire and motivation. As with any business endeavor, there is an inherent risk of loss of capital and there is no guarantee that you will earn any money.