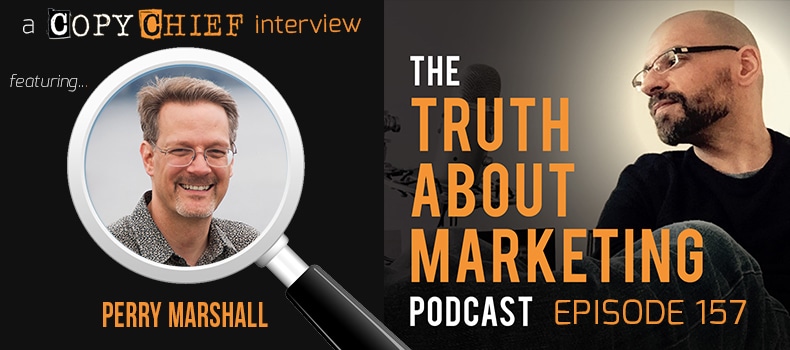 In This Episode
I bet you've heard of the Pareto principle before… known as the 80/20 rule.
The concept is simple: 80% of your results come from 20% of the activities you do.
The surprising part of this principle is how many levels deep it can go…
And I quote: "By the 3rd or 4th time you read the 80/20, you'll discover even more things about the 80/20 you didn't see the first time you read it."
My guest today is Perry Marshall. It's his second appearance on the show, and this time, we're going deep into the complex layers of the 80/20.
Perry reveals the common mistake people make when applying 80/20 and how you can use it to fuel all areas of life, especially your business…
Instead of trying to FIX what's wrong, leverage the 80/20 by focusing on what's RIGHT and watch the magic unfold before you.
Side note: this interview reveals a lot about Perry's values as a business owner, why he's so successful in business, plus all the brilliant ways he applies the 80/20. This is a topic that will be forever relevant in life and in business, and Perry teaches it better than anyone (except perhaps for his own mentor, Richard Koch)
Whether or not you've read his much-celebrated book, "80/20 Marketing", this episode will help you see business, marketing, and life in a completely different lens. The 80/20 is everywhere, and will be even more so after you listen…
Resources:
P.S. Be sure to download the free Copy Chief App (It's free for iOS and Android) where you can get access to all of the podcast episodes, articles and more cool content designed to help you boost your sales.
Disclaimer: Every effort has been made to accurately represent our product and it's potential. Any claims made of actual earnings or examples of actual results can be verified upon request. The testimonials and examples used are exceptional results, don't apply to the average purchaser and are not intended to represent or guarantee that anyone will achieve the same or similar results. Each individual's success depends on his or her background, dedication, desire and motivation. As with any business endeavor, there is an inherent risk of loss of capital and there is no guarantee that you will earn any money.