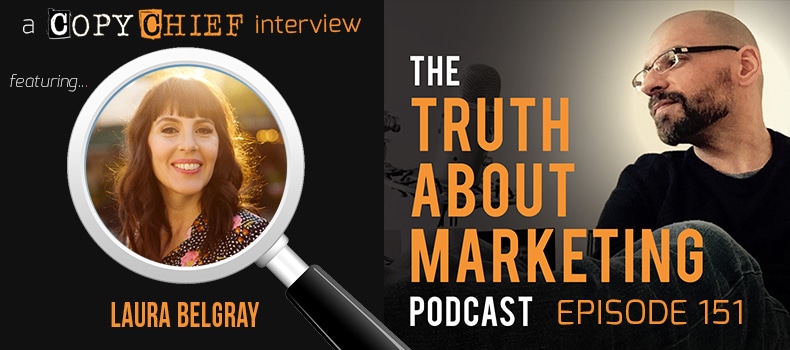 In This Episode
"I'm going to eat my face now."
That subject line, "I'm going to eat my face now" is the 12th most popular (by open rate) in Laura's list of her top 33. (You can get a link to them all in the show notes)
My favorite interviews are the ones with NO AGENDA because that means I met the person I'm interviewing in person and knew they'd deliver big on the show.
I won't lie and say this hasn't backfired, but when it did you never heard the episode.
Laura, however, made my method sound like pure genius. That's because she's near genius (saying "actual" genius would only get your arms folding) in writing in her true voice. No forced "fun" or "sass"… just loads of genuine wit.
Check out the episode. It's so friggin' good you'll think I planned it.
"Can't-Miss" Moments
Laura created a copywriting course with Marie Forleo, but what she writes for Marie is NOT copy…
Her NYC neighbor's six-year-old made her life a living hell (and led to one of her funniest subject lines)…
How you can get paid to "watch TV all day"…
Why every copywriter should start a list, especially if you don't plan to write a blog…
How the weird company name she spontaneously chose to incorporate gave birth to a hilarious brand mascot…
Resources:
Visit Laura's website (helpful resources)
Download 33 Non-Sucky Subject Lines
P.S. Be sure to download the free Copy Chief App (It's free for iOS and Android) where you can get access to all of the podcast episodes, articles and more cool content designed to help you boost your sales.
Disclaimer: Every effort has been made to accurately represent our product and it's potential. Any claims made of actual earnings or examples of actual results can be verified upon request. The testimonials and examples used are exceptional results, don't apply to the average purchaser and are not intended to represent or guarantee that anyone will achieve the same or similar results. Each individual's success depends on his or her background, dedication, desire and motivation. As with any business endeavor, there is an inherent risk of loss of capital and there is no guarantee that you will earn any money.