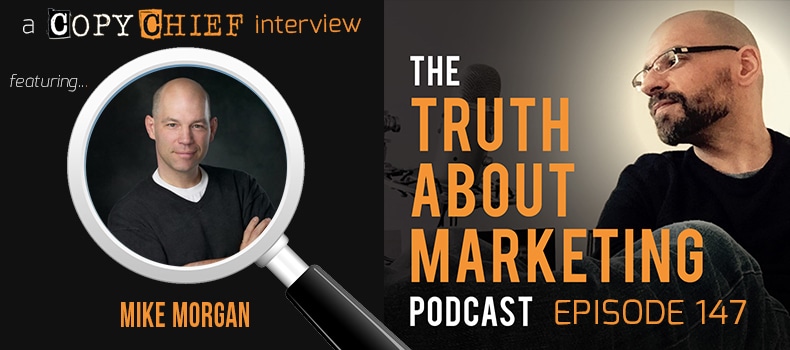 In This Episode
"I get asked to do these every week and I always say 'no' because I hate doing interviews… but with you I feel pretty good."
Truth is before now I didn't realize Mike Morgan was an extreme introvert.
We've had some night of gut-busting laughter together hanging out with our friends. One night in San Francisco on my birthday, Mike had everyone pounding with laughter the table by improvising a birthday balloon from a vending machine condom.
However, it took several months of pestering my old friend to come have a chat with me on the show. Now I know why.
Mike HATES public speaking of any kind.
In fact, Mike admitted in our interview that his "teleseminar" to promote his first course was so BAD that of the 1,000 people attending the call, only 3 bought the product.
Ouch.
What he did the very next day though to sell $50,000 worth of the same offer that went on to produce more than 6-figures is a HUGE lesson for any copywriter or marketer who's still searching for their perfect medium.
This is going to be one of the most popular episodes for freelance copywriters, not only for the inspiration of how Mike overcame his debilitating shyness ("I'm sure I had skid marks in my underwear walking into my first marketing conference")…
… but also for the DEEP lessons from inside Mike's private writing process.
They don't call him "Million Dollar Mike" for nothing, and he shares his entire process, from research to launch, to tweaking the control to slay the control.
If you're intrigued by the inner workings of an elite copywriter who RARELY shares his methods, then this is a "drop what you're doing and hit play" level episode.
Can't-Miss Moments
3:30 The worst mistake you can make when launching a webinar that almost lost Mike a MILLION dollars. But the way he fixed this common error will make your eyes pop out and roll on the floor like dice.
15:40 How to fight the legal department for your hard-worked copy and win like you're the star of Law & Order. Mike shows you how he did it without even leaving his desk, so you can do it too.
18:15 The fascinating CUB process Mike went through at Agora and how to apply these 3 criteria to your own copy. Follow Mike's advice to kill your darlings with more passion than ever.
21:35 Mike hits the "golden moment" of the show by revealing his full step-by-step writing process. You get a voyeur sneak peek inside his mind and watch him go from research, to Big Idea, to writing down an unbeatable control.
25:25 How to flip on your subconscious switch and allow your brain to generate brilliant ideas effortlessly. This technique comes from the great Eugene Schwartz and taps right into your creative core even while you sleep.
31:10 The only time it's completely appropriate to "play with it" for days, until you're fully satisfied. Activate your play mode in this particular phase of your copy and you'll never suffer from writer's block again.
32:00 How do you write a story while it's STILL unraveling under your eyes? Mike leaves us wild-eyed with suspense as he talks about the plot twist that turned his copy around at the last moment.
40:30 The red flag that you're getting lazy as a copywriter and what you need to do ASAP to get back on track. Mike says he'll give up on this method only after he's written his last line of copy EVER.
42:05 Mike reveals the terrifying thing that got him the most surprising results in his copy career. If you're an introvert like him, this will make your stomach curl up into a ball… but listen till the end to hear the REAL shocker.
45:55 The 3-step system Mike uses to get big-budget clients FAST during networking events. If collecting business cards from potential clients gives you crippling anxiety, this method will be as easy as A, B, C.
Resources:
Get Mike's insights from Facebook
Bullets written by Valentina Volcinschi. Valentina is a member of Copy Chief and you can reach her at valentinavolcinschi.com.
P.S. Be sure to download the free Copy Chief App (It's free for iOS and Android) where you can get access to all of the podcast episodes, articles and more cool content designed to help you boost your sales.
Disclaimer: Every effort has been made to accurately represent our product and it's potential. Any claims made of actual earnings or examples of actual results can be verified upon request. The testimonials and examples used are exceptional results, don't apply to the average purchaser and are not intended to represent or guarantee that anyone will achieve the same or similar results. Each individual's success depends on his or her background, dedication, desire and motivation. As with any business endeavor, there is an inherent risk of loss of capital and there is no guarantee that you will earn any money.