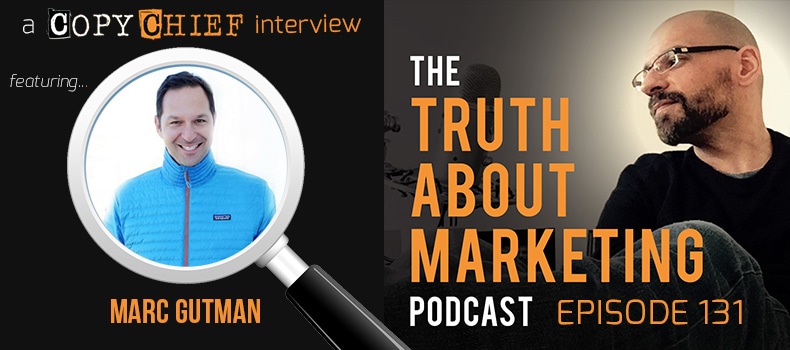 In This Episode
Today, If you want to grab someone's attention… it's no longer enough to just tell a compelling story. You've also got to get specific.
Most stories fall flat because we're afraid of diving deep and getting specific in our tales. Reality is, that's exactly what you must do to tap into all the juicy, attention-grabbing power you'll need to hook your perfect prospect.
So… how do you inject the perfect amount of specificity in your stories that'll bond you with your ideal customers faster than you imagined possible?
Today I've got former Hollywood story editor turned entrepreneur Marc Gutman on the show. Marc is a story expert helping clients deliver their most compelling sales stories to their perfect prospects. He's worked with Hollywood A-players like Oliver Stone…
… and helped with the scripts of popular films like Any Given Sunday, and Osmosis Jones.
As Marc explains in the interview, the more specific your story, the more universal it becomes…
…because you give your audience the space to fill in their own gaps. This allows them to enjoy their own unique experience through your story.
In this episode, Marc shows you how you can sharpen your storytelling chops with his unique Hollywood experience…
… and what you absolutely must focus on to deliver YOUR authentic story. (You'll want to hear Marc's surprising lesson after leaving the Hollywood world behind… and why you're likely missing the most persuasive element in your current sales story.)
"Can't Miss" Moments:
Are you REALLY attracting your perfect prospect with your current story? (Marc reveals the ONE thing likely missing from your tale that's killing your connection with your ideal customer.)
The single biggest question you absolutely

must

answer before you even think about writing your story… and it's got nothing to do with your "hook" or "writing chops."
The "something's gotta happen" tactic to catapulting your story from "dull n' dreary" to rolicking tale your audience never forgets —even if you've never told a story before.
Why Marc bolts from the Hollywood life despite working with big time players… and the ONE thing he wishes he did different. (If you're feeling "out of place" at your current gig… you'll want to hear

this

.)
The "locksmith" trick to getting your client so invested in your work they'll even

fight

for you when someone wants to change it… even if you barely know your client right now.
What's the one thing Marc's done that's produced the most surprising result?
Marc produces sales-boosting stories his clients rave about by doing this ONE thing most freelancers and consultants almost never do.
Come check out how Marc works his story magic at 27:00.
Resources:
Check out Marc's website Wild Story here
Show notes written by Max Hamm. You can reach Max at maxhammcopy.com. 
[podcast_optin]
Disclaimer: Every effort has been made to accurately represent our product and it's potential. Any claims made of actual earnings or examples of actual results can be verified upon request. The testimonials and examples used are exceptional results, don't apply to the average purchaser and are not intended to represent or guarantee that anyone will achieve the same or similar results. Each individual's success depends on his or her background, dedication, desire and motivation. As with any business endeavor, there is an inherent risk of loss of capital and there is no guarantee that you will earn any money.