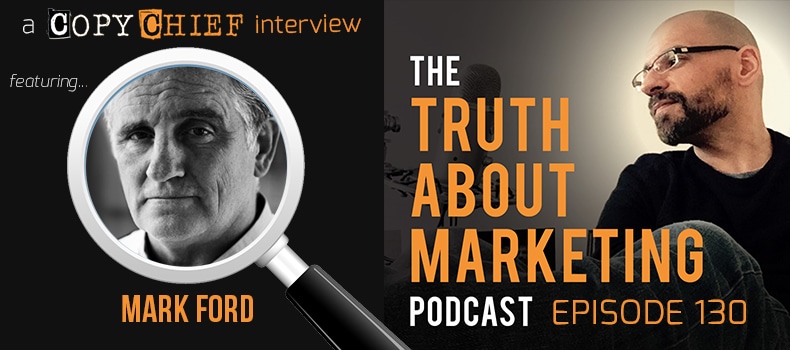 In This Episode
"The most common problem with people giving marketing advice today is they're focusing on offering a 12% lift in conversions here, or 16% there…" Mark said to me during our interview. "What I teach is that this is BS. You're wasting your time trying to build your business with small increments like that…"
I knew this conversation with business building and copywriting legend Mark Ford was going to be something special. Mark is one of the most interesting and respected people in direct response. (You may also know him by his pen name Michael Masterson.)
The company he built with Bill Bonner, Agora Publishing, now generates a billion dollars in revenue per year…
… and Mark mentors many of the most successful copywriters working today. Mark counts copywriting as his own greatest skill.
In this episode, Mark reveals the hard lessons he's learned over decades in the world of direct response…
… and what you absolutely must focus on to double and triple your sales. (You'll want to hear Mark's unique insights on why you're likely killing your sales overusing fear and greed in your marketing.)
"Can't Miss" Moments:
2:50 – Mark Ford, Chief Strategist of Agora Publishing since 1993, reveals his childhood influences which helped him foster his greatest skill… the ability to persuade with words.
6:00 – Kevin digs deep to discover the traits and the lifestyle decisions that helped Mark become the master wordsmith that he is today. With Mark's simple answers, you will be able to improve your writing, immediately.
10:00 – If you have kids and run a business, Mark Ford (father of 3 boys) discloses his "one word secret" that turned his kids into successful independent adults… without the use of technologic distractions.
16:00 – Push Selling vs. Pull Selling? This argument is laid to rest by Mark Ford as he exposes the trailblazing story which shows how Agora skyrocketed from 100 million dollars in revenue to… a billion dollars in revenue.
21:00 – Mark Ford debunks thee myth of only needing a "good service" to retain customers. Thanks to Mark's insider scoop, you will avoid losing your customers and your potential audience because of the "good service" trap.
24:00 – Kevin asks "How do you know when you've landed on the RIGHT big idea?" If you've been wondering the same thing, you don't want to miss Mark's answer on how to become the Babe Ruth of marketing.
31:10 – "If you feel like you've got a hot idea, I promise you, all your competitors have that hot idea too." Find out what Mark Ford KNOWS to be the difference maker to get your sales copy to TOWER above the rest.
34:04 – If you are still writing from only fear and greed, you are missing out on a king's bounty of sales. Mark Ford shares his "four must-answer questions" in order to write promotions that make the cash register ring.
40:10 – How can you become a great copywriter even if you don't know how to write? Mark Ford shares how he has mentored illiterate beginners (who still embarrass Mark when they write letters) into becoming multi-millionaire business people.
45:30 – Mark shares one of the biggest lessons he learned when he sold a guru-based product WITHOUT a guru. This lesson is so powerful that it can EVEN boost the sales of commodity based goods.
What's the one thing Mark's done that's produced the most surprising result?
Mark quickly created a thriving investment newsletter business by doing ONE counter-intuitive thing…
… and it pissed off a lot of his competitors in the process. Check out how Mark grew his newsletter business, fast at 44:20.
Resources:
Read Mark's articles from AWAI here
Show notes written by Max Hamm. You can reach Max at maxhammcopy.com. 
Bullets written by Manuel Medrano. Manuel is a member of Copy Chief.
[podcast_optin]
Disclaimer: Every effort has been made to accurately represent our product and it's potential. Any claims made of actual earnings or examples of actual results can be verified upon request. The testimonials and examples used are exceptional results, don't apply to the average purchaser and are not intended to represent or guarantee that anyone will achieve the same or similar results. Each individual's success depends on his or her background, dedication, desire and motivation. As with any business endeavor, there is an inherent risk of loss of capital and there is no guarantee that you will earn any money.