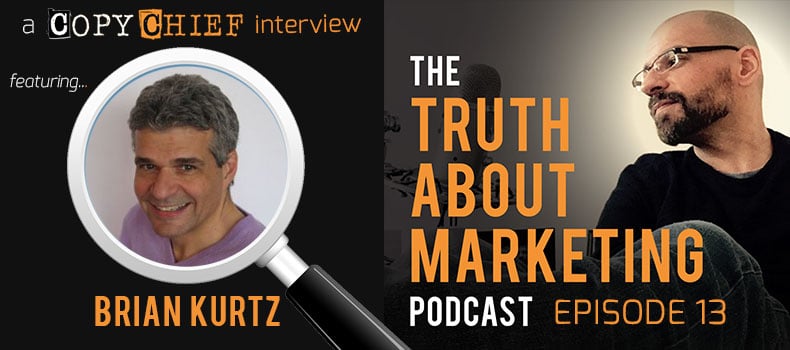 In This Episode
02:27 – The one thing Brian is most proud of about his work with Boardroom Publishing (Hint: it's NOT that they did $160MM in one year)
10:30 – Who's on Brian's "Mount Rushmore of Copywriters" — 4 guys responsible for 650 MILLION pieces of profitable direct mail …. and over $1 BILLION in sales
16:20 – How Brian finally cracked the code on selling info-products on TV (this is the single biggest success of his career)
21:27 – Why following the proven formula for an infomercial would have resulted in a catastrophic failure… and the broken rule that sparked a $300MM franchise
31:39 – The first "magalog" Boardroom ever mailed… and what made it an instantly unbeatable control
37:30 – The 7 things Brian looks for when hiring a new copywriter – every freelancer MUST hear this (Guess what? Your portfolio is the LEAST important.)
42:36 – Why you NEVER want to be the smartest person in the room
48:32 – The single best way to get the level of experience required to write copy like a direct-response Titan
51:15 – A completely free resource EVERY copywriter — and marketer in general — should get their hands on (Brian would have gladly paid $95 for this)
54:09 – How to get an unfair advantage over other copywriters (most are too intimidated by this)
58:40 – Priceless advice from Gary Bencivenga on how to fast-track your copywriting to the big leagues
PLUS… How to get your hands on the greatest package of direct response marketing wisdom ever assembled AND have Brian personally send you 4 books right off of his shelf!
Resources Mentioned
Brian's Amazing Copy Chief Special: When you purchase the The Titans of Direct Response DVDs and then email [email protected][dot]me mentioning you purchased after listening to the Truth About Marketing podcast. Brian will personally ship you the 4 bonus books he mentioned on the call.
Bonus #1: Breakthrough Advertising by Eugene Schwartz
Bonus #2: $12 Billion of Inside Marketing Secrets Discovered Through Direct Response Television Sales by Steve Dworman
Bonus #3: Making Them Believe by Dan Kennedy
Bonus #4: Secrets of Successful Direct Mail by Richard V. Benson
This is an incredibly generous offer by Brian inspired during the interview. Kevin is not earning any commission on the sale of the DVDs. Brian will personally send you the 4 bonus books from his shelf.
[podcast_optin]
Disclaimer: Every effort has been made to accurately represent our product and it's potential. Any claims made of actual earnings or examples of actual results can be verified upon request. The testimonials and examples used are exceptional results, don't apply to the average purchaser and are not intended to represent or guarantee that anyone will achieve the same or similar results. Each individual's success depends on his or her background, dedication, desire and motivation. As with any business endeavor, there is an inherent risk of loss of capital and there is no guarantee that you will earn any money.