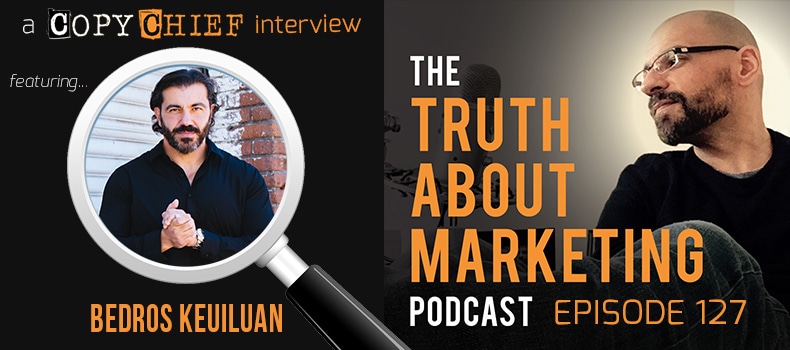 In This Episode
Here's the thing: today you can pass so much MORE emotion to your prospects using a short 1-min video, than a bunch of pictures and text…
… and when you can show RESULTS quickly─with case studies and narration─you have the power to indoctrinate prospects into buyers, fast.
So, how do you show your perfect prospect what it looks and feels like to enter your world… in a way that they can't resist working with you?
Today I've got Bedros Keuilian on the show. Bedros is the founder of the Fit Body Boot Camp franchise. He specializes in helping fitness professionals run profitable businesses. He's also got a knack for teaching entrepreneurs all the mindset stuff critical for success.
As Bedros explains in the interview when you base everything you do on SERVING people…
… and simply focus on being resourceful, you'll have all your ducks lined up for success.
In this episode, Bedros shows you how to boost your entrepreneurial mindset with the "immigrant edge"…
… and how to indoctrinate your prospects so they can't help but FEEL what it's like to get their hands on your stuff. (You'll want to hear Bedros's unique insights on success after escaping communist Russia with his family in the 1980s… and building a massive online empire from scratch.)
"Can't Miss" Moments:
The "Arby's roast beef sandwich" tactic to funding your big buys…

without

tapping into your savings account. (Bedros first did

this

when he was 9… and did it recently to buy his fancy sports car.)
The single biggest business blunder even top entrepreneurs make… and what Bedros suggests you do to hit your money goals,

easier and faster

than you thought possible

.
The "first world problems" method to carving out a niche for yourself… and

dominating.

(This is how Bedros adds an average of 17-20 brand new locations to his franchise…

monthly

.)
Are you falling prey to the "workin' on it" trap? (you might be overcomplicating the heck out of your stuff right now.)
The "cockweed" mentality you absolutely

must

install in your brain for success today. (Bedros spends 3 out of the 4 days of his coaching intensive on

this

alone

.

If you're an entrepreneur, or want to be one─don't miss this.)
What's the one thing Bedros has done that's produced the most surprising result?
Bedros built a booming fitness empire by doing ONE thing none of his competitors did…
… and it's the reason his Fit Body Boot Camp franchise is growing at a staggering 17-20 new locations, per month.
Come check out how Bedros grew his thriving empire at 18:20.
Resources:
Show notes written by Max Hamm. You can reach Max at maxhammcopy.com. 
[podcast_optin]
Disclaimer: Every effort has been made to accurately represent our product and it's potential. Any claims made of actual earnings or examples of actual results can be verified upon request. The testimonials and examples used are exceptional results, don't apply to the average purchaser and are not intended to represent or guarantee that anyone will achieve the same or similar results. Each individual's success depends on his or her background, dedication, desire and motivation. As with any business endeavor, there is an inherent risk of loss of capital and there is no guarantee that you will earn any money.