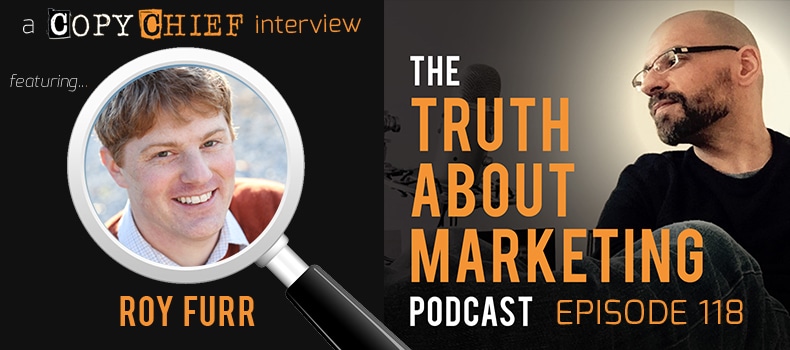 In This Episode
"We talk a lot about entering the conversation already going on in your prospect's head… but what does that really mean?" Roy said during our interview.
My guest today is top copywriter Roy Furr. He has written control-busting copy for the likes of Bill Bonner and Mark Ford at Agora.
Roy wrote the famous Titans Of Direct Response sales letter for Brian Kurtz. He is also one of the few copywriters to score a testimonial from the legendary Gary Bencivenga.
As Roy explains in the interview, when you keep bouncing around different markets…
… you fail to make a deep connection with the narrative of the market. Specializing is how you write copy that makes your reader vibrate.
In this episode, Roy reveals a simple framework you can use for writing copy that packs an emotional knockout punch.
"Can't Miss" Moments:
Are you still hand copying control ads hoping to become a great financial copywriter? (Drop the pen! Hear what Roy says you must do instead to become a top paid writer… fast.)
The "6000 out of 12000" trick to positioning your offer as the be-all end-all solution to your prospect's problem… do this and your reader won't even glance at your competition.
The "Marketing Detective" tactic to pin down the juiciest hooks for your campaign. (Roy shows you how to tap into the hidden well of killer ideas hidden from most marketers.)
What "entering the conversation inside your prospect's head" really means… and why you're likely just scratching the surface of understanding your reader.
The ONE thing your sales copy must have to spark sizzling excitement for your offer… no matter what your product─even if it's as "dry" as a financial newsletter!
What's the one thing Roy's done that's produced the most surprising result?
Roy launched his career as a top level in-demand freelancer with a single surprising move…
… and he did it without a portfolio or a sample to his name.
Check out his secret to making an offer impossible to refuse at 31:30.
Resources:
Get Roy's marketing & copywriting tips here
Show notes & bullets written by Max Hamm. You can reach Max at maxhammcopy.com.
[podcast_optin]
Disclaimer: Every effort has been made to accurately represent our product and it's potential. Any claims made of actual earnings or examples of actual results can be verified upon request. The testimonials and examples used are exceptional results, don't apply to the average purchaser and are not intended to represent or guarantee that anyone will achieve the same or similar results. Each individual's success depends on his or her background, dedication, desire and motivation. As with any business endeavor, there is an inherent risk of loss of capital and there is no guarantee that you will earn any money.