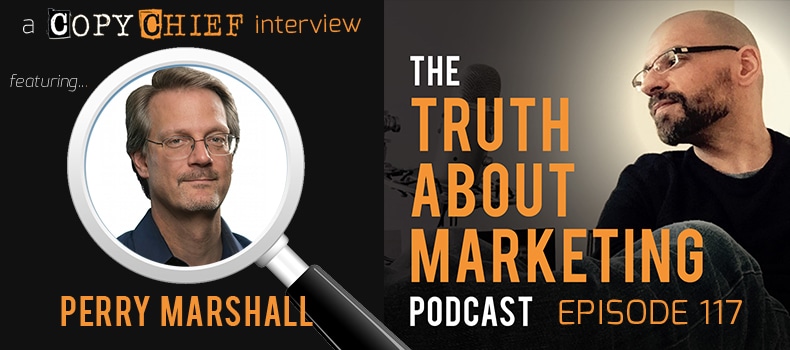 In This Episode
"I've never had a conversation quite like this before…" Perry said to me as we wrapped up the interview. "This was not the standard set of canned answers…"
My guest today is a decorated veteran of internet marketing who has been in the game since 2003.
Former engineer turned marketing consultant Perry Marshall is the author of "80/20 Sales And Marketing". He has also worked with top-of-the-heap entrepreneurs and marketers such as Dan Kennedy, Jay Abraham, and Richard Koch.
As Perry explains in the interview, your best customer is the extended shadow of YOU…
… and when you lay your cards on the table without hidden agendas, you create a "demilitarized zone" that attracts ONLY your best prospects.
In this episode, Perry shows you how to quickly attract your perfect prospect. (Do this right and you'll attract customers who think, act, and see the world almost exactly like YOU!)
He also reveals the deadly delusion most marketers fall prey to without even knowing it. (You'll want to hear Perry's confession about the imminent online trend that's really worrying him. If you're running an online business or plan to―don't miss this!)
"Can't Miss" Moments:
How to turn your tribe into a "Human Search Engine" to find the perfect prospects for your next launch.
The hidden "No Place Like Home" secret for building a kickass tribe of highly engaged customers. (Perry dives into the psychology behind how and why it works so well.)
The tool Perry Marshall created to tap into the "Homer Simpson Brain" of your prospects.

(He gives the URL around minute 11.)
How to use Perry's writing trick to turbo charge your copy and maximize conversions… even (and especially) if you're writing to a sophisticated audience.
Have you ever felt a connection between spirituality and entrepreneurship? Perry discusses how he combines the two without being preachy.

(Once you hear it, you'll nod your head in agreement.)
Do you know how to bond with your prospects even when they disagree with you? Perry reveals the strategy he uses to create raving fans out of unbelievers.
Discover the old school marketing tactic Perry used to catapult his digital marketing career.

(It's a secret shared by everyone from Frank Kern to Kevin Rogers.)
Are you a victim of the delusion infesting the headspace of nearly all entrepreneurs? Do THIS instead.
It's a trap! Hear why Perry believes automation is the most backwards way to go about business – and what you should do instead.
The worrisome new trend threatening to make the Pareto Principle obsolete…and the radical change Perry urges you embrace immediately to avoid it.
Resources:
Perry's 80/20 Sales & Marketing Book
Download the episode here
Bullets expertly written by Lynn. You can reach Lynn at lynnswayze.com.
[podcast_optin]
Disclaimer: Every effort has been made to accurately represent our product and it's potential. Any claims made of actual earnings or examples of actual results can be verified upon request. The testimonials and examples used are exceptional results, don't apply to the average purchaser and are not intended to represent or guarantee that anyone will achieve the same or similar results. Each individual's success depends on his or her background, dedication, desire and motivation. As with any business endeavor, there is an inherent risk of loss of capital and there is no guarantee that you will earn any money.