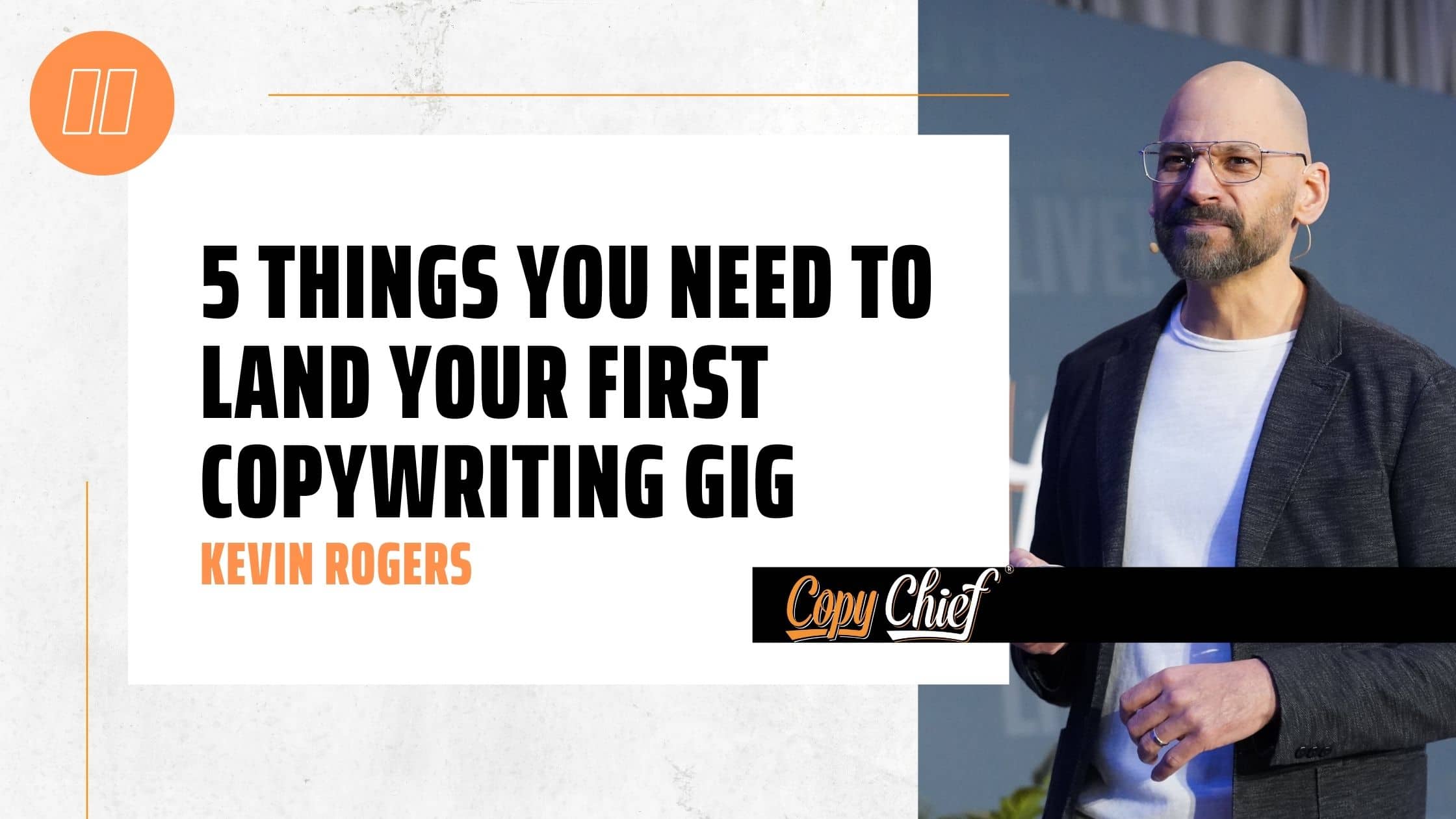 I recently told you about my first paid copywriting gig.
How it came from a copywriting forum called The Copywriting Board (the same one I modeled Copy Chief after) and…
… how I beat out other writers for the gig, even though I had ZERO real-world experience writing email copy.
Those were the good parts.
Today let's balance out my humble brags with some harsh reality. 


Because, before my friend Vinny told me where to look for a copy gig, and how to respond to a good one, and even explained what in the heyall the client was asking for…
I had spent an entire year on fire for copywriting, and was still completely lost as to how to land a paying client.
What should I be writing?
What would I charge?
How long is a job supposed to take?
Where are these clients even hanging out?
And a hundred more unanswered questions standing in the way of creating escape velocity towards the freelance lifestyle I was dreaming of.
______________________________
These days, there is no shortage of experts chirping at you about how to make money freelancing. 
I recently saw a guy I helped land his first gig two years ago offering a five thousand dollar course on how to "crush it" as a freelancer.
Good guy, but two years in? 
Personally, I need my coach to be out of diapers. 
A lot of newly minted copywriting experts like to skip over the hard parts and sell you on how to charge "high ticket" coaching even if you have no experience. 
That's a quick way to kill your reputation, lose a lot of sleep, and cause otherwise good clients to get burned and become skittish about hiring freelancers.
______________________________
Yes, I was charging fifty thousand to write campaigns as a freelancer, but it took me years to gain the skills and reputation to say that number and get it. And I always over-delivered for my clients.
So, to counter all the fantasies you encounter on social media… 
Here are five non-negotiable things you'll need to land your first gig with confidence… 
A solid copywriting portfolio. 
Not stellar, but solid. Meaning, you've studied the marketing principles behind what you're writing and you've practiced writing your own versions to the point where you feel confident delivering. It's ok to show "spec" pieces you wrote on your own, so don't wait around to show off your work.
(I'd been studying marketing and copywriting for a solid year before that first gig came along. I knew what went into a good email and I'd been working hard on my copy chops. So when it came time to write a spec, I was ready to go.)
An experienced pro to watch your back. 
Nothing will cause you to wake up hyperventilating like having to guess whether your copy is on the mark. You've got to have experienced pros in your life that you trust to review your copy and give you honest critiques and direction. Your sanity will thank you.
(My friend Vinny looked over my drafts and gave me suggestions on that first gig. So when it was time to send the copy off to the client, I felt confident knowing a higher paid pro had given it the thumbs up. It was a huge relief to know I wasn't just tossing darts blindfolded.)
A pricing and sales strategy.
It doesn't need to be perfect on those first few gigs, but in order to come off as a pro, you need to know your price and how to answer your prospect's questions without blowing the gig. 
The reason freelancers panic and stammer when giving their price is because they don't KNOW their price. That's a confidence killer for you and your prospective client. Deciding what you want to earn for the job (and practicing saying the number like an actor practices lines) is essential to not falling apart in these moments. 
(On that first gig, I just followed exactly what Vinny told me to say and charge. Taking the guesswork out of the price and deliverables allowed me to be (and sound) confident in the terms.)
A pool of copy-loving clients to pitch

. 
Get into the mix with business owners selling products you like and that respect the craft of copywriting. You do not want to stay on Fiverr and Upwork fighting it out on price against bargain copywriters.  
(Once I landed that first client, he came back for more, then began recommending me to colleagues. A few clued-in clients can fill your freelancing calendar with quality work faster than an endless cycle of regretful one-night stands.)
Honesty and integrity. 
Another thing that keeps so many freelancers stuck on the sidelines is thinking they have to "stretch the truth" when they're new. Not the case. It's okay to not have a ton of experience, but it is not okay to sound insecure. 
In the beginning of my career, I would routinely convince clients to hire me over more experienced copywriters by laying out the reasons why I was the safer bet, and the better bargain. 
Things like… how I would not bring bad copywriting habits to their project or taking my eye off the ball because I've gotten cocky the way experienced copywriters can be. You never have to lie to land a gig, just have confidence in the reasons you are the best option. And if they go another way, on to the next call. 
There are more, of course, but hopefully these help give you some perspective and strategies for getting past the fog of insecurity holding you back from starting your freelance career. 
______________________________
I've been coaching freelance copywriters on how to kickstart their careers, leave JOBS, build stellar reputations, become the "go-to" expert in their market, and even get beyond client-reliant money since 2015.
If you want to know what I would tell a brand new copywriter about how to start a lucrative and happy freelancing career TODAY… it's all here in this new free training called Dream Gig 2021.
NOTE: My latest live coaching of Escape Velocity starts January 1st, and there are very few spots left as I write this. We limit the size so everyone can get lots of 1-1 coaching. 
If 2021 is your year, then I wanna be your guide. 
Come join me!
---
The shiny, new Copy Chief member community and training dashboard is live! If you're already a member, dive in and enjoy. If you're not a member, you can join here.

Whenever you're ready, here are a few other ways I can help…
Become a member of Copy Chief. It's everything you need to sharpen your skills as a copywriter and build your freelance business – all with a killer support system at your back to help you do it. To learn more, check out this page here. 

Mark your spot on the Freelancer's Journey Timeline. Moving forward in your freelance business starts with identifying where you are right now.  Go here to see the full Freelancer's Journey Timeline and mark your spot. 

Find out what the best in the business do differently with the Copy Chief Radio podcast. Every week we release a fresh new conversation with the top producers and change-makers in the world of marketing, copywriting, and business. Tapping into their minds won't cost you a thang – listen here.