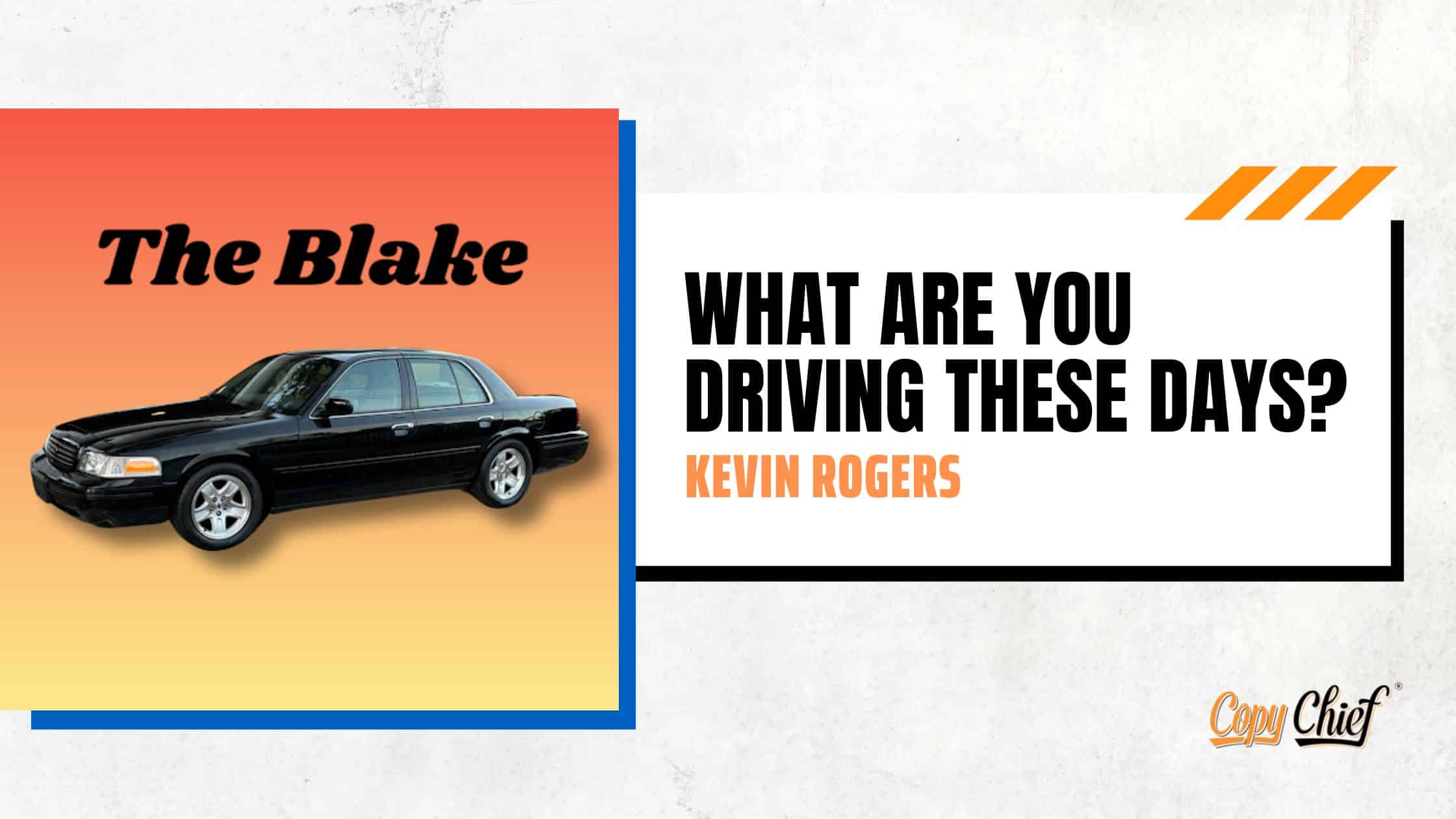 I'm not the classic definition of a "car guy." 
Meaning I can't tell you the specs on every car that passes by, like some people can. 
But I love the cars I love. 
My friend Lou is the ultimate car guy. He's also one of the greatest raconteurs you'll ever meet. 
Driving around with Lou is like sitting next to an encyclopedia of automobile history, if it was written by Hunter S. Thompson. 
"Lookadat, kid. '71 Olds 4-4-2. Those things are hellfire off the line. GM dropped a dual-disc clutch in 'em, same as the Corvette."
I've never bought a car, new or used, without consulting Lou first. 
Except for my latest car…
A 2001 Ford Crown Victoria.
First of all, I knew Lou would approve because this Crown Vic has the Police Interceptor package.
Built for speed to catch bad guys…. souped up suspension for speeding through alleys after bad guys… and comfort, for long nights of looking out for bad guys. 
But, beyond all that badassery, it's the history of this particular car, which I've nicknamed "The Blake," that makes it special. 
Jim Blake owned the only auto garage in Catlettsburg, Kentucky. Opened by his father in 1937 and taken over by Jim in '54.
When you own the sole auto garage in a small town, you become an important fixture of the community. 
You're the one who fills everyone's gas tanks (greeting them by name and asking, "how's your ma' doing?")… keeps their cars running (creating handshake payment plans as needed)… and revs up the tow truck when accident reports crackle over the police scanner at two in the morning.
When I was a kid, my dad was that guy. 
Along with his partner, Roland, he ran Kenwood Auto on Merrimack Avenue in Dracut, Massachusetts.
When he bought the business, he was only 21. 
Once I was old enough, I loved visiting the garage to soak in the endless parade of mad characters; mechanics, policemen, and townies all cracking jokes and telling wild stories about what "brought them in today."
One of the young mechanics at my dad's shop had a wooden leg (not sure if it was actually made of wood, but everyone called it that). 
Sometimes, when the phone would ring, he'd shout, "I'll get it," and take off running through the garage towards the phone. He would then purposely smash his prosthetic against the metal lift, sending a reverberating BANG! through the hollow garage, followed by a blood-curdling howl of "OWWWW SHIT!"
Everyone within earshot would stand frozen in shock, mouths agape, wondering how to even respond. 
Then, satisfied with their stunned reactions, he'd walk casually to the phone and answer, "Kenwood Auto."
Garage humor at its finest.
To this day, the distinctive smell of burnt oil, engine grease, and fresh rubber that permeates every auto service garage transports me back to the blue-collar fantasyland of my youth.
The antics were likely a bit more subdued at Jim Blake's garage in rural Kentucky in the 50s than at my dad's in the 70s, but the smells, the characters, and the laughs were much the same, I'm sure.
My friend, Chris, Jim Blake's grandson, told me how Jim would buy a brand new Crown Victoria every ten years. 
You gotta love the practical indulgence of that. 
Some people buy a new car every year to keep up appearances. 
In our industry, the hackneyed "crouching in front of my Lambo" photo is an eye-rolling staple.
Real "car guys" buy with purpose and baby their rides for years (or a decade in Jim's case), until the next one comes along.
The 2001 Crown Victoria with the Police Interceptor package now sitting in my driveway was Jim's final splurge before he passed away in 2006. 
He once got a speeding ticket while driving it at 126 MPH, when he was 82.
Jim left the car to his only child, Chris's mom, Becky, who drove it for another 16 years. 
Becky passed away after a long illness in June of last year. A very tough loss.
The car needed a new home, and, at the time, I was hard-binging the series "Bosch." 
Bosch, like most detectives (on TV and in real life) drove the same model Crown Victoria. 
My uncle Pete, a detective with the Lowell Police department, and one of my heroes growing up, drove a Crown Vic.
So, when Chris mentioned the car, I couldn't raise my hand fast enough.
We drove it back from Atlanta together last Sunday, telling stories and jamming to old mix tapes while Big Blake chewed up the asphalt with gusto.
Yesterday I spent hours deep cleaning The Blake back to some of its original glory, hoping to win its affection while deepening my own. 
As I fired up my dad's old orbitor to apply the wax, it occurred to me that I haven't detailed a car since I sold my beloved '96 Cadillac Fleetwood Brougham several years ago. 
The "last great Cadillac" according to Lou.
I drove that Caddy for ten years.
After that it was a routine cycle of leases, each with more smart "connectivity," yet I never felt connected to any one of them. 
We don't love rented things the same way we do things we own – especially when we own them with purpose.
The books we order with a click are less likely to get read than the ones we search years to find. 
We return to the music of our past because it was there when we needed it most.
There's a reason we reach for our favorite coffee mug every morning when there are ten others in the cupboard.
Because they mean something to us. 
Our lives are made up of the people we call first when there's "big news," not the ones who say, "long time, no see."
New things are fun, but meaningful things are forever.
I hope today is meaningful for you.
Go own it with purpose.