This will sound strange coming from a guy who lives in Florida, but…
I love the month of July.
Yes, it's hot here.
Stupid hot.
Not fit for humans hot.
Yesterday I even saw a lizard wearing a headband.
Hot, okay?
And there are mosquitos everywhere.
Big ones.
So big they serve you orange juice after sucking your blood.
Yes, it's very hot and there are giant mosquitos everywhere.
Yet, I LOVE July.
Why?
Because it's halftime.
Halftime on 2016.
Like a mini new year, but instead of making all new plans, you get to focus in and make adjustments.
My favorite moment in a football game is the first drive of the 3rd quarter.
That's when you get to see which adjustments the teams made in the locker room at halftime.
12 minutes is all they get to switch up the game plan.
If they're up on the scoreboard, what's the plan to stay focused and score even more?
If they're down, what's the plan to stop the other team and start scoring?
Maybe you need to get pressure on the quarterback.
Maybe you've got to start throwing deep.
Maybe it's time to pull a weak player and bring in the veteran.
12 minutes.
Everything on the line.
No way to stop the clock.
Decide and go execute.
Exciting.
Business is the same.
July is our halftime.
Are you up on 2016? Or down?
Now is the time to decide your game plan and go execute.
CONFESSION: I'm being forced to make some adjustments myself.
Truth is, I didn't even see it coming.
My game plan was solid.
My team was executing well.
We came into this year saying, "No client work. We just stick to scoring with continuity and coaching."
Simple plan and it was working.
We're up on the score board.
But you cannot afford to get complacent.
Not in sports and especially not in marketing.
Then, late in the second half – June 9th -11th to be exact – I saw an opportunity.
Life is all about spotting opportunities.
Let me take that back…
Life is all about spotting opportunities – and acting on them.
This one was shown to me in Austin, Texas, at a place called Lone Star Court, in a room called the "Tack Room" with 50 of the smartest, most successful (read: richest) marketers on the planet.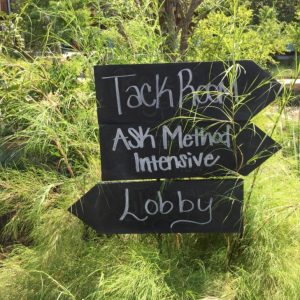 (The future of marketing is to your right)
Everyone in that room saw what I saw over those 3 days in Austin.
And everyone came away with a plan to execute what they now believed was the hugest opportunity in marketing for years.
Maybe even a decade. (It's the most powerful thing I've seen in my 10-year career)
Call those three days the "Greatest Locker Room Speech in Marketing History" given by the smartest coach in the game right now.
I can tell you, the second half of 2016 is being played differently for the 50 people in that room.
For me and my team, there was no choice.
The opportunity is too great.
Great enough to add in new plays and execute on them immediately.
First drive of the 3rd quarter.
I'm a little shocked at how well it's working.
Sometimes you see something "amazing" and try it, but it just doesn't work for you.
This system works despite you.
You almost can't stop it from working.
And the competition has no idea what's happening.
Total game changer.
Want to know what I saw in that room?
The thing so powerful, It caused me to do the thing I swore I would not do this year.
And has me geeking with excitement over the 2nd half of 2016?
Good, because I'm dying to show you.
Because my plan actually includes you.
If you're a freelance copywriter, this could be the adjustment that takes you out of the struggle for bigger deals and better clients — once and for all.
If you're a business owner marketing your own products, then you're about to pummel your competition with a ridiculous unfair advantage.
And I'd like to work with you personally to make it happen. (More on that soon)
Good news is, you have few *more* than 12 minutes to decide if the plan is one you want to execute.
You actually have 12 days.
Starting today and starting with this video<<======
Go watch it and see me – and the man universally considered "the smartest coach in marketing" – explain why this is changing the game.
And how you can be at the front of the movement with me.
Then pay close attention to two things…
The way he teaches and communicates with you over the next 12 days (because you'll be experiencing exactly what I learned in Texas and it's totally "swipe-able")
And how I am planning to execute this plan in a way that can include you and me teaming up in the second half of 2016.
Get excited,
Kevin
P.S. If I sound serious about this, I am. So much that I believe NOT sharing it with you would be letting you down. I take your trust very seriously. Of course there will be an offer to join this coaching at the end these 12 days. And of course I think that would be a great choice because I've been through it and you can see how much I believe in it. However, it won't be for everyone and it might not be for you. But, do yourself a favor and pay very close attention to what you see over the next 12 days, starting with this video. I'm telling you, Game. Changed.