Tina tends to get in her head about things. 
Sound familiar?
Toiling over the unknowns we face as freelancers…
What kind of copy should I specialize in?
What if I'm not good enough for that?
What if a prospect asks me a question using words that sound totally foreign to me?
What if I'm exposed as an amateur?
What if they're surprised by my age when they see me on Zoom?
We all get in our heads, especially in the early Phases (1-3), about…
looking dumb, 
blowing our shot, 
being flat-out rejected. 
Feeling that way is natural, it's normal, and it is NECESSARY to grow.
However, none of that makes it fun or comfortable.  
But at least, for the most part, we get to do it from the comfort of our homes. 
Once the moment is over, worst case scenario, your dog still loves you and your favorite snacks are only five feet away. 
Leaving the house to do it is a whole other bag of nerves. 
You bundle up all those same insecurities, shove them into a suitcase next to your underwear and dive head-first into 3 days of mingling with a hundred and fifty people you are sure are better, smarter, and richer than you on this freelancing journey.  
That's what Tina did last week to come to Nashville and attend Copy Chief Live, along with so many others who were feeling the exact same way. 
I told them in my opening talk that I consider this…
A Courageous Act
And I meant it. 
Think of a time when you walked into a situation feeling absolutely terrified of how you'd be received. 
First day of school, or a job, or a gym class. 
Everything that is cozy and familiar to others, is new and strange to you. 
Like being the new "love interest" at a family reunion. 
Inside jokes are flying over your head.
Hugs and yelps are being passed around like party favors.
Famous people in the industry are grouped together using those foreign sounding words. 
And there's Tina, smack in the middle of it, wondering where to begin. 
She came in with a mantra for this situation…
"Even if it scares you."
Something she would say to herself when she wanted to make a connection with people she'd never met, but wanted to.
People who were more experienced, younger, taller, even famous. 
"Even if it scares you… you're going to walk up and introduce yourself."
It took all of about one minute for Tina to feel safe facing her fears. 
She had already met Jon at the airport, and several others in the hotel lobby. 
A little gang was forming. 
She was no longer ALONE. 
Oddly, none of them were talking about business. 
Not comparing trophies, not using foreign words…
Instead, they were all talking about LIFE. 
Where'd you come in from? You got kids? Is this your first Copy Chief Live?
This didn't feel at all like a business conference, this felt like a Bruce Springsteen concert. 
People of all ages, from different places, of different means, all united under a single source of light in their lives. 
No hierarchy.
Just… excitement. 
For the show.
For the experience. 
For the togetherness. 
By the time it was necessary to chant her mantra, Tina was no longer scared… 
She was determined. 
To talk with the famous people. 
To grab selfies with everyone she could.
To connect more deeply with new friends she'd never even heard of the day before. 
By the morning of the second day, there was zero awkwardness. 
Nothing to figure out, or navigate carefully, or try not to screw up. 
All Tina had to do was walk off the elevator into the familiar lobby to feel like she was now part of her own family reunion. 
Now, she was part of the inside jokes. 
She was the one giving hugs. 
She was being asked for a selfie. 
Tina was safe amongst HER PEOPLE.
Just like the invitation promised. 
This was part of Tina DeMarco's post in the Nashville Recap thread inside Copy Chief Tuesday…
"Even if it scares you"….was my mantra during the entire event.
So, I went up to "names," faves & gurus and introduced myself. Then I chatted for a few minutes with them. I missed two, but if they show up again, I'll be sure to snag 'em and chat them up. 
A final send-off was at the airport bar.
Such an awesome time … from the moment I arrived and met Jon DeCamp at the airport… to the moment I just made it to my gate as my plane was boarding! 
Love you all!!!!!!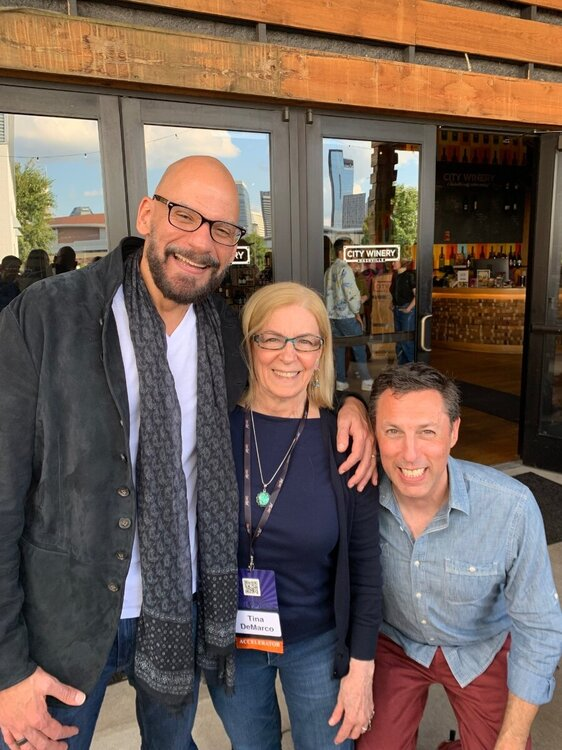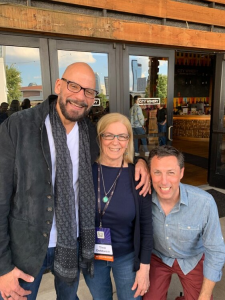 With myself and Justin Blackman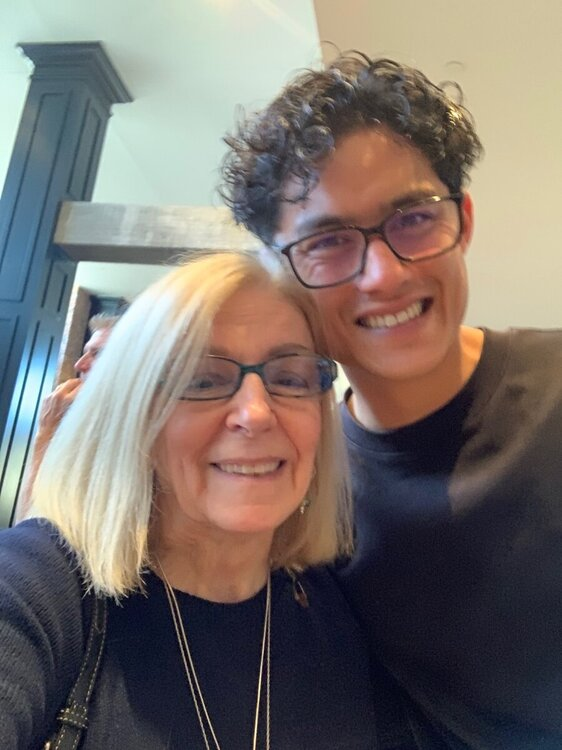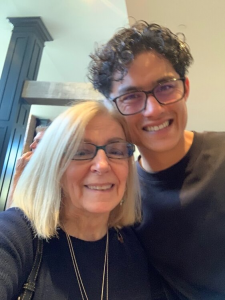 With Daniel Throssell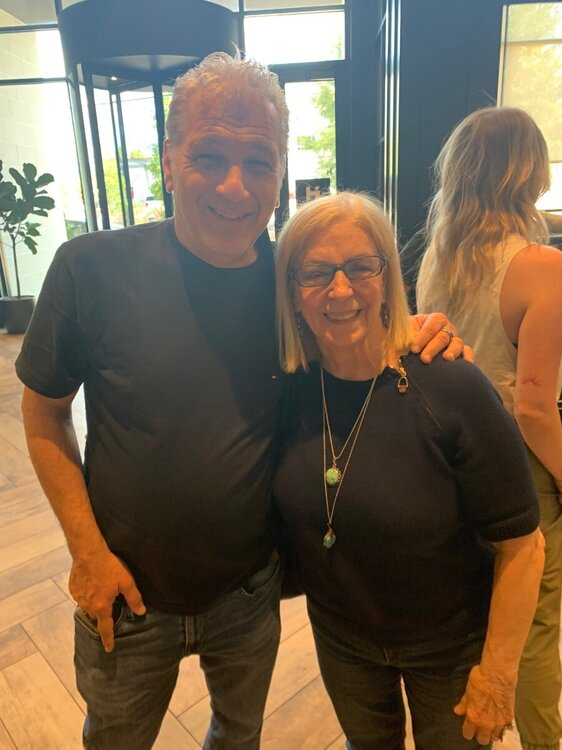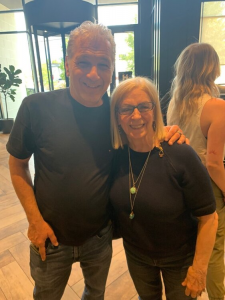 With Parris Lampropoulos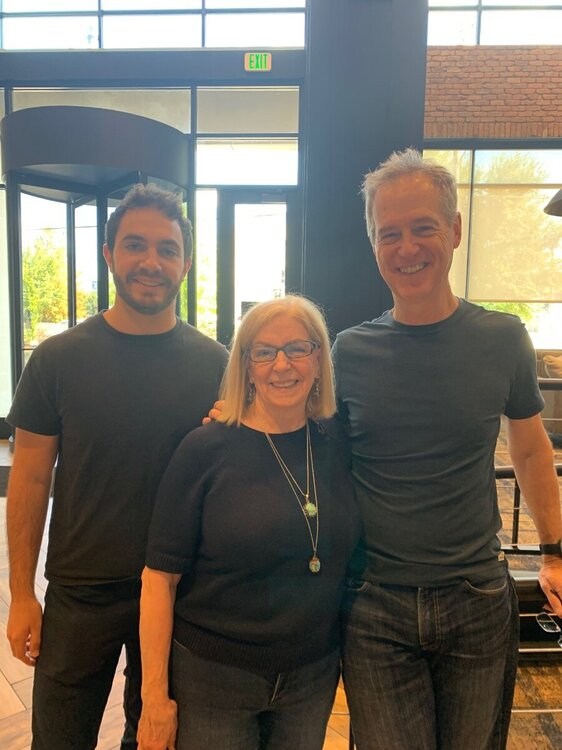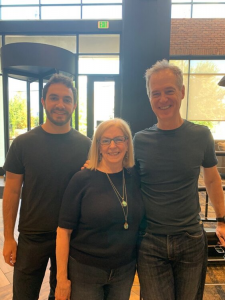 With Tom Hammaker and Jeff Walker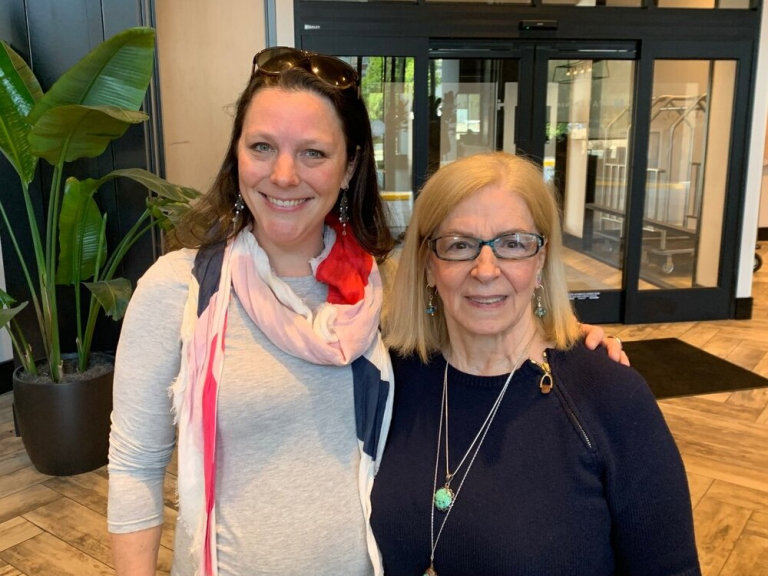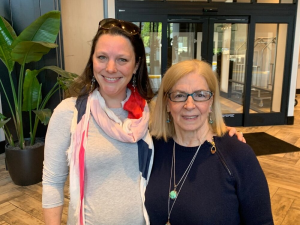 With Annie Aaroe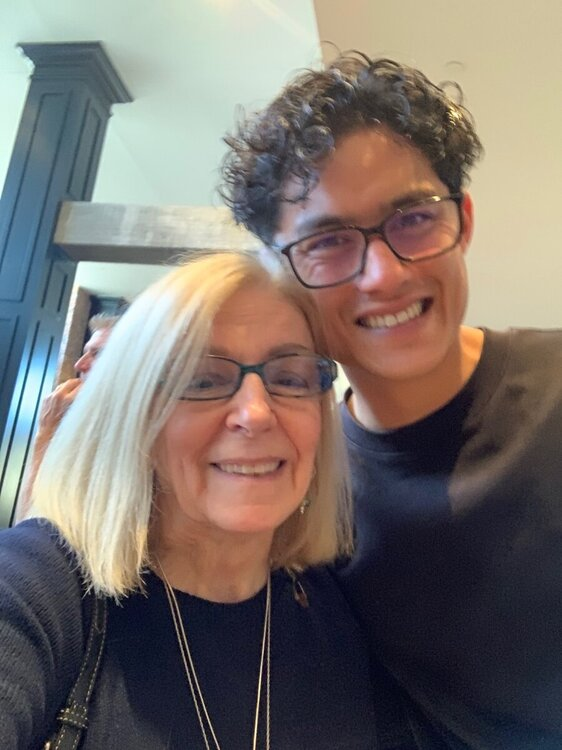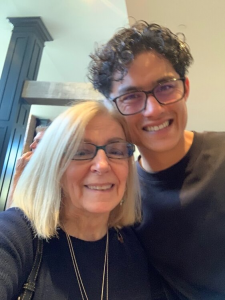 With Amanda Polden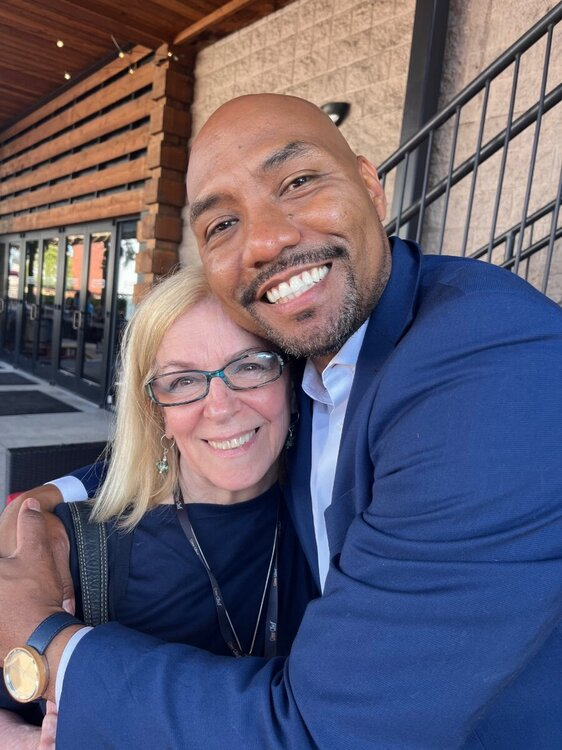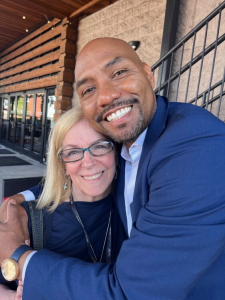 With Rob Tillman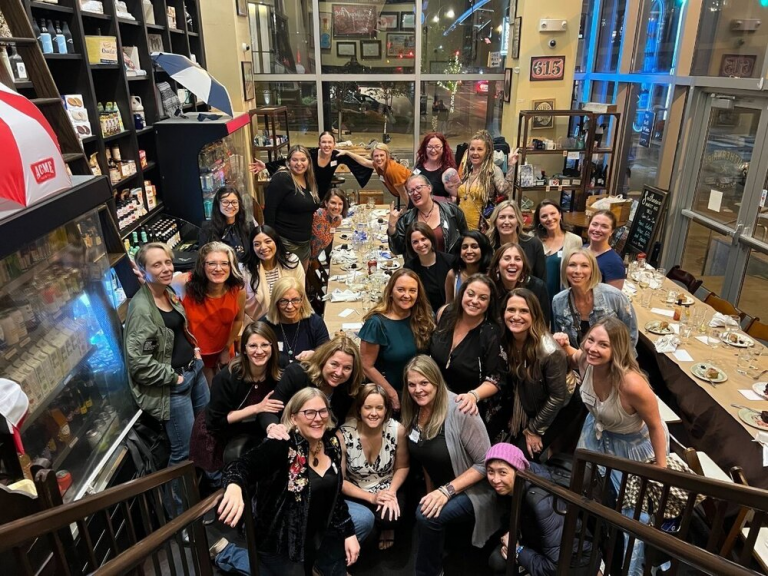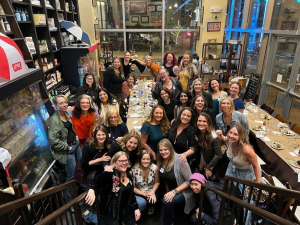 With all her new soul sisters at Marcella Allison's "Mentoress Dinner"
Photos like these have been flooding the forums and the socials since the event began.
I want to wallpaper the walls of my office with them. 
Every single one is a moment where someone did the thing that scared them and reaped the rewards… the kind that will reverberate into eternity. 
Look at those faces. 
These are not people "posing for a picture,"
these are people capturing a moment.
Listen…
Fear is not unique to anyone. 
Self-doubt will creep up on you. 
Imposter Syndrome never goes away.
The difference between those who succeed in business and those who don't are facing those fears, getting out of our heads, and showing up anyway. 
Do that for yourself, and everything after becomes less scary.
Promise.
I'm rooting for you,
Kevin
P.S. When I asked Tina for permission to tell her story and show her photos, she replied with this (bolding is mine)…

Hey Kevin,
Out of the blue….once again, comes the man on the white horse! Of course you can use my 'story' – it has me turning on a dime now. Copy Chief Live – Everything clicked. I feel like I'm back to being me, and ….. I like it.  Even if it scares me…..is my true mantra. The way I live my life. I just lost it for a few years. Now, I found it again. 
I am still so in awe of it all. This was the best time ever!
– Tina
PS – my birthday was yesterday. I turned 75! This will be my best year yet. 
I love this photo the best! 🙂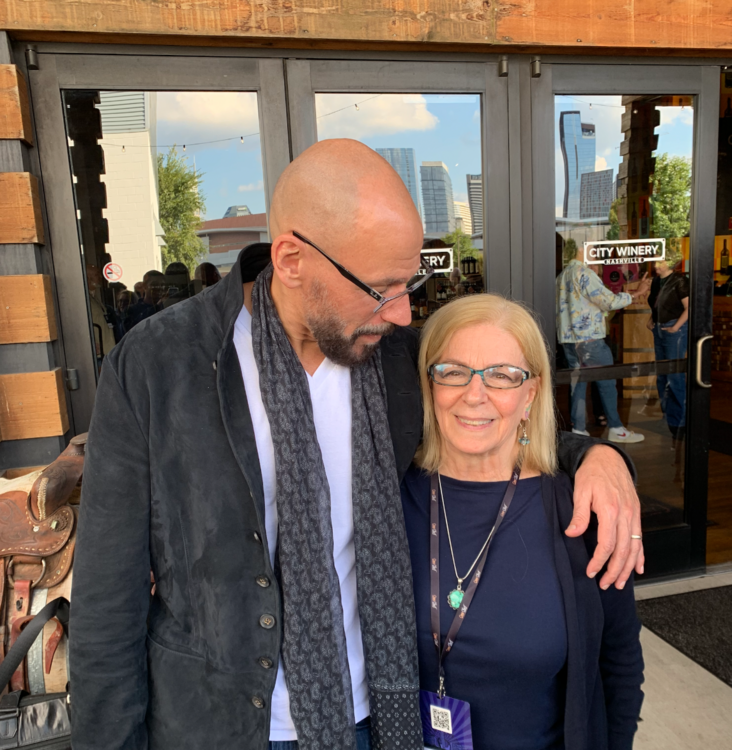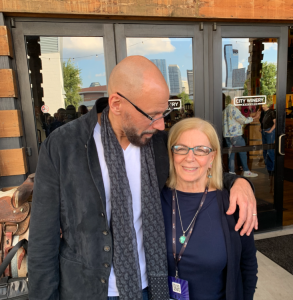 These are not people "posing for a picture,"