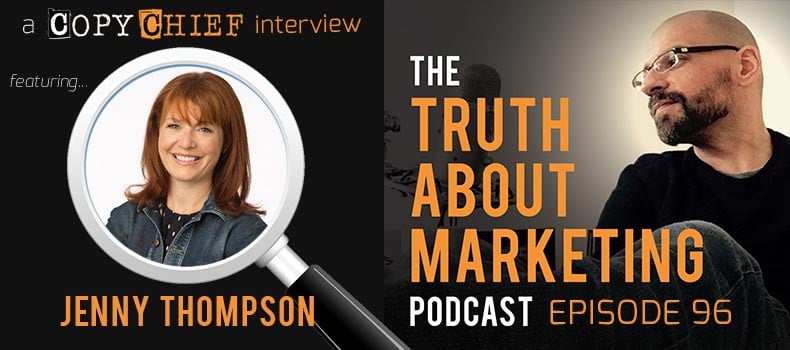 In This Episode
My guest today is Jenny Thompson, a brilliant marketer and fierce proponent of higher conversions.
Jenny started working as a marketing manager with Agora Inc. back in 1996, and within her first 3 years, she successfully tripled profits for the Oxford Club. Then she began a new career in New Market Health, and by the end of her first 10 months, she grew the bottom line by 500%.
Now she works as a private-consultant to help businesses grow using what she's learned in her 20 years with Agora Inc.
In this episode, you'll learn how to double your response on a high ticket offer, PLUS why you MUST test before you change anything on your website, order form, or online marketing.
5 Can't Miss Moments:
1:50 – How to throw your competition off by using a "hidden" key performance indicator (And learn how Trump used this successfully in his political campaign)
8:22 – A quick and easy way to get yourself "unstuck," get more done, and grow exponentially by following this counterintuitive principle
14:30 – Freelancers: Why clients will take your advice more seriously when you start charging MORE than what you're worth (Plus, learn how to do this without looking greedy)
19:30 – What every business owner needs to know about hiring the right copywriter (and what it takes to find the right one for your business)
30:25 – 3 characteristics you must have before you pick the next voice to represent your product
What's the one thing Jenny's done that's produced the most surprising result?
Jenny prepared two answers to share about marketing and copy.
Most people love to assume that they know their customers like the back of their hand, and so did Jenny. Obvious changes seem like a no-brainer, but then she discovered something odd about her buyer's behavior…
This could have costed the business $100,000 per month (yes, months!) if they kept following what she "thought" she knew about her customers.
She also shares a piece of copy that doubled conversions (and effectively lowered customer support inquiries), despite the intent being a simple warning for her buyers.
Check out what she has to share at 23:30.
Resources:
Are you a skydiver or paraglider?
Show notes written by Tim Woo. You can reach him at timothyhwoo.com.
[podcast_optin]
Disclaimer: Every effort has been made to accurately represent our product and it's potential. Any claims made of actual earnings or examples of actual results can be verified upon request. The testimonials and examples used are exceptional results, don't apply to the average purchaser and are not intended to represent or guarantee that anyone will achieve the same or similar results. Each individual's success depends on his or her background, dedication, desire and motivation. As with any business endeavor, there is an inherent risk of loss of capital and there is no guarantee that you will earn any money.