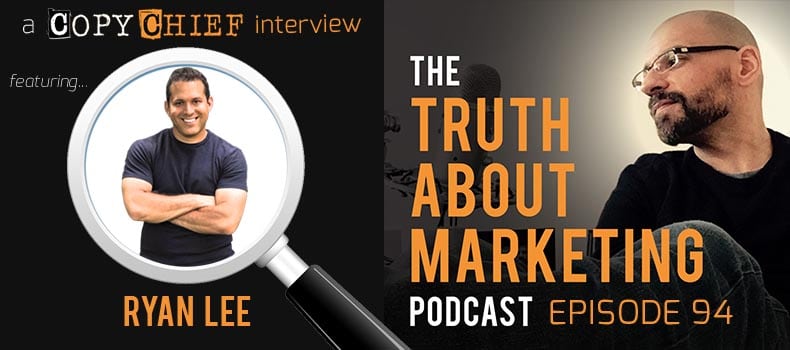 In This Episode
Proud to have my good friend (and repeat guest of TAM) Ryan Lee on today's episode.
I have to admit, I'm always blown away by the incredible amount of value Ryan delivers…
If you don't know Ryan, he's the founder over at Freedym, where entrepreneurs learn how to build a lifestyle business and get freedom in their life. He's a savvy marketer and one of the best email copywriters out there (even if he swears he's not a copywriter)
In this episode, Ryan shares the 15-minute consultations that has allowed him to build a business and live a lifestyle filled with freedom, PLUS all the business lessons he's learned in his 10+ years in business, including the #1 lesson he learned from his dad.
5 Can't Miss Moments:
9:26 – How Ryan continuously writes daily emails that are so compelling and emotionally in tune even his close friends and family added themselves to his list
13:14 – Need a boost in your marketing? Find out how you can unsubscribe from the "be everywhere model" and still attract tons of engagement to your content
21:04 – Why the "15-minute consult" is the most powerful way to do research on your audience (Plus Ryan's step-by-step blueprint on hosting these calls)
28:04 – The "upsell technique" that can instantly ruin any hard-working business owner's reputation on the spot if used incorrectly (Check out how Ryan uses this and ends up doubling his earnings)
36:50 – The single most important lesson Ryan learned from his dad that is responsible for every dollar he's ever made (Take this lesson to heart and watch your reputation blow through the roof)
Resources:
Show notes written by Tim Woo. You can reach him at timothyhwoo.com.
[podcast_optin]
Disclaimer: Every effort has been made to accurately represent our product and it's potential. Any claims made of actual earnings or examples of actual results can be verified upon request. The testimonials and examples used are exceptional results, don't apply to the average purchaser and are not intended to represent or guarantee that anyone will achieve the same or similar results. Each individual's success depends on his or her background, dedication, desire and motivation. As with any business endeavor, there is an inherent risk of loss of capital and there is no guarantee that you will earn any money.