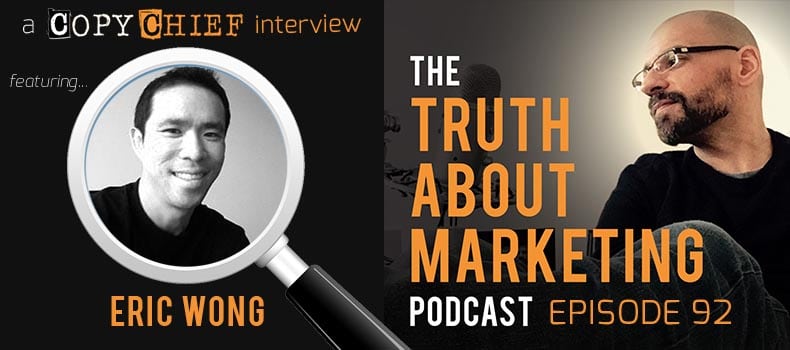 In This Episode
Jamming out today with my man Eric Wong. Eric is a martial artist, fitness marketer, and an innovative, forward thinking marketer. He runs Power Dojo, where he teaches you how to improve your flexibility, strength, and power.
Eric is a true marketer who is always testing and optimizing for results. In today's episode, you'll discover how Eric is able to use new tactics and strategies, turn it around and achieve amazing results from it. (Not surprisingly, his ads still pull even 3 years later…)
5 "Can't Miss" Moments:
1:50 – The real reason fitness marketers like Eric achieve near-legendary status as marketers and copywriters (You'll learn how to do the same just by understanding their secret)
7:59 – How to stand out in a big market and help people solve their #1 problem before they know it themselves
14:26 – How to get deeper insights on your target audience using this new opt in model Eric describes (Plus, why it's converting better than traditional name and email opt ins)
20:20 – Proven and effective ways to transition into a sale after solving your prospect's biggest problem (Listen for Eric's lesson on the psychology of the sale)
23:01 – What creativity REALLY means when it comes to trying new tactics and creating products that your audience needs
What's the one thing Eric's done that's produced the most surprising result?
From the outside, Eric looks like a marketer with some hidden superpower, but Eric has always been the type of person to find the solutions on his own… meaning little to no help from anyone except his own intuition and creativity.
Then he accidentally discovered a new way to get amazing research on his best customers using a squeeze page…
As a result of using this research (which all of his customers GAVE him), he went from a $35k launch to a full-blown 6-figure launch. Check out what he discovered at 24:18.
Resources
Eric's Shoulder Flexibility Solution Squeeze Page
Show notes & bullets written by Tim Woo. You can reach him at timothyhwoo.com.
[podcast_optin]
Disclaimer: Every effort has been made to accurately represent our product and it's potential. Any claims made of actual earnings or examples of actual results can be verified upon request. The testimonials and examples used are exceptional results, don't apply to the average purchaser and are not intended to represent or guarantee that anyone will achieve the same or similar results. Each individual's success depends on his or her background, dedication, desire and motivation. As with any business endeavor, there is an inherent risk of loss of capital and there is no guarantee that you will earn any money.