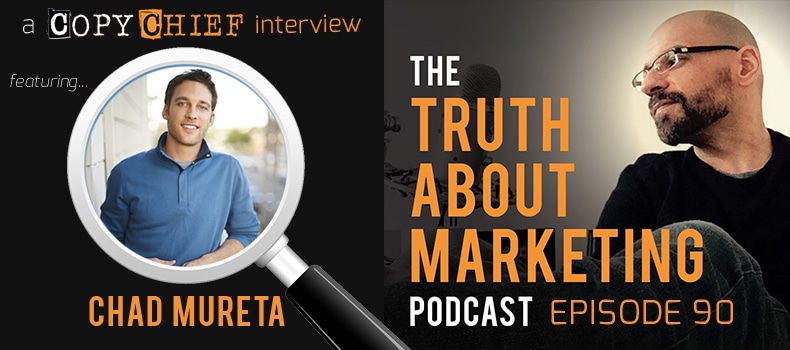 In This Episode
We have a different kind of marketer come on the show today. Chad Mureta is head of App Empire, a place where people without coding experience can learn to make money in the App Store.
Chad's amazing and inspiring story of his journey into entrepreneurship is proof that you don't need "entrepreneurial" blood in you to be successful. He's here to share with you how anyone can go from rock bottom to a thriving business by creating mobile apps.
In this episode, you'll learn what most people miss when it comes to making money on the App Store, and how to put dollars in your pocket from a simple device everyone constantly uses.
5 "Can't Miss" Moments:
4:45 – If you've ever doubted whether entrepreneurship is for you, then hear how Chad did it without an ounce of entrepreneurship in him
6:16 – 3 simple ways to tap into your inner creativity, even if you don't have a creative outlet like music or art
20:41 – How to use a specific type of data so you can easily identify and verify any app idea
25:55 – 4 key characteristics to look for before you create an app so its potential to make you money is always high
28:00 – How to find the "one thing" that's missing in one app and use it to create a better app that fulfills your market's needs
What's the one thing Chad's done that's produced the most surprising result?
Chad's one thing is about finding a way to stand out in the App Store that no one else is doing.
At first, he was unsure how the market would respond to this one change he made. But he knew it was a way to connect with people on a deeper level, especially since this is often what leads to the sale.
The results led to far more downloads than he anticipated. Check out his answer at 29:20.
Resources
Show notes & bullets written by Tim Woo. You can reach him at timothyhwoo.com.
[podcast_optin]
Disclaimer: Every effort has been made to accurately represent our product and it's potential. Any claims made of actual earnings or examples of actual results can be verified upon request. The testimonials and examples used are exceptional results, don't apply to the average purchaser and are not intended to represent or guarantee that anyone will achieve the same or similar results. Each individual's success depends on his or her background, dedication, desire and motivation. As with any business endeavor, there is an inherent risk of loss of capital and there is no guarantee that you will earn any money.