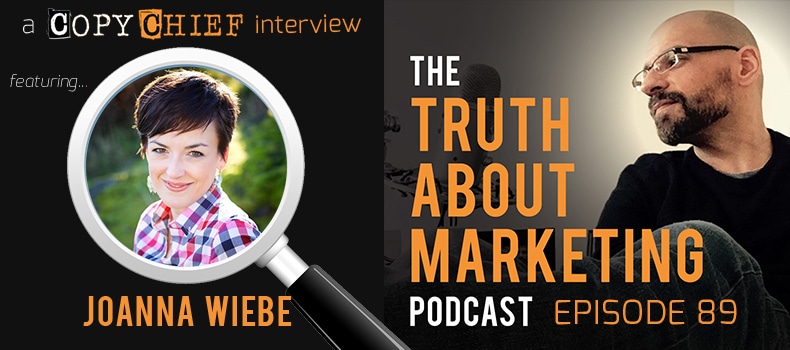 In This Episode
Today, I'm glad to have Joanna Wiebe with us. We're going head first into freelancing to find out what makes freelancers successful (and what holds others back)…
You may know Joanna as the woman behind CopyHackers.com. She's a passionate copywriter who created this site to help copywriters and freelancers build their careers.
Joanna started out working for a corporate player, Intuit, as a copywriter and hacked her way through direct response copy. She credits her skills to legends like Eugene Schwartz and Gary Bencivenga, as well as modern day marketers like Brian Clark and Michael Stelzner.
In this episode, you'll learn how to properly set yourself up for success in the beginning of your freelance career. Then you'll discover how to effectively turn yourself into an in-demand freelancer using what Joanna learned.
5 "Can't Miss" Moments:
4:22 – Why finding the "right place to sit and write" is all in your head (Joanna shares how she went to Japan and STILL couldn't get a single paragraph written)
16:20 – A proven way to overcome every excuse possible about taking the leap into freelancing
19:12 – How to balance yourself in a position where you need to do everything from graphic design to bookkeeping to writing copy
22:10 – Joanna's simple test for deciding whether you should work as a freelancer or work at a position in a company
29:50 – The one question you must immediately ask yourself after someone asks you, "Can you teach X?" (This is exactly why Joanna only has a few products, despite being qualified to teach in many more)
What's the one thing Joanna's done that's produced the most surprising result?
When Joanna started CopyHackers, she promised to do one thing: say "Yes" to every scary opportunity that she got.
At first, the strategy made her nervous, especially since she considered herself a "writer," nothing else. But because she made this promise, it led her to incredible opportunities she would have missed if she said "no."
Hear what she said "Yes" to and she was able to speak with her copywriting hero, who first reached out to her. Check it out at 32:00.
Resources
Show notes & bullets written by Tim Woo. You can reach him at timothyhwoo.com.
[podcast_optin]
Disclaimer: Every effort has been made to accurately represent our product and it's potential. Any claims made of actual earnings or examples of actual results can be verified upon request. The testimonials and examples used are exceptional results, don't apply to the average purchaser and are not intended to represent or guarantee that anyone will achieve the same or similar results. Each individual's success depends on his or her background, dedication, desire and motivation. As with any business endeavor, there is an inherent risk of loss of capital and there is no guarantee that you will earn any money.